Health Care
After Damian Williams' striking comments on supervised injection sites, New York leaders are quiet
The U.S. attorney said his office is prepared to take action as the sites are in violation of state and federal law, but he declined to elaborate further.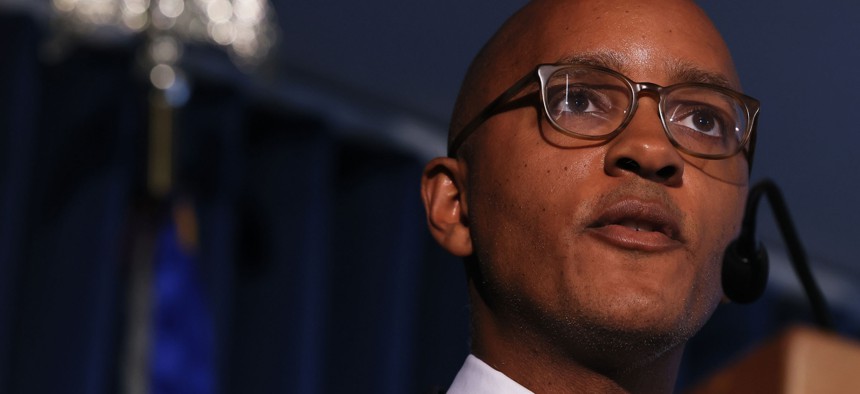 There's been little reaction from New York leaders in wake of Manhattan's top federal prosecutor's comments to The New York Times that the city's two supervised injection sites are illegal and that his office could take action.
Calling the situation "unacceptable," Damian Williams, the U.S. attorney for the Southern District of New York, said in a statement to the Times published Aug. 8 that, "My office is prepared to exercise all options – including enforcement – if this situation does not change in short order." His remarks were made in response to a request for comment from the Times for a story about OnPoint NYC, the largest provider of harm reduction services for drug users in New York City. 
While the full context around Williams' remarks is unknown – and a spokesperson from his office declined to comment further – it doesn't seem like New York leaders are too worried. Neither the Adams administration nor the City Council expressed an urgency to protect the sites beyond former Mayor Bill de Blasio's move to authorize the two sites in 2021, pointing to the state and federal government instead. 
When asked for comment on Williams' remarks, a City Hall spokesperson touted the center's reversal of more than 1,000 overdoses.
"Service providers are licensed by the state and the services being offered at OnPoint are closely monitored by the New York City Health Department," Kayla Mamelak, City Hall press secretary, said in an emailed statement. "Ultimately, like the U.S. Attorney, we are awaiting state or federal policy to definitively set out a regulatory framework for these lifesaving supports."
OnPoint has carved out a new approach to drug overdose prevention at its two supervised injection sites in East Harlem and Washington Heights. The sites – the first of their kind in the nation and a pilot program of sorts – have garnered much attention as nonprofit leaders and other supporters have simultaneously fought to combat decades of messaging around the war on drugs while also persuading people with substance use disorders to come to them for help. The sites, intended to prevent drug overdoses by allowing people to use pre-purchased drugs under the supervision of medically trained staff, have helped stop 1,000 overdoses so far, according to the group. 
Williams' apparent warning appears to be a far cry from the more open, hands-off approach the Biden administration has taken toward the centers. While supervised injection sites are technically illegal under federal law, OnPoint's sites have operated for nearly two years now without any legal disruption. Local, state, and federal authorities as well as the New York City Police Department are all well aware of the organization's work. Many leaders have even been openly supportive. Four of the city's five local district attorneys wrote a joint op-ed backing the centers in 2021. Adams too has indicated that he supports supervised drug use centers, even proposing in March to add three new sites to neighborhoods by 2025. On the state level, Sen. Gustavo Rivera and Assembly Member Linda Rosenthal introduced legislation that would explicitly allow the sites as well as grant a measure of legal immunity for their operators, although the bill has yet to pass.
A spokesperson for the City Council also put the onus on the federal government. 
"Overdose prevention centers play a critical role in New York's mission to keep the thousands of New Yorkers dealing with substance abuse issues safe and on a path to better health. The city has been a major supporter of the centers and their approach to reduce the potential harms to New Yorkers," they said in a statement. "While there are supportive efforts to be undertaken by the state and city, the jurisdiction to change legal regulations remains with the federal government. This was one of several issues that Council leadership discussed during its meetings in Washington D.C. with elected and government officials on the federal level."
Nearly two years into his tenure, Williams has waded into a number of high-profile issues. He announced charges against disgraced cryptocurrency exchange FTX founder Sam Bankman-Fried in December 2022, and more recently, called for a court-appointed federal receiver to address conditions on Rikers Island. 
Multiple sources on the state level did not respond to a request for comment, including Rosenthal, state Senate Majority Leader Andrea Stewart-Cousins, and Assembly Speaker Carl Heastie.
With reporting from Annie McDonough and Rebecca C. Lewis