Immigration
After meeting with Biden, Hochul touts TPS as a win
The governor initially distanced herself from the issue of asylum-seekers in New York City, but she's taking credit for getting the feds to act.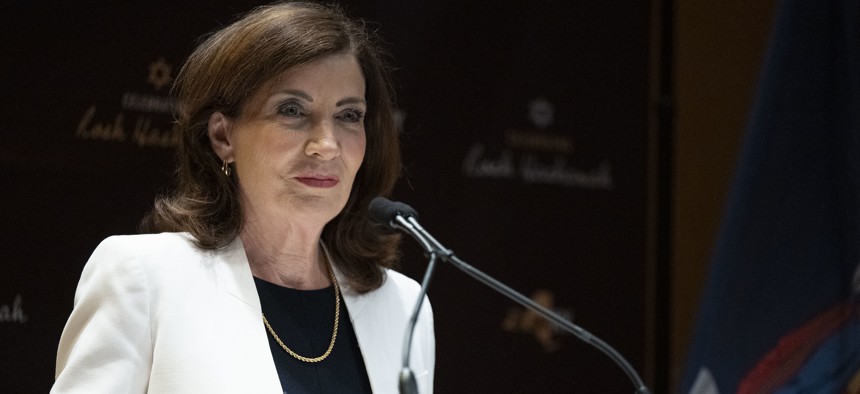 Not long after the Department of Homeland Security announced it redesignated many Venezuelan migrants for Temporary Protected Status – a move that will make tens of thousands of asylum-seekers in New York authorized for work more quickly – Gov. Kathy Hochul was on CNN applauding the move and touting her connections to the president. "The president tipped me off and said we've been heard, he understands and that the announcement would come today," Hochul said, referring to the last-minute personal meeting she had with President Joe Biden on Tuesday. She had previously described the meeting as "productive" without further detail – the new announcement revealed exactly what she meant.
After initially distancing herself from the migrant crisis, even as New York City Mayor Eric Adams and immigration advocates called on her to do more, Hochul has more recently taken far more ownership of the issues. It allowed her to be out in front when the first major federal action came down the pipeline, even though other officials like Adams have been putting pressure on the White House longer and arguably harder. For Hochul, who won a relatively tight reelection last year, her visible presence now as the leader who got through to federal officials could turn into a major political win. But it ultimately depends on how she and the state act in the next several months.
After my productive conversation with @POTUS last night, I'm grateful the federal government has acted so speedily to grant one of our top priorities: providing Temporary Protected Status to Venezuelan migrants & asylum seekers who have already arrived in this country.

— Governor Kathy Hochul (@GovKathyHochul) September 21, 2023
In recent months, Hochul has faced increasing pressure to do more to help address asylum-seekers. She has begun responding more forcefully, particularly as polling showed that New Yorkers considered migrants to be a major issue facing the state. She made her first public address regarding the crisis, pleading with the Biden administration to redesignate Temporary Protected Status for Venezuelans, only last month. Although she didn't necessarily call for anything new or pledge significant immediate new state action, the address still represented an escalation of her rhetoric with the White House. 
Now, just a day after her first personal meeting with Biden himself, federal officials answered one of the biggest requests from New York. "This is a win, and she should own that win if that's something she wants to take credit for," said Camille Rivera, a Democratic consultant with New Deal Strategies. "This is a big deal." Rivera said that Hochul responded to the significant pressure she has faced for months – including from Adams –  to add her voice to those calling on the White House for action. And the timing combined with Hochul's perhaps more amicable relationship with the president right now puts her in a prime position to reap the political benefits of the federal action. 
However rightwing officials have criticized the Temporary Protected Status decision as one that will incentivize more asylum-seekers to come, even though it only applies to Venezuelans who have been residing in the country before July 31. Rowdy protests have also broken out on Staten Island where residents tried blocking migrants arriving at a shelter on the island. Congress members holding a press conference on asylum-seekers last week needed to cut their statements short because they got drowned out by angry New Yorkers chanting "close the border."
Rivera conceded that there is little that could be done to appease the anger of xenophobes, but argued that the Temporary Protected Status decision is still a major win for the state as a whole, and that will translate into the politics – if Hochul frames it right moving forward. "It's on the governor to create a narrative that says this is the right thing to do, and show a history that upstate and downstate has actually prospered with jobs, an economic boom, when things like this happen," Rivera said, adding that work authorization will also free up space in New York City. "Maybe they don't stay in New York, maybe they get their visas and they go somewhere else."
The night of the TPS announcement, Hochul announced a new state effort to connect asylum-seekers with jobs in anticipation of more migrants receiving work authorization thanks to the move. It builds on previous resources she announced a Department of Labor web portal for businesses looking to hire migrants with work permits and a registration process for those migrants to gain assistance once they have work authorization. Even with the expedited process the TPS provides, it will still take months to first process applications, connect migrants with employment and get them integrated into communities in a way that helps local economies. Now that Hochul is in front of the issue, her messaging during that time will be crucial to determine whether the current win has lasting political benefits, or it fizzles out before the midterms.