Heard Around Town
Progressives denounce Eric Adams' budget cuts
Lawmakers said the cuts threaten services and city agencies.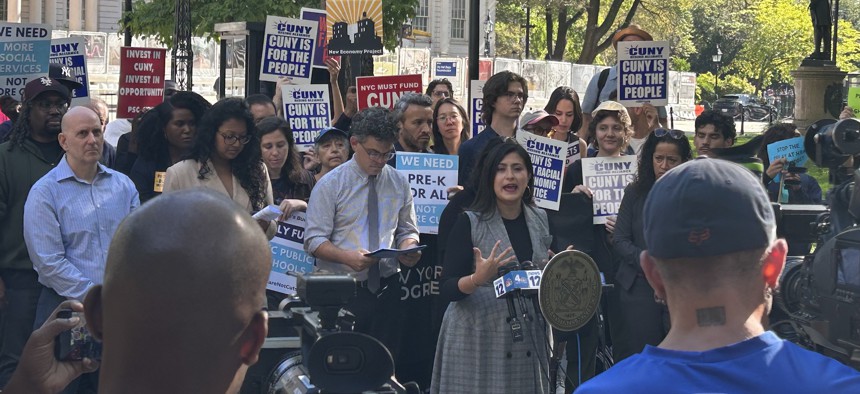 Surprise, surprise: Last week's pro-Eric Adams rally did not silence criticisms of the New York City mayor's handling of the asylum-seeker crisis. 
A week after allies of Adams stood outside City Hall to beat back what they called "unfair attacks" on the mayor over the migrant crisis, a crowd of progressive lawmakers and advocacy organizations stood on the same spot to denounce the steep budget cuts that Adams says will be necessary to bear the costs of taking in asylum-seekers.
The rally was led by the City Council's Progressive Caucus, including co-chairs Lincoln Restler and Shahana Hanif, and other attendees included New York City Comptroller Brad Lander, Public Advocate Jumaane Williams, state Sens. Jessica Ramos and Julia Salazar, and Assembly Member Harvey Epstein. 
Speakers warned that the citywide budget cuts – which could total 15% by next spring and will be accompanied by a hiring freeze – will decimate city agencies and the services they provide, particularly to vulnerable New Yorkers.
Ramos, who has been floated as a potential progressive challenger to Adams in 2025 – one of the potential candidates who has not yet explicitly denied interest – has warned against the mayor's use of doomsday rhetoric about the migrant crisis. "We do not cower before the challenges of receiving and welcoming new neighbors," Ramos said. 
Adams has warned that without much more federal and state support, steep cuts will be necessary. A recent report by the Fiscal Policy Institute found that Adams' proposed cuts will reach $10 billion in one year and overshoot expected asylum-seeker-related costs. City Hall has disputed that the cumulative generated from the cuts will reach $10 billion, but did not say exactly what figure the cuts will amount to.
"Since the large influx of asylum seekers to our city began last spring, Mayor Adams has been clear with New Yorkers that every city service could be impacted by this crisis if we did not get the necessary support needed. Coupled with expiring federal stimulus dollars and reduced revenue growth, we face a perfect storm of factors that could threaten our city's financial future if we do not act now," a spokesperson for Adams wrote in a statement. 
"Catchy slogans are not a substitute for tough choices, and we have yet to hear any meaningful plans from the people who attended today's protest to address the significant gaps we face in the future, other than raising taxes on working New Yorkers."
Powered By
NEXT STORY: Prince William gets canceled on by Eric Adams