News & Politics
Women who accused Cuomo of harassment fight subpoenas from his legal team
Years after they came forward, legal battles continue as the governor's lawyers seek depositions and even years of phone records.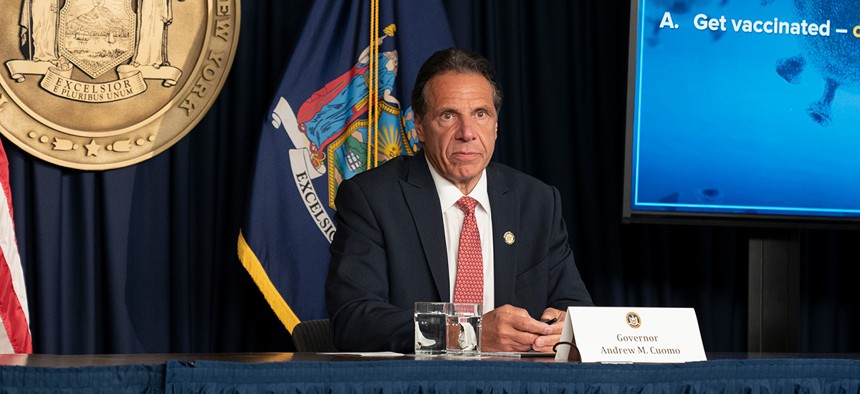 Over two years have passed since a bombshell report from the state attorney general's office concluded that former Gov. Andrew Cuomo had sexually harassed nearly a dozen women, effectively forcing him to resign. But the women named in that report are still haunted by it as a lawsuit brought by one of the unnamed accusers has opened others up to a barrage of subpoenas from Cuomo and his co-defendants – and they're asking a judge to get the ex-guv to back off. 
A federal judge held a hearing on Wednesday to offer something of a status update on the process of discovery in the sexual harassment lawsuit an unnamed women known as Trooper 1 brought against Cuomo, several of his former aides and the state police. Trooper 1 accused Cuomo of inappropriate behavior and touching while she worked on his security detail, claims included as part of the attorney general report, and referenced the report as part of her suit to demonstrate an alleged pattern of behavior on the part of the former governor to strengthen her argument. 
The hearing on Wednesday involved not just attorneys for Trooper 1, Cuomo and his former aides, but a number of other non parties who have become involved in the lawsuit. Namely, several women included as part of the attorney general's report, including Charlotte Bennett, Lindsey Boylan, Virginia Limmiatis, Alyssa McGrath and a woman referred to only as Kaitlin. Since the start of the case, Cuomo's lawyers have served the women with a barrage of subpoenas, requesting documents they gave to the attorney general's office, depositions and other records. Cuomo's legal team argues that Trooper 1 opened the door to the subpoenas by referencing the report in her suit. 
Many of the women took issue with the scope of the records requested, calling the demands overbroad and burdensome, and fought to either quash the subpoenas or narrow their scope. In the most recent motions, a lawyer for former Cuomo aide Kaitlin said that Cuomo has "blatantly weaponize(d) the subpoena power to attack Kaitlin and the other women whom he blames for his fall from power." Katilin's attorney said that she already provided all records previously given to the attorney general, but that Cuomo's lawyers continue to ask for more without specifying what they want or narrowing the demands to aid in compliance. That included issuing a subpoena to Verizon for over three years of Katilin's phone records. "(Cuomo) does not want discovery: he wants revenge," the motion reads.
The judge on Wednesday did not rule on this or other motions regarding discovery yet, but she did order all parties to meet and confer "in a good faith effort" to narrow the scope of discovery. Zoe Salzman, a lawyer for Kaitlin who was at the hearing, said the judge made it clear that she was "very concerned about the burden of invasive and overbroad discovery on Kaitlin and the other non-parties" when ordering Cuomo and his co-defendants to work to resolve the outstanding discovery issues. Everyone involved must file a joint status report by Oct. 17.
According to employment attorney Helen Rella, who is not involved in the case, disputes over discovery are common in any kind of litigation, but she said that courts generally are more cautious in what they will permit in terms of discovery for non parties since they are not named in the case. "What are referred to as 'fishing expeditions' that randomly seek information without demonstrated relevance to the case are generally not permitted," Rella told City & State. 
A spokesperson for Cuomo defended the aggressive subpoenas served to women named in the attorney general report. "It was Trooper 1's attorneys who chose to xerox the AG's report and deemed these third parties relevant. And when we tried to get records from the AG's office, they resisted and told us to go to the complaints for information," Rich Azzopardi, who is also named in the lawsuit, told City & State. "The bottom line is that we are entitled to defend ourselves against the allegations in the suit and if anyone has an issue with that, the blame should be directed toward the Wigdor firm (representing Trooper 1) and (state Attorney General) Tish James."
Powered By
NEXT STORY: Taylor Darling announces state Senate bid