Immigration
Council speaker: City is 'running out of room' for migrants
City Council Speaker Adrienne Adams told reporters the city should be honest with asylum-seekers about the difficulty of finding shelter.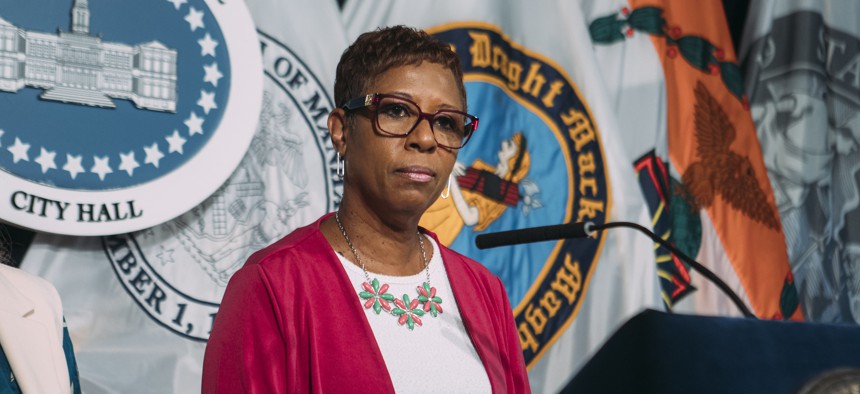 New York City Council Speaker Adrienne Adams said the city needs to be honest with people who are considering coming to New York City to seek asylum that the city is "running out of room," echoing similar sentiments expressed by Mayor Eric Adams as he embarks on a part public relations, part information gathering trip in Latin America this week. 
"I don't think anybody here is going to question that," the speaker said of the lack of shelter space as she addressed reporters Thursday. "The messaging around the situation here in New York should be honest, should be forthcoming and I believe it should relay the fact that we are out of room."
Mayor Adams kicked off his four-day trip to Mexico, Ecuador and Columbia on Wednesday, seeking – at least in part – to discourage potential migrants from making the arduous journey to New York City. More than 100,000 asylum-seekers have made that trip since last spring, roughly half of whom remain in the city's care today. 
The purpose of the mayor's trip is multi-pronged. In a video shared on social media yesterday, he said he will meet with local leaders to better understand "the flow of migrants." He has also said his goal is to combat what he's described as a PR campaign painting New York City as a place where asylum-seekers can easily come and find work and luxurious shelter conditions.  
His planned appearances in local news sources south of the border are part of a broader strategy to deter new arrivals from coming to the city. The Adams administration has also begun limiting shelter stays for single adult asylum-seekers and started passing out fliers at the border and in other cities to "combat misinformation."
Of the fliers, Speaker Adams said last week that the city has to be truthful about the challenges the city is facing without "embellishing anything." 
Speaker Adams said she hopes that the mayor's trip will yield valuable takeaways that'll help the city improve its policies. But she emphasized that the city's compassion should not be lost amid messaging seeking to deter new arrivals.
"We are still a sanctuary city and that is something that we are very proud to be the city that welcomes migrants with open arms," she said.
Powered By
NEXT STORY: Speaker Adams opposes proposed changes to right to shelter