News & Politics
Hochul declines to offer any support to Palestinian New Yorkers
As violence in Israel and Palestine escalates, Gov. Kathy Hochul has issued multiple statements in support of Israel and Jewish New Yorkers – but nothing for Palestinians.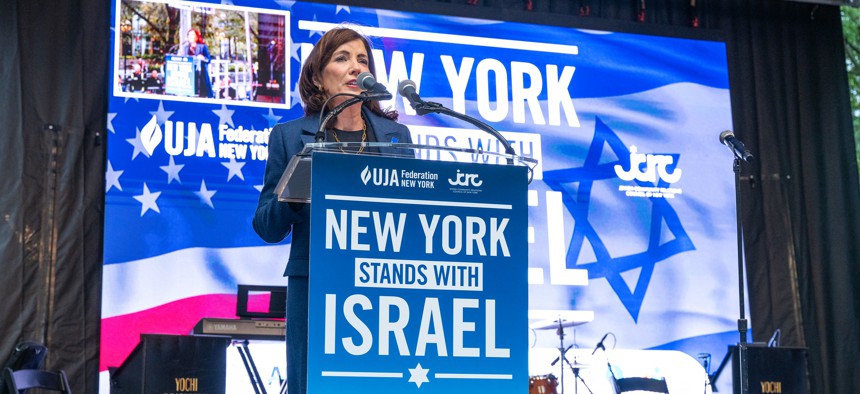 In her first direct message to Palestinian New Yorkers since Israel declared war on Hamas, Gov. Kathy Hochul urged "law-abiding Palestinians to reject Hamas" during an unrelated press conference on Thursday. Although she acknowledged that Hamas and Palestine "should not necessarily be confused" with one another, she offered no other words of support or sympathy for New Yorkers who may have civilian loved ones living in Gaza who are facing a worsening humanitarian crisis after Israel declared war against Hamas. But she said that there must be "consequences" for Hamas' violence.
New York City is home to both a large Jewish population, many of whom have family ties to Israel, and a large Arab population, including Palestinian refugees with family in Gaza and the West Bank.
In the days since Hamas' horrific attacks on Israeli civilians that have left over 1,200 dead, including children, Hochul has issued statement after statement of support for Israel and Jewish New Yorkers as violence in the region escalates. Flags are flying at half mast at the state Capitol in honor of Israeli deaths, and she has attended pro-Israel rallies and expressed the state's commitment to keeping Jewish New Yorkers safe, particularly ahead of a promised day of action by Hamas on Friday that has left many Jews outside of Israel afraid.
But she did not say anything about Gazan civilians, who have lived under an Israeli blockade for the past 16 years and now face an escalating humanitarian crisis. In the days after the Hamas attack, the Israeli military began a "total siege" of the region, which is home to over 2 million people, half of whom are under the age of 18. As of Thursday afternoon, as many as 447 children had been killed, along with nearly 1,000 more adults – many of whom were civilians.There are already reports coming out of Gaza of hospitals overwhelmed by airstrikes with limited access to medicine, and human rights organizations have warned that the humanitarian crisis in Gaza will only worsen as Israel cuts off electricity, fuel, water and medicine to the region.
When asked by City & State what her message was to Palestinian New Yorkers who fear for their loved ones in the Gaza Strip amid the escalating violence and humanitarian crisis, Hochul struck a very different tone than the one she took in her statements to Jewish New Yorkers. "I call on law-abiding Palestinians to reject Hamas," Hochul said. "They should not necessarily be confused – Hamas is a terrorist organization, they should not define the people, the Palestinians who reject the violence." 
Hochul said Hamas was the only one to blame for the humanitarian crisis in Gaza and suggested that the destruction in Gaza was a necessary response to the terrorist attacks in Israel. "There must be consequences to that, or else there will be no end to the violence and destruction," she said of Israel's response to the attacks over the weekend. "Israel has a right to defend itself." The governor's statement comes as international human rights organizations call for a humanitarian ceasefire and caution against collective punishment by Israel against Gazans.
Hochul's comments were quickly condemned by left-wing politicians and organizations. "This is a vile dehumanization of Palestinians, willfully ignoring the devastation Palestinians are currently facing," Assembly Member Zohran Mamdani told City & State in a text message. Mamdani, who is Muslim, is an outspoken supporter of Palestine and has sponsored legislation that would ban New York charities from giving money to organizations that support Israeli settlements in the West Bank deemed illegal by the international community. He condemned both Hamas' killings of Israeli civilians and Israeli killings of civilian Palestinians, both of which violate international law. "So if it is truly the killing of civilians that we are concerned about, why does the death of Palestianians not provoke the same outrage?" Mamdani asked. "Or for the governor and many of my colleagues, any outrage at all?" He called what is happening in Gaza right now "ethnic cleansing."
Leo Ferguson, director of strategic projects at the left-leaning Jews for Racial and Economic Justice, also said he was disappointed with Hochul's comments. "As governor, she should obviously be the governor for both Palestinian New Yorkers and Jewish New Yorkers," Ferguson told City & State. "Both of those communities are hurting so much right now, and so it's deeply unhelpful to have her saying things that are going to just drive a wedge and drive these communities further apart rather than bringing them together." He added that he was also troubled by Hochul's comments about the need for consequences to end the violence. "What Hamas did is horrific and has only set back efforts for a lasting and just peace," Ferguson said. "More violence from Israel is not going to end that cycle, it's only going to continue it."
The governor was also met with criticism on social media by left-wing activists. "The Governor of (New) York is implicitly calling for the collective punishment of 2 million innocent Gazan(s) – half of whom are children," Queens District Leader and DSA member Émilia Decaudin wrote on Twitter. "Not even a single word of sympathy for the Palestinian lives lost over the past decades of occupation, this week, and in the retaliation to come." Assembly Member Sarahana Srestha, another DSA member, went even further, tweeting: "The Governor has no empathy for her Palestinian constituents. Instead, she effectively calls for more deaths and war crimes." Liz Moran, New York policy advocate for the progressive climate group Earthjustice, called Hochul's comments "disgusting" in a tweet written in her personal capacity, not on behalf of Earthjustice. "Just as Jews as a whole are not represented by Netanyahu, it is unfair to group all Palestinians, victims of grotesque violence from Israel under Netanyahu, as being in favor of Hamas," she wrote.
The New York City metropolitan area is home to the largest Palestinian population in the United States. Many Palestinians are part of the large Arab American community in the Bay Ridge neighborhood of Brooklyn. Like Jewish communities throughout the state, the Arab community in Bay Ridge has been the victim of hate crimes. On Wednesday night, a Palestinian teenager in that neighborhood was reportedly assaulted by men who flew Israeli flags and made anti-Palestinian statements.
Several hours after this story was published, Hochul condemned the attack in Bay Ridge and expressed support for Palestinians in the state. "I have zero tolerance for hate directed towards Palestinian New Yorkers, a community that is also cherished and respected in our state," Hochul said during a security briefing ahead of expected pro-Israel and pro-Palestine rallies on Friday.
– with reporting from Annie McDonough

Update: This story has been updated to reflect comments made by Hochul after this story was published, and to clarify that Liz Moran was speaking in a personal capacity, not on behalf of Earthjustice.
Powered By
NEXT STORY: Suozzi enters congressional race as candidate to beat