2024 New York congressional battleground
Who's running to unseat George Santos in NY-3?
Everyone wants a piece of this seat.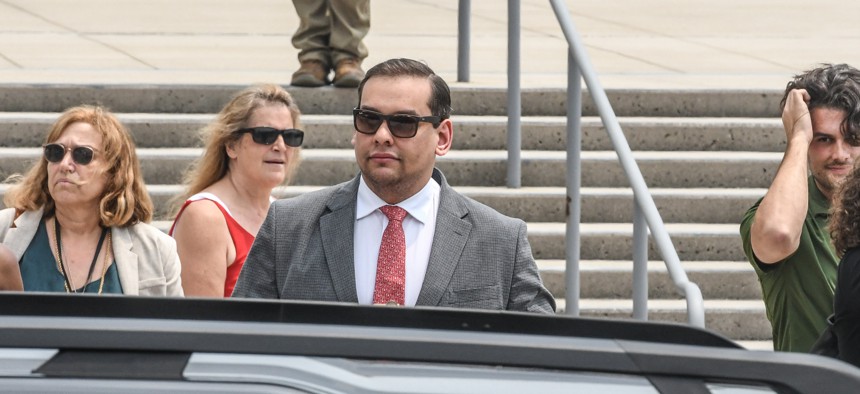 It wouldn't be a stretch to say that GOP Rep. George Santos may be the most controversial member of Congress. The majority of the New York Republican delegation has called on him to step aside, the House has opened an ethics investigation into him and he faces criminal charges related to the many lies he told during his campaign and before. And this has been going on even before he officially took office at the start of the year. Bombshell reporting from The New York Times revealed embellishments and lies on his resume after his election, and that opened the floodgates for everything else that has since come out about Santos – resulting in a federal indictment.
Unsurprisingly, Santos' infamy has attracted many opponents. A crowded Democratic primary has emerged as everyone competes for the chance to take on Santos next year in November. That is, if he makes it that far. Several Republicans have already announced bids against Santos, and with local GOP leaders unhappy with the member, others may still jump into the race. Here's everyone who has already announced or has filed to run in the race for District 3 on Long Island. This post was last updated Oct. 18.
REPUBLICANS
George Santos
Despite the calls for his resignation, Santos in April announced he would still seek reelection. But his support, even among those who have stood by him like Rep. Elise Stefanik, is almost nonexistent as Republicans continue to attempt to distance themselves from Santos. In his most recent campaign finance filing, Santos recorded -$16,500 in receipts, which brought down his total fundraising numbers as well.
Kellen Curry
The Air Force veteran announced that he would take on the embattled and disgraced member of Congress in early April, pitching himself as the person to "restore honesty and integrity" to the district, per his campaign website. Curry has raised slightly under $350,000 since launching, including $150,000 in the most recent fundraising quarter.
Mike Sapraicone
The retired New York City police detective announced that he would challenge Santos in July. Like Curry, he has focused on the idea of bringing honesty back to the seat amid Santos' lies and alleged crimes. Sapraicone has already gained the support of former U.S. Sen. Al D'Amato, who remains influential in GOP circles, especially on Long Island. He currently leads the GOP pack in fundraising, having brought in over $550,000 since launching. Of that, $300,000 came from a loan Sapraicone gave his campaign.
Gregory Hach
Another Air Force veteran, Hach announced his bid to replace Santos in mid-August. He also co-founded a law firm in the aftermath of 9/11 that represented victims of the attack pro bono. Hach has so far raised $220,000.
Daniel Norber
Norber is one of the few announced candidates who lives in the small Queens part of the district. A former member of the Israeli military, he has said that he took particular issue with Santos' lies about being Jewish. Norber has loaned his campaign $150,000 and otherwise raised $55,000.
Jim Toes
Toes, whose campaign describes him as a political outsider, announced his campaign at the end of August. A press release announcing his bid said that he has lobbied members of Congress from both parties for "free-markets and common-sense regulation" as the president of the Security Traders Association. Toes has so far raised $46,000.
Peter Christofides
A young resident of Long Island who graduated from college in 2020 during the pandemic, Christofides is also a former intern for Lee Zeldin while Zeldin served in Congress. Christofides' website says he is running to prevent the federal government from "destroying the liberties of Long Islanders." Christofides has not recorded any fundraising yet.
Thomas Charles Ludwig
Ludwig, a resident of Farmingdale and retired special forces officer, announced his campaign in early October. Ludwig has loaned his campaign $7,000, but has otherwise not recorded any contributions.
LIBERTARIAN
Ryan Kalata
So far the only candidate not running as part of either major party or as an independent, Kalata entered the race as a Libertarian. According to his website, Kalata does not live in the district, but feels it "needs better representation." Abortion rights are expected to play a role in this and other elections with control of the House on the line, and Kalata stands apart from most other candidates in the race with a belief in the right to receive one until "right before giving birth," according to his website. He has not recorded any fundraising.
CONSERVATIVE
Daniel Foti
Foti has filed with the FEC, but does not appear to have a congressional campaign presence and in fact has a launch video from August announcing a run for state Senate.
DEMOCRATS
Tom Suozzi
The former member of Congress has returned and he wants his seat in the House back. Suozzi decided to give up his seat last year in order to launch a failed bid for governor against Gov. Kathy Hochul. He lost that race and went to work for a consulting firm afterward, but now he's got his eye on his old job. Suozzi announced that he would launch a campaign in early October, but said that a formal launch would come after the November elections this year. Before making his campaign public, Suozzi had been making calls in order to pick up support from his former colleagues. Given his long history in the district and position formerly representing the district, he will likely emerge as one of the front-runners in the Democratic primary. Since opening his campaign account, Suozzi recorded $500 in fundraising, but ended the quarter with $58,000 on hand thanks to leftovers from his 2022 campaign.
Josh Lafazan
Lafazan is trying his hand at Congress again after losing a five-way Democratic primary to replace former Rep. Tom Suozzi in the same district last year. Although he was the spiritual successor to Suozzi, who endorsed the campaign, Lafazan ultimately lost to Democratic adviser and fundraiser Robert Zimmerman. Lafazan has pitched himself as a "common-sense Democrat and a coalition builder," per his website, and he has a history as a moderate in the Nassau County Legislature. He gained prominence – and infamy among some Democrats – when he sponsored local legislation that would enable first responders like police to sue people for discrimination on the basis of being a first responder, expanding protections granted in 2019 that made first responders a protected class like race or gender. The bill garnered intense backlash and debate, including on the national stage, but had support among the Republican majority and ultimately passed despite the opposition of every other Democrat in the local legislature. The county executive later vetoed the bill and it never became law. Lafazan's fundraising slowed in the most recent quarter, when he brought in slightly under $26,000, bringing his total raised to $573,000.
Anna Kaplan
The former state senator is looking to make a political comeback after losing her seat in the state Legislature last year as part of a mini red wave that also helped flip the House red. Kaplan was first elected to the state Senate in 2018, when Democrats won back control of the upper chamber, unseating a first-term Republican. A refugee who came to the United States as a teen to escape religious persecution as a Jew, she made history as the first Iranian American member of the state Legislature. Kaplan prioritized gun safety and women's rights top priorities upon taking office, sponsoring legislation in her first term to ban ghost guns that lawmakers approved and the governor signed. She continues to center both issues in her campaign. Kaplan currently leads the Democratic pack – and overall – with over $788,000 raised since launching her campaign, including over $333,000 in the last quarter. That includes a $190,000 loan she gave the campaign.
Zak Malamed
Malamed is a Jewish activist who entered the race in May and raised eyebrows when he reported raising $225,000 within 24 hours of launching his campaign. Before entering the race, Malamed had launched a national PAC called The Next 50, which attracted the likes of progressive darling Rep. Ro Khanna of California to back him and contribute to the campaign. Since then, he has continued his strong fundraising, having raked in about $722,000 since launching, placing him just behind Kaplan in total numbers, with $303,000 coming in the last quarter.
William Murphy
Another Democrat, Murphy is a professor of legal studies at St. John's University and announced his challenge to Santos in March. He has described himself as a centrist. Murphy has raised about $69,000 for his race.
Steve Behar
Behar is one of the only candidates announced so far to live in the Queens portion of the district. He has described himself as a "progressive capitalist," differentiating himself from other progressive Democrats who have self-identified as socialists. Behar most recently ran for New York City Council this year against incumbent Council Member Linda Lee, and had run for the same seat in 2021 when it was open. He garnered negative attention during that earlier race for past vulgar comments he had posted online, in addition to criticism he received for comments he made during the race about Lee, who was running for the open seat as well. Before jumping into politics himself, Behar worked as former New York City Council Member Barry Grodenchick's counsel for six years. He has not recorded any fundraising numbers yet.
Scott Livingston
Livingston has filed with the FEC to run for the 3rd Congressional District and has recorded raising about $122,000, but doesn't appear to have any campaign presence online. 
Austin Cheng
Cheng officially launched his campaign in late September, when he noted that he was the only Asian American in the race so far. Since then, he has raised $211,000 and invested $400,000 of his own cash into his race.
Darius Radzius
Radzius is a local journalist who has filed to run, but does not appear to have an official campaign announced. He has not recorded any fundraising numbers.
INDEPENDENT
Matt Nappo
Nappo is running as an independent, the only one declared in the race so far. According to a Facebook page for his campaign – the only online presence – he plans to entirely self-fund his run for Congress. The campaign also features the tagline "You've voted for worse," with an arrow pointing to a picture of Santos. Nappo has not recorded any fundraising numbers.
Correction: This post has been corrected to reflect the full slate of GOP challengers as of Sept. 1 and to add Austin Franklin Cheng to the list of Democratic challengers.
Powered By
NEXT STORY: Amid Israel-Hamas war, Kathy Hochul takes the international stage