Heard Around Town
Democrats and Republicans turn out for opening of Brooklyn facility for older New Yorkers
The new Bay Ridge Center was celebrated with a show of bipartisan support that helped make the facility possible.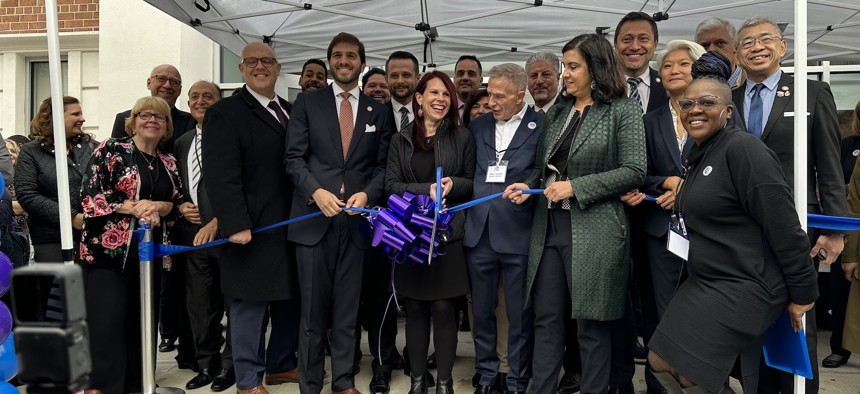 Electeds from both sides of the aisle were on hand for the unveiling of the new Bay Ridge Center Wednesday, a facility designed for the growing population of older New Yorkers in southern Brooklyn and which was made possible with the help of bipartisan financial support. 
On hand for a ribbon cutting was GOP Rep. Nicole Malliotakis, who secured a $2 million federal grant for the new facility on Bay Ridge Avenue, which replaces a basement location the center has used at a nearby church since its founding almost half a century ago. It was the lionshare in a $5 million fundraising campaign that covered the cost of renovating a former life insurance building that is now the home to the nonprofit organization. "I'm so happy to see that these seniors are going to be in a facility that offers so much more than the previous one," she told a crowd of attendees at the event. 
Democratic City Council Member Justin Brannan was also among the officials who came for the facility's debut. "This is what our seniors deserve," he told the crowd. "And there's no reason why this center cannot now be a model for other neighborhoods across the city. GOP Council Member Ari Kagan, who is running against Brannan in next week's election, also made an appearance.
The spirit of bipartisanship continued on display with Democratic state Sens. Andrew Gounardes and Iwen Chu and Republican Assembly Members Lester Chang and Michael Tannousis in attendance at the ceremony. Council Member Shanah Hanif and fellow Democrat, Bronx Borough President Antonio Reynoso also came. Even Mayor Eric Adams made an appearance via a video message played for all on the center's high-tech audio visual system.
Todd Fliedner, executive director at the center, in his remarks recalled how emotional he was to see the center finally completed. "About a month ago it was really starting to come together and I had this moment where I almost cried because I'm not doing this for me. I am doing this for the older adults in my neighborhood," he said to attendees. "I think when they walk through the doors they're going to go, 'Wow!' And that's what they should get. That's what they should have."