Politics
NY lawmakers speak at DC rally in support of Israel
Rep. Ritchie Torres, House Minority Leader Hakeem Jeffries and Sen. Chuck Schumer were among the national leaders who spoke in support of Israel's right to defend itself amid the ongoing war.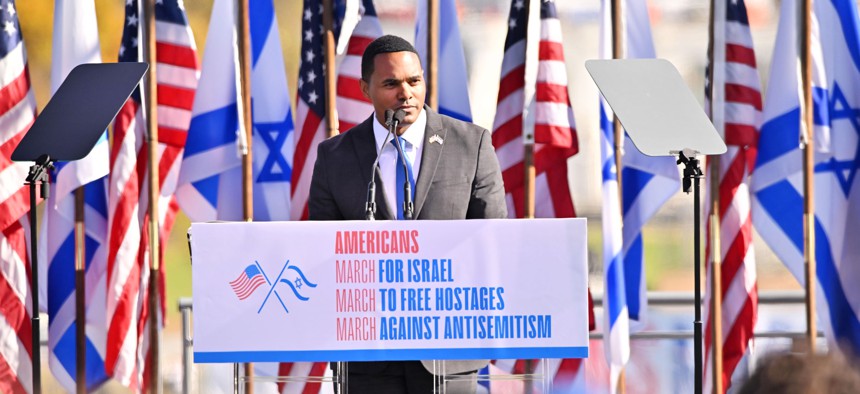 Tens of thousands of American Jews, their allies and supporters of Israel rallied in Washington D.C. against rising antisemitism, in support of Israel in its ongoing war with Hamas in the Gaza Strip and for the return of hostages taken by Hamas. Unsurprisingly, lawmakers from New York, home to the largest Jewish population outside of Israel, were among the lineup of speakers at the massive solidarity rally. 
Rep. Ritchie Torres, arguably one of Israel's biggest supporters in Congress, was one of the first to speak, taking the stage to chants of "thank you" from the crowd. He called the Oct. 7 attack by Hamas that killed about 1,200 mostly civilians in Israel "a crime against the Jewish state, indeed, against humanity." "Israel has a right to defend itself, and America has a duty to stand with Israel in her struggle for survival and self defense," Torres said.
Torres also spoke out against calls for a ceasefire from cheers from the crowd. "I want to be crystal clear: A ceasefire with a terrorist organization is not a peace agreement, it is a death sentence for Israelis," Torres said. "Now, not everyone calling for a ceasefire wants Israel to cease to exist; but everyone who wants Israel to cease to exist is calling for a ceasefire." 
Torres' colleagues from New York Reps. Nydia Velázquez, Alexandria Ocasio-Cortez and Jamaal Bowman are among a handful of Congress members calling for a ceasefire in the month-long war that has so far resulted in over 10,000 Palestinian deaths, many of them children. 
Chants of "no ceasefire" occasionally permeated the crowd in Washington, like after CNN commentator Van Jones expressed a desire for peace both in regards to rockets targeted at Israel and missiles that have been fired into Gaza. 
Senate Majority Leader Chuck Schumer, who spoke later in the lineup, did not opine on the notion of a ceasefire, but he offered unequivocal support and aid to Israel. "I said to the Israeli people, 'Israel, we in America have your back,'" Schumer said of his visit to Israel shortly after the Oct. 7 attack. "'America feels your pain. We ache with you. We stand with you. And we will not rest until you get all the assistance you need.'" He also forcefully condemned Hamas, calling the organization evil and evoking a controversial phrase that recently resulted in the censure of Palestinian American Rep. Rashida Tlaib. "When Hamas says 'from the river to sea,' they mean all of present-day Israel should be a Jewish-free land," Schumer said.
Minority Leader Hakeem Jeffries spoke of similar support. "Congress will continue to support in a bipartisan way the State of Israel and Israel's unequivocal right to exist as a Jewish and democratic state," he said, later joining hands with other congressional leaders, including Republican House Speaker Mike Johnson, on stage while leading a chant of "we stand with Israel."
Jeffries also received praise from former New York City Council Member David Greenfield, who currently leads the Jewish nonprofit the Met Council, for making the moral case for Israel's existence. "For centuries, Jews have been persecuted, brutalized by antisemitism and violently thrown out of country after country," Jeffries said in a clip shared by Greenfield, in which he listed mostly European countries from which Jewish people have been expelled. "The state of Israel must always exist as a safe haven for the Jewish people."
The pro-Israel rally came over a week after tens of thousands attended a pro-Palestine rally in Washington, during which protesters demanded that President Joe Biden support a ceasefire and to call for an end to U.S. military aid to Israel. It was part of a global series of protests organized around the world.