Melissa Mark-Viverito
Still Rising: The NYC 40 Under 40 all-stars
Every year, City & State honors 40 people in New York City politics and government who are under the age of 40. But which of these Rising Stars have risen the highest since they landed on our past lists? Here are some of the standouts who have gone on to bigger and better things.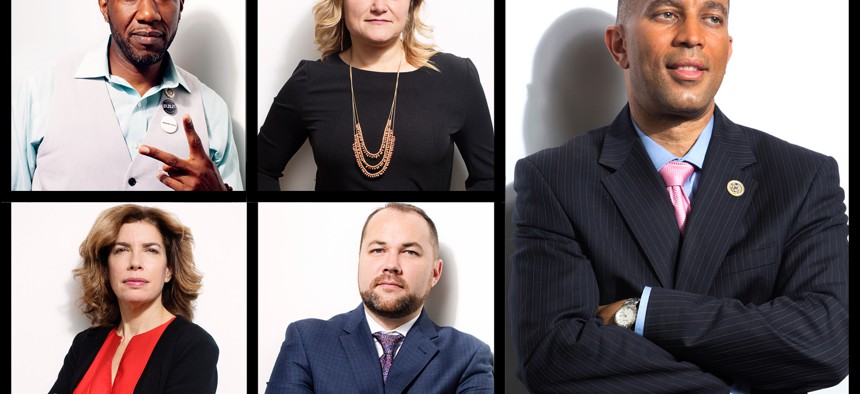 Every year, City & State honors 40 people in New York City politics and government who are under the age of 40. But which of these Rising Stars have risen the highest since they landed on our past lists? Here are some of the standouts who have gone on to bigger and better things.

Melissa Mark-Viverito
Class: 2006
Then: New York City Councilwoman
Now: New York City Council Speaker
Photo by Celeste Sloman
Melissa Mark-Viverito was elected speaker of the New York City Council on the heels of Bill de Blasio's mayoral victory in November 2013. The incoming mayor had campaigned on a "tale of two cities" platform, while Mark-Viverito was a founding co-chairwoman of the council's Progressive Caucus prior to winning the speakership. With like-minded occupants of the most powerful seats in city government, addressing inequality was bound to be a dominant theme.
"We wanted to make sure that overlooked communities had a seat at the table and that their concerns were being heard," Mark-Viverito said.
Under her leadership, the City Council expanded paid sick leave, passed a host of criminal justice reforms and extended legal protections to the city's immigrant population. Mark-Viverito championed the creation of a municipal ID program, pushed through legislation curtailing cooperation with federal enforcement agents in order to limit deportations and dispensed millions of dollars for immigrant legal services. In the age of President Donald Trump, the speaker has emerged as a national voice of opposition.
In the criminal justice arena, Mark-Viverito helped bring the closure of Rikers Island to the political front burner. In 2015, she oversaw the passage of the Fair Chance Act, designed to help individuals with criminal records receive a second chance in the workforce. Under her stewardship, the council also passed the 2016 Criminal Justice Reform Act, part of which diverts low-level nonviolent infractions away from the criminal court system.
"Anything that has to do with reforming the practices or policies that the NYPD implements is never easy," the speaker said, when asked about challenges that arose during her tenure. But it's the more the day-to-day, she noted, of holding herself to inclusive and transparent leadership standards that requires maximum energy and skill.
In her first months in office, Mark-Viverito oversaw a package of reforms to the chamber's bylaws that checked her own power as speaker – notably in the realm of discretionary funding – while empowering individual members and bringing about greater transparency.
"It's 50 other members and a lot of work goes into keeping them all in the loop, or bringing them in on issues that matter," Mark-Viverito said. "That wasn't really there before, and so I worked really hard to cultivate an environment where consultation is happening constantly, and feedback is gathered from colleagues. Working with colleagues on issues that they care about takes a lot of effort."
A 2006 rising star, Mark-Viverito's advice to the next generation of politicians is to find that proper balance between accepting compromise and upholding core values.
"You have to be able to define what those values are and leave room for conversation on everything else," she said. "That is very important because you can't be hard line on every single issue – not when you're in a collaborative body, not when you're working with colleagues whose support you want for issues that are important to you."
The term-limited councilwoman hasn't settled on a post-speakership plan. "Things change," she said. "You have the election: Who the hell believed that Trump would win? And that completely altered my thought process as to what I would want to do, and now there's the issue of Puerto Rico, which has turned our lives upside down."
The first Latina and Puerto Rican to hold citywide office, Mark-Viverito is concerned that the island's long-term recovery needs could fall by the wayside. Indeed, all indications are that the vagaries of life and politics will do anything but keep the outgoing speaker sidelined for long.
"There's a lot that's up in the air because the environment keeps changing," she said, "and the reality around me keeps changing in a very jarring way."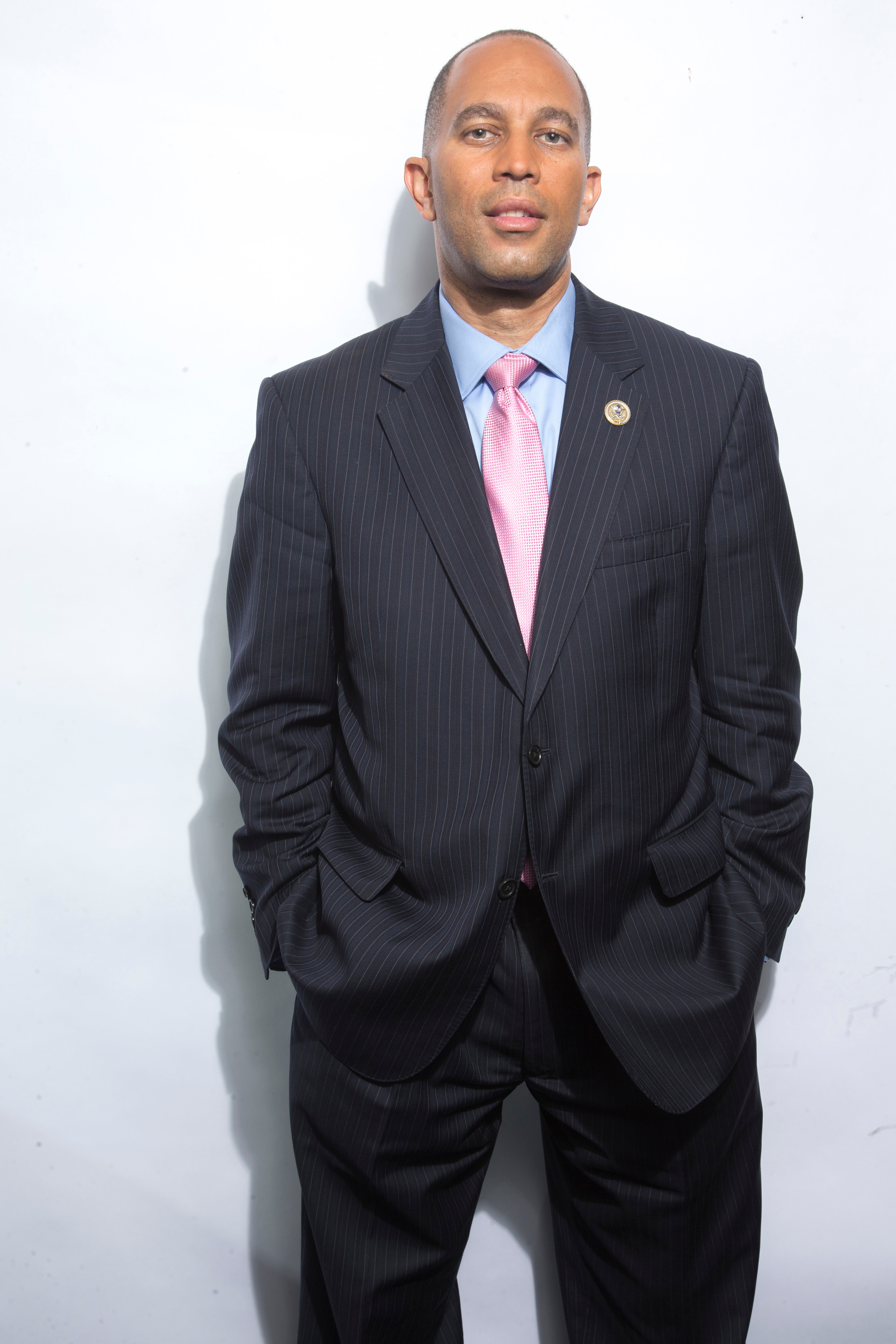 Hakeem Jeffries
Class: 2007
Then: Assemblyman
Now: Congressman 
Photo by Mark Hanauer
When he was recognized as a rising star in 2007, Hakeem Jeffries had just been elected to the New York state Assembly, and the intervening decade has seen him active on a number of fronts, from securing disaster relief funds in the wake of Superstorm Sandy to introducing legislation that would increase federal funding for security measures in public housing developments. But if there's a thematic through-line to his greatest legislative efforts, it would be, in the congressman's own words, "an unyielding commitment to the principles of liberty and justice for all and equal protection under the law."
As a member of the state Legislature, where he represented Brooklyn's 57th District, Jeffries worked on numerous issues that he believes "dealt a significant blow to the prison industrial complex in New York state" and succeeded in "reforming policing practices in New York City," including sponsoring laws that eliminated the NYPD's stop-and-frisk database and ended the state's practice of factoring incarcerated individuals into the general population of electoral districts.
In 2012, Jeffries was elected to represent New York's 8th Congressional District, which encompasses large swaths of Brooklyn and parts of Queens, and in Washington he has continued to push for criminal justice reform. In fact, the congressman has been heartened to find that there is increasingly bipartisan recognition of the need to address systematic failings in areas that were once highly divisive. For example, Jeffries and Republican Rep. Trey Gowdy of South Carolina together introduced legislation that would make it easier for certain minor drug crime convictions to be expunged from a person's record. Under The Renew Act, first-time nonviolent drug offenses committed by a person under age 25 would be eligible to be expunged, up from age 21.
"The best way to get things to done is assemble a coalition of the unusual suspects," Jeffries said.
In his role as co-chair of the House Democratic Policy and Communications Committee, Jeffries now serves as a member of the Democratic leadership and is particularly active in formulating the party's messaging, an area in which Democrats have struggled in recent years. Despite polls indicating that the majority of Americans agree with their platform on issues such as abortion, gun control and climate change, Democrats have lost ground on the state and national level for years.
"Here's the problem: Republicans talk in headlines. Democrats talk in fine print. Fine print is important for the legislative process," Jeffries said, citing Social Security, Medicare, Medicaid, the Civil Rights, Voting Rights, Affordable Care and Dodd-Frank Acts as examples of monumental policy initiatives undertaken by Democrats.
"Democrats are masters of fine print. However, when trying to shape public sentiment, it's important to talk in headlines, and we are determined to change how Democrats communicate in the era of Donald Trump," Jeffries said.
Should the party's fortunes start to turn in the 2018 midterms and beyond, look for Jeffries to advocate an aggressive Democratic agenda. One of the congressman's takeaways from his years in public service has been that electoral success can be fleeting.
"I served six years in the Assembly, all of those in the majority, but for two of those years Senate Democrats were in the majority as well, and we were able to get a lot accomplished, but it was fleeting in terms of the opportunity," Jeffries recalled. "Similarly, I served four years in Congress working side by side with Barack Obama as president, fully expecting he would be succeeded by Hillary Clinton, only to find myself in a situation where Donald J. Trump is the 45th president of United States of America. So when the opportunity presents itself to get something done, seize it with all the intensity that you can bring to bear, because the window may close sooner than you think."

Julie Menin
Class: 2008
Then: Chairwoman, Manhattan Community Board 1
Now: Commissioner, New York City Mayor's Office of Media and Entertainment
Photo by Celeste Sloman
When Julie Menin took the helm at the Mayor's Office of Media and Entertainment, she was asked, quite literally, to think big. Whereas the historical purview of the 50-year-old agency had centered on the TV and film industries, Menin was tasked with overseeing an expanded portfolio that included music, advertising, publishing and digital content – sectors accounting for some 305,000 jobs and $104 billion in economic output.
The commissioner made her first big splash by brokering the return of the Grammy Awards to New York City after an absence of 15 years. "From an economic standpoint, it brings over $200 million to the city," Menin said of the ceremony, which includes a week and a half of events. "It also really speaks to New York's primacy as the music capital of the world."
New York's music sector has endured its share of struggles in recent years, with artists and studios decamping to other cities while small venues and rehearsal spaces have shuttered under similar cost pressures. Small venues are important incubators of emerging talent, and Menin recently inaugurated the Office of Nightlife, which she says will "address community concerns around the nightlife industry" while also "serving as liaison to the nightlife industry and government agencies," with the aim of making it easier for smaller-sized venues to open up – and remain open.
MOME also helped broker a deal to revitalize the Power Station, one of the city's last remaining iconic recording studios, and as part of that project is working to bring the renowned Berklee College of Music to the city. "We're creating free rehearsal space for musicians," Menin said. "We're creating free rehearsal space for public school music students, so we're doing a number of different thing to support emerging musicians and public school students as well."
While segments of the music sector have sputtered since the turn of the century, the TV and film industries in New York City are in the midst of a renaissance, with annual production at near-record levels: 311 movies and 56 television series were filmed in the city last year alone. Given the extraordinary growth in those industries, Menin sees breaking down barriers to entry for all New Yorkers as one of her primary responsibilities.
She developed a multi-faceted plan for opening more pathways into the entertainment industry for women, including a $5 million fund to support female creators. MOME has also partnered with unions and media companies to train students from under-represented communities and created fellowships to support storytellers and entrepreneurs from diverse backgrounds. The agency has also allocated $1 million to train journalists at the city's 350 community and ethnic newspapers.
Menin previously served as commissioner of the New York City Department of Consumer Affairs, where she worked on a number of high-profile initiatives, including the Paid Sick Leave Law.
The creative sectors that Menin now oversees are by their nature constantly evolving, disrupting themselves and one another, and the commissioner sees adapting to those changes as an integral part of her job. Menin sees virtual reality and augmented reality as "fields of tremendous growth," and MOME recently invested in the first government-sponsored virtual reality and augmented reality center. The agency is also creating a certification program for podcasting, which Menin believes is a "democratizing" medium given its low barriers to entry relative to TV and radio.
"If you ask, 'What is the biggest challenge for the City of New York in the media and entertainment field,' it's staying ahead of that curve and constantly ensuring that we are providing those pathways to entry," Menin said.

Emma Wolfe
Class: 2008
Then: Election Campaigns Director, Working Families Party
Now: New York City Director of Intergovernmental Affairs 
Photo by Celeste Sloman
Back in 2008, City & State asked newly minted rising star Emma Wolfe, then the election campaigns director for the Working Families Party, what her business card would read in five years. Her response: "Working Families Party (you can find us on Row B)."
Needless to say, her life took a rather different course.
Five years later Wolfe would serve as a top aide on Bill de Blasio's successful New York City mayoral campaign, but back in 2008 she had yet to meet de Blasio despite orbiting in the same progressive milieu. During the 2001 primaries they even worked out of the same office when de Blasio was running for City Council and Wolfe was an organizer for the community activist group ACORN, but the two would not formally meet until 2009 at the campaign office of Julissa Ferreras, who was then a City Council candidate.
"I had never fully signed myself over to an individual. I had always worked for organizations, and that is where I was comfortable," Wolfe recalled. "But I do remember sitting down with (de Blasio) and Chirlane (McCray, his wife) and they were sort of asking me to think about my future, and I do remember talking to them – this was in Brooklyn – about how I wanted to think about working for a public servant who I really believed in, and who could impact change from government."
A shared affinity for the Boston Red Sox – Wolfe is a Massachusetts native – certainly didn't hurt their nascent bond.
Wolfe linked up with de Blasio's public advocate campaign and wound up serving as his chief of staff in that office, and as deputy campaign manager and political director for his 2013 mayoral bid. Now the administration's intergovernmental affairs director, Wolfe plays a key role in carrying out the mayor's agenda by helping him patch together the necessary legislative and executive support. Reflecting back on her transition to City Hall, Wolfe said, "It's sort of like when you're at the gym and you turn on the treadmill, and the treadmill is going an insane number of miles per hour as opposed sort of walking and then jogging and getting yourself up to a good clip. You're like jumping onto the treadmill when it's going full speed and you just have to start sprinting."
As it happens, Wolfe has taken up exercise as a way to unwind. How else does the woman with one of the most fast-paced jobs in city government decompress? Taking care of her soon-to-be two-year-old nephew one evening a week, which Wolfe describes as a "really great, sacred thing.
"A lot of people who have families feel this, but I get to be a little spoiled – see him, have a great time with him, and forget about everything that is going on, for the most part," she said. "I may get a call or two, here or there."  

Jumaane Williams
Class: 2009
Then: Democratic New York City Council Nominee
Now: New York City Councilman 
Photo by Celeste Sloman
Jumaane Williams had just unseated an incumbent en route to winning Brooklyn's 45th District City Council seat when he was named a rising star in 2009. Eight years and two terms later, Williams admits that the glow of joining the City Council still hasn't gone away.
"I'm still amazed every time I go up the City Hall steps," he said. "I still feel that fresh feeling of 'I'm actually a Council member,' and it's still a very surprising, humbling thing – so I hope that feeling never goes away."
After brushing off a primary challenger last month, Williams appears poised for an easy reelection in November. But the race to succeed Melissa Mark-Viverito as City Council speaker, for which Williams is a declared contender, will surely prove more competitive. The Brooklyn lawmaker hopes that his track record over two terms will give him a leg up on the competition in the age of Trump.
"I have a large body of work navigating some very, very complicated and divisive issues in a way that didn't really divide the city, and strengthened the body," Williams said, adding that he would like to continue to increase the body's oversight role and its engagement in budget negotiations.
"I want to empower Council members to represent their districts and really protect our districts from Washington, and I think you want someone who has demonstrated that they can stand tall and do that even on the most complicated issues, and issues that can be divisive if not handled correctly," Williams said.
During his time in the Council, Williams has been at the forefront of efforts to reduce gun violence and reform the criminal justice system, helping push through the Community Safety Act, which is designed to reign in racial profiling, and the Fair Chance Act, which prohibits most employers from asking job applicants about their criminal record. As chairman of the Committee on Housing and Buildings, Williams believes that his experience as a former tenant organizer – and landlord – has helped him navigate some of the most sensitive and vital issues facing the city, and inspired him to push for deeper affordability in new construction projects.
While Williams is not shy about reflecting on the positive impact of legislative efforts, he does not shy away from airing his discomfort with a political system that provides elected officials with incentives to act in their own interests rather than those of their constituents.
"I guess what never ceases to amaze is how difficult it is to just do the right thing in government," Williams said. "Sometimes it's difficult for no other reason than it's just not beneficial to us as electeds, and that's something that's just going to be hard for me to accept, I think, ever, really."
Still, Williams maintains his faith in public service as a vehicle for positive change and encourages the rising stars of the future to believe in their own ability to make a difference.
"Really believe in the power you have, because anybody you look up, anybody who has made a major impact on the world, they were really just human beings like you," Williams said. "So people just need to really internalize the power that they have – and just start. Sometimes people get blinded by the enormity, but with any enormous thing you just have to start at some point, and often times the hardest thing is just start to walking, and you can achieve it."

Corey Johnson
Class: 2011
Then: Chairman, Manhattan Community Board 4
Now: New York City Councilman
Photo by Celeste Sloman
Corey Johnson was 18 years old and captain of the football team at Masconomet High School in Boxford, Mass., when he came out as gay. Several media outlets covered his story, including The New York Times, which ran a front-page article. Rather than bask in his 15 minutes of fame and withdraw from public view, Johnson chose to pursue a career in activism, with a focus on LGBT issues. He moved to New York City and immersed himself in local politics. In 2005, at age 23, Johnson was appointed to Manhattan Community Board 4; five years later the board elected him chairman. Then, in 2013, at age 31, Johnson was elected to the New York City Council.
At the time, Johnson told City & State: "I have a beard, and I never shave because if I ever shave, I look too young." Asked to reflect back on that moment four years later, Johnson said that he "didn't really feel any different" after his election.
"I felt like, 'I'm still Corey, and this is a big opportunity, so now get to work, make your constituents proud and work on behalf of the neighborhoods and the city that you love,'" he said.
The legislator Johnson succeeded in Manhattan's 3rd City Council District was none other than Christine Quinn, the former Council speaker, a position Johnson will seek after current Speaker Melissa Mark-Viverito leaves office.
"My goal is to ensure that the City Council remains a voice for New Yorkers and neighborhoods across the city and in this era of Donald Trump we continue to be at the forefront of passing progressive legislation and ensuring that local government works for all New Yorkers," Johnson said.
The only openly HIV-positive elected official in New York state – and among a small handful nationally – Johnson has played a pivotal role in securing resources to combat HIV and AIDS. Efforts at both the city and state level have led to almost $50 million in funding over the past three years to prevent new infections and support individuals living with the virus, Johnson said, and according to data from last year, the most recent available, New York City appears on track for record lows in new HIV/AIDS diagnoses since the onset of the epidemic.
"New York City and New York state are literally doing more to end the HIV/AIDS epidemic than anywhere else in the United States of America," Johnson said.
Reflecting on his first term in office, Johnson said the unifying thread was working to make "our city more fair and equitable for the most marginalized and vulnerable New Yorkers."
For example, one law that Johnson sponsored, which he found "meaningful and moving," allowed transgender New Yorkers to modify the gender listed on their birth certificates without undergoing sex reassignment surgery. "Hundreds, if not thousands of New Yorkers, now have an accurate birth certificate and previously had a piece of paper that did not match how they self-identify," he said.
The sponsor or primary co-sponsor of almost 30 bills, Johnson has kept busy over the past four years, but when he's not on the floor of the City Council, he still makes a point of occasionally hitting the dance floor.
"I love, love, love to dance," he said. "I love old disco. I love new pop. I love Top 40 – and I like to groove."

Donovan Richards
Class: 2012
Then: Chief of Staff, New York City Councilman James Sanders Jr.
Now: New York City Councilman
Photo by Celeste Sloman
When City & State named Donovan Richards a 2012 rising star, he was 29 years old and the chief of staff to James Sanders Jr., who represented the 31st New York City Council District in Queens. By then, Richards had already worked on the council member's staff for a decade – since garnering attention with a speech he gave against gun violence following the murder of a close friend – so when he was elected to succeed his boss the following year, the freshman lawmaker had already accumulated a wealth of experience in the body.
That's not to say Richards had learned all he needed to know. In fact, one of his messages to the next generation of rising stars is: Don't be afraid to ask questions. "We take ourselves so seriously in this business," Richards said. "We tend to think we know it all, and it's OK not to know it all. It's OK to stretch your boundaries a little more."
Richards admitted that coming to his position as chairman of the Subcommittee on Zoning and Franchises without a planning background, he had to learn some things on the fly while navigating points of contention between a city trying to add housing units and communities fearing the footprint of large developments. This experience helped inform another piece of advice Richards had for up-and-coming politicos: listen to people.
"As much as we aim for the sky, it's important not to forget the people on the ground, talking to that constituent on the ground, getting coffee at same coffee shop," Richards said. "Stay grounded."
In September, the City Council unanimously approved the Far Rockaway rezoning plan, which Richards said will provide $280 million of critical investment in a community he represents, and which he points to as an example of how listening can pay off.
"City agencies were literally meeting with people at their kitchen tables," he recalled.
Serving as chairman of the Committee on Environmental Protection when he joined the council provided Richards with a platform to deliver resources to address environmental justice concerns in vulnerable communities throughout the city, including infrastructure needs in his Queens district. "We look at what's going on around the world right now, but right in our own backyard there are individuals living in these conditions, who on some days when it rains can't walk out to their mailbox," he said.
Richards has also been involved in the city's ambitious climate mitigation efforts, shepherding through the bill that committed New York to an 80 percent reduction in carbon emissions by 2050 and co-chairing the Mayor's Sustainability Advisory Board.
With Melissa Mark-Viverito's tenure as council speaker winding down, Richards is widely viewed as one of the top contenders to succeed her.
"I think my experience in the council for the past 15 years definitely gives me an eagle eye on where I would like the institution to go," he said. "We've grown a lot, but there is some more work to be done." Like other aspirants to the speakership, Richards believes that the political climate in Washington calls for strong leadership in the council and, if elected, Richards said his policy goals would include expediting the timetable for shuttering Rikers Island, addressing inequities in the property tax system and exploring opportunities for commercial development on NYCHA grounds.
"It's not likely, in the neighborhood I grew up in, that someone like myself would be sitting in this chair," Richards said.
Which led, of course, to one last word of wisdom for the rising stars out there:
"Roll the dice," Richards said. "We don't know what's going to happen. If you don't take a shot, you can't the win the game."