Power Lists
Power of Diversity: New wave of Asian Americans seizing elected office
Taiwanese and Hong Kong immigrants broke through a generation ago. Other groups are now making progress.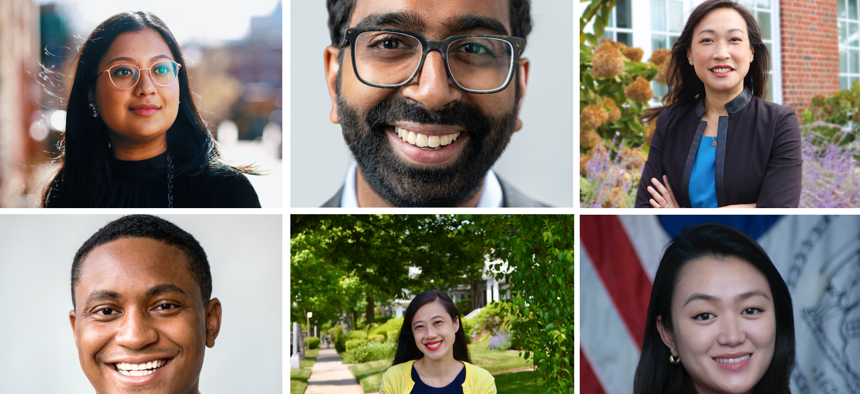 On March 31, 1996, an actuary named John Liu was taking the subway to work when he read something that changed his life. A story he was reading in The New York Times that described the discomfort that some longtime Flushing, Queens, residents felt about the growing local Asian American population. Julia Harrison, Liu's representative on the New York City Council at the time, assailed the influx of immigrants in the neighborhood as "an invasion, not an assimilation."
The article galvanized Liu to run for office. He mounted an unsuccessful challenge against Harrison in 1997, then won the seat four years later when the longtime incumbent stepped down due to term limits. Liu, who is Taiwanese American, became the first Asian American to serve in the New York City Council. After two terms, he went on to be the first Asian American to serve in a citywide post as comptroller.
Liu, whose groundbreaking career in city and state politics paved the way for other Asian American politicians in the first decade of the 2000s, was elected to the state Senate in 2018, just as a new group of Asian Americans began winning legislative seats in Albany and New York City. While the first waves were made up primarily of politicians who are Taiwanese American or originally from Hong Kong, more recent breakthroughs reflect the fuller diversity of the Asian American community, including immigrant groups that arrived later in the U.S.
Following on Liu's heels were two other trailblazing Taiwanese Americans. One was Jimmy Meng, who became the first Asian American in the state Legislature when he assumed office in the Assembly in 2005. Meng's daughter, Grace Meng, also served in the Assembly before becoming New York's first Asian American woman elected to Congress in 2012. In 2009, Margaret Chin and Peter Koo, who emigrated from Hong Kong in the 1960s and early 1970s, were elected to the New York City Council.
The first major waves of immigrants from Taiwan and Hong Kong in the past century began arriving in the U.S. in the 1960s. For the first generation, the overarching priority was often to find work and put down roots in the United States. Only after some time, typically in the second or third generation, do members of an immigrant community become more politically involved.
"Even for Korean Americans, we came earlier but not as early as some of the diasporas in the Chinese and Taiwanese communities," said New York City Council Member Linda Lee, who made history this year as the first Korean American woman to serve in the legislative body. "When you're coming over as an immigrant, you're just thinking in survival mode, and you're thinking about how to set up shop and provide for your family. Once you become a little bit more established, that's when people begin to sort of look upwards, and they start seeing around them how important it is to have that political voice and power to help out the community."
While New York elected its first Korean American, Assembly Member Ron Kim, nearly a decade ago, South Asian Americans have won legislative seats in the state for the first time only in recent years – likely due in part to the fact that South Asian immigration particularly flourished slightly later, from the 1970s forward. Kevin Thomas, a Long Islander who is Indian American, joined Liu as the first Asian Americans in the state Senate in 2019. In 2020, voters elected Jeremy Cooney, an orphan adopted from Kolkata, India, who grew up in Rochester, to the state Senate, making him the first South Asian person elected to state office from upstate New York. Voters also elected in 2020 Assembly Members Zohran Mamdani, an Indian Ugandan man who came to New York City as a child, and Jenifer Rajkumar, an Indian woman who grew up in Queens.
This past election cycle, a record six Asian Americans won contests for the New York City Council, including Shekar Krishnan, an Indian American man, and Shahana Hanif, a Bangladeshi American and the first Muslim woman to win a seat in the legislative body.
Despite the recent gains, Susan Kang, an associate professor at John Jay College of Criminal Justice, said that Asian Americans as a whole are still catching up with other racial and ethnic groups that are more well established in New York's political sphere.
"Asian Americans in New York City and New York state entered into political representation later than other groups like the Latinx community. We're a bit later entering," she said. "That could be for a number of reasons, like our immigration patterns are more recent. After basically overturning the Chinese Exclusion Act and the reforms to immigration, people like my parents were able to come over. There's more representation on the West Coast than compared to the East Coast because there's greater populations there too."
Political consultant Neal Kwatra said South Asians have to continue to build on their noteworthy successes. "Other communities have done that work of cultivating and bringing forward candidates and organizing their communities very effectively," Kwatra said. "I think it's great that the South Asian community is beginning to coalesce, but I do think like any community, there are challenges even within the South Asian community. It's not a monolith. Bangladeshis and Pakistanis and Indians don't always agree on the same thing."
Other obstacles loom, notably redistricting and the need to cultivate political leaders and address the unique issues different Asian American communities face. The state Legislature's redistricting plan that was just thrown out would have created some new districts built around specific Asian American communities. But critics argued the plan would have proven detrimental to future South Asian American candidates as certain neighborhoods with strong South Asian populations, such as Flushing, Richmond Hill and South Ozone Park, would have been split up.
Often, Asian American communities have long been represented by entrenched white politicians who may not have a strong grasp on the issues or needs of the people they represent. Only recently have Asian American voters seen more candidates with a shared background run for office and have a meaningful chance at winning.
Political consultant Trip Yang observed that the new generation of Asian American candidates are winning support not just among members of an immigrant enclave but with the larger public. "There was this type of discourse politically that Asian Americans can only represent Asian Americans," Yang said. "What we've seen with the success of the recent class of Asian American elections is that's simply not true. Asian Americans are able to communicate and build trust across different communities and build various multiracial coalitions."