Power Lists
New York's key public officials overseeing nonprofits
The elected and appointed officials funding, legislating and regulating the sector.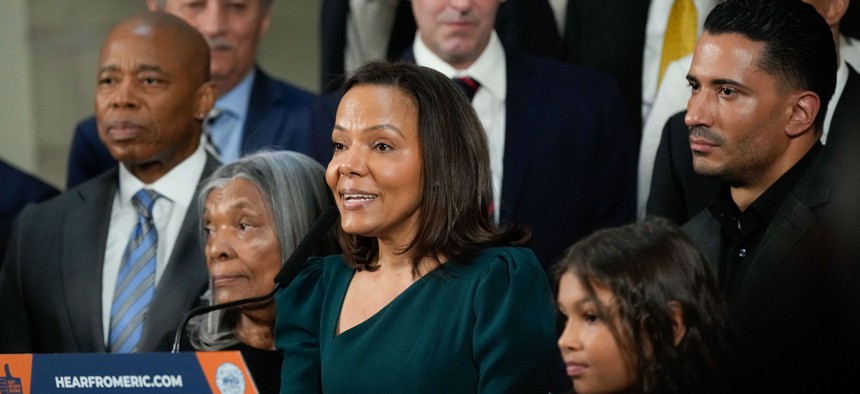 Nonprofits get plenty of funding from New York City and state governments.
It's no surprise, then, that there are plenty of roles in government dedicated to overseeing nonprofits.
Perhaps the most powerful among the appointees in state government is James Sheehan, the charities bureau chief in the state attorney general's office. Sheehan, a former state Medicaid inspector general and federal prosecutor, has been the state's top nonprofit regulator for state Attorney General Letitia James and her two predecessors, Barbara Underwood and Eric Schneiderman. Sheehan has been on the front lines for the state's lawsuits against the Donald J. Trump Foundation and the National Rifle Association. Last year, he worked with James to recoup $640,000 in funds fraudulently raised by telemarketers and delivered those funds to five breast cancer charities.
The state's first interagency coordinator for nonprofit agencies, Fran Barrett, is Gov. Kathy Hochul's nonprofit point person. Presiding over the only gubernatorial office of its kind in the country, Barrett works to coordinate state resources for nonprofits.
First Deputy Mayor Sheena Wright, Deputy Mayor for Strategic Initiatives Ana Almanzar and Karen Ford, executive director of the Mayor's Office of Nonprofit Services, are New York City Mayor Eric Adams' nonprofit oversight leadership team. Wright, a former president and CEO of the United Way of New York City, has played a key role in city nonprofit policy since joining Adams in 2022 as deputy mayor for strategic initiatives. Almanzar, who became deputy mayor in May, directly oversees several nonprofit related offices, including Ford's. Almanzar brings plenty of experience with nonprofits to her role, having served as director of community relations at Mother Cabrini Health Foundation and as chief of staff to the state director of nonprofits.
Contracts lie at the core of nonprofits seeking funding from the New York City government, and Council Member Julie Won plays a key role in setting city contract policy as chair of the Contracts Committee. Won has been focused on making city contracts easier to manage in particular for small nonprofits.
New York City Department of Social Services Commissioner Molly Wasow Park and New York City Administration for Children's Services Commissioner Jess Dannhauser oversee two of the key city agencies charged with working with the nonprofit social services sector. State Office of Children and Family Services acting Commissioner Suzanne Miles-Gustave took over the key state social services department after the departure of former Commissioner Sheila Poole. Miles-Gustave previously served as the agency's executive deputy commissioner.
In the state Legislature, state Sen. Roxanne Persaud and Assembly Member Maritza Davila also play significant roles when it comes to social services nonprofits. Persaud is the veteran chair of the state Senate Social Services Committee, while Davila took the helm of the Assembly Social Services Committee at the start of the year after leading the Puerto Rican/Hispanic Task Force. In early October, Persaud's committee is scheduled to hold a joint hearing with the Women's Issues Committee on whether health care providers and human services agencies are meeting the needs of survivors of gender-based and domestic violence.