sponsor content What's this?
Sponsored Content
Roosevelt Island: A Hidden Gem Nestled Between Queens & New York City At the Helm of the State Ran Agency is President & CEO Shelton J. Haynes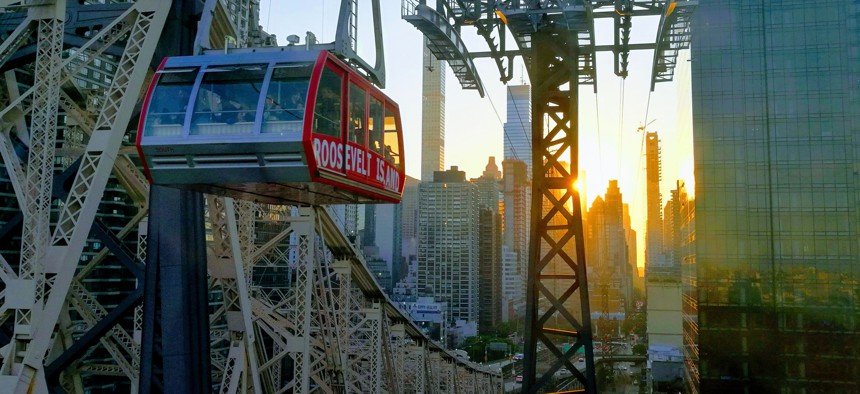 From the breathtaking views looking out of the iconic tram or the jaw-dropping art installations and parkland – Roosevelt Island is so much more. Out of the sliver of green space in the East River, nestled between Queens and Manhattan, lays Roosevelt Island. The Island is two miles long and doesn't quite get its due credit. While considered a part of New York City, the area is perfect for those seeking a weekend getaway from the hustle and bustle of City life, perfect for those who wish to see the lively green spaces or art lovers seeking profound public art such as the Girl Puzzle monument honoring Nellie Bly.  
For all its glory, Roosevelt Island has made bold statements in recent years in major categories, including tourist attractions, capital projects, critical investments into the quality of life, and building community relationships with major giants like Cornell Tech. What many may not know is that the Island caters to more than 12,000 people who call Roosevelt Island home.  
At almost every corner of the Island, visitors and residents alike will be met with historical anecdotes that will leave many thinking about times when President Roosevelt delivered a speech in Four Freedoms Park or walking past what used to be an "insane asylum," a prison, and a smallpox hospital. Roosevelt Island is teeming with history and places a strong commitment to preserving and protecting its rich culture.
Much of the Island's improvements is credited to the work of the Roosevelt Island Operating Corporation (RIOC) President & CEO Shelton J. Haynes, who serves at the pleasure of the Governor and Board of Directors. Operating like a small-town Roosevelt Island is unique as it offers essential services, including a Public Safety Department (PSD), a vibrant Youth Center providing high-quality care and programming, free transportation for Island goers to get around, facilities and horticultural teams to upkeep the Island and is one of three places in all of the United States that has an underground automated vacuum waste collection system, and will soon unveil a state-of-the-art fitness and recreation facility.
Roosevelt Island is experiencing a renaissance period thanks to a nearly $150 million capital project improvement program that Haynes proudly boasts. This includes renovations to Blackwell Park, a recreation play area that has seen infrastructure upgrades and is slated for a transformative change for the play area and comfort stations, a roadways project aimed to re-evaluate traffic patterns and parking spaces, announced the first bike lane path along the Island's East Promenade, and completed the restoration and expansion of the highly frequented Southpoint Park, and received the New York Landmarks Lucy G. Moses award for the Island's Lighthouse Tower restoration project. There is something for everyone to enjoy at Roosevelt Island. If you plan to visit, be sure to come during the beautiful Cherry Blossom festival in Spring or the Fourth of July Fireworks overlooking the East River.