Education
Opponents of diversifying specialized high schools ignore facts
Attacks on de Blasio's plan to reform admissions are mostly bogus.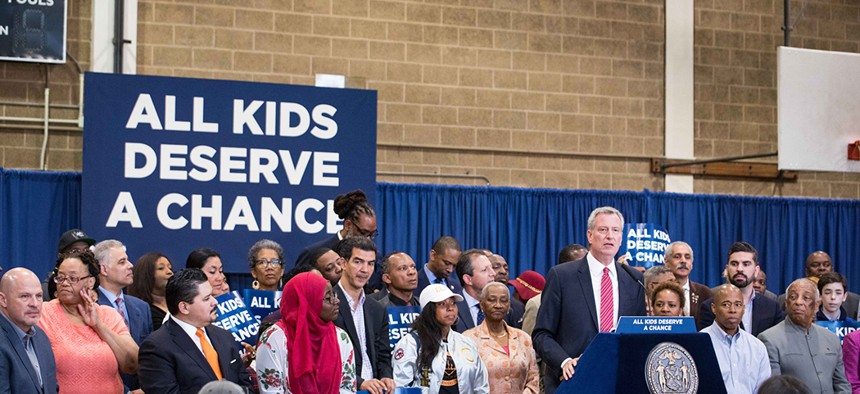 One would think, from perusing New York City's local newspapers – or eavesdropping on dinner-table conversations in the city's upper-middle-class neighborhoods – that the admissions procedure at a handful of local high schools has suddenly emerged as the most important issue of the day.
That's because Mayor Bill de Blasio recently proposed revising the admissions criteria governing eight of the specialized public high schools in New York City. Instead of using a multiple-choice English and math exam, called the Specialized High Schools Admissions Test, they would take the top 7 percent of students from every public middle school. This would make the student bodies, which are currently majority Asian-American and far less black and Latino than the city as a whole, more representative.
The blowback has been severe. Alumni associations from some of the schools posted open letters of opposition. Asian-American community leaders rallied against the plan and accused the mayor of racism.
Op-eds by current students and alumni in the newspapers have rushed to the SHSAT's defense. "Blaming the test is only a political maneuver designed to avoid the actual systemic issues," wrote a senior at Stuyvesant High School in the Daily News. "We need to stop talking about the test, and we need to start talking about the failing K-8 education system in New York City." A conservative analyst who graduated from Bronx Science, one of the affected schools, warned in the New York Post against "diluting entrance criteria" and "dumbing down the schools."
Even politicians from outside the city, like Dutchess County Executive and Republican gubernatorial candidate Marcu Molinaro have eagerly seized the opportunity to appeal to white resentment. At a rally against the proposal, standing in front of City Hall with his running mate and fellow interloper Julie Killian of Westchester, Molinaro declared, "We must never lower our standards in New York schools. … We must also create more courses of study to prepare mechanically gifted children for high-paying trade crafts." (The state government in Albany would have to approve de Blasio's reform, which it is not inclined to do.)
Many Democrats are not much different. Bronx Assemblyman Jeffrey Dinowitz claimed "the current exam is 100 percent objective. No one is saying it's culturally biased."
Most of these arguments, however, are based on straw men. The very contours of the debate, and the volume at which it is happening, seem to spring from a limited field of vision.
Here are a few essential contextual facts that you might not know from reading some of the attacks on de Blasio's plan:
New York City's public school student body is 26 percent African-American and 40 percent Latino, but of the 5,000 admissions offers this year, just 172 black students and 298 Latino students got in. Stuyvesant, the most selective of the specialized schools, is only 1 percent African-American and 3 percent Latino.
In light of that data, it is remarkable not that the liberal Democratic mayor proposed scrapping the exam-only admissions process, but that it took until the middle of his second term to do so. The status quo is plainly untenable and waiting to fix the city's middle schools is, at best, much too slow a solution.
The current process is not objective and it is culturally biased. The test produces a numerical score, but what it tests and what it doesn't test – and what other attributes are left unexamined by using only test scores for admission – is a subjective choice.
"I don't believe that a test score, in and of itself, determines talent," says Brian Benjamin, a state senator from upper Manhattan. Benjamin got into Brooklyn Tech, but not Stuyvesant or Bronx Science, which require higher scores to gain admission, despite academic gifts that would later take him to Brown University and Harvard Business School. Unlike many of the students who performed better than he did on the test, Benjamin's family knew nothing about the test prep industry and he didn't have any prep courses. "Great test takers are saying you are going to dilute the school if you account for other things, but the best schools on the planet account for other things," says Benjamin, referring to universities like the Ivy League schools he attended, which look at grades, extra-curricular activities, teacher recommendations, personal essays and so on. "They don't just look at one data point."
The status quo favors the affluent. Attending a better middle school or being from a more educated or affluent family gives test-takers a leg up. So does a prep course. Last year, The New York Times profiled GPS Academy, "an educational enrichment business" in Flushing, Queens, "that specializes in preparation for standardized tests."
"A typical summer class for (the SHSAT) at GPS lasts three hours a day, every weekday, and can cost around $1,400," the Times writes. But, the school's director says, "virtually all his students get into a specialized high school."
Parents looking to maximize their child's chances of getting into a specialized high school are currently incentivized to send their kid to the most elite middle school possible, including private schools. De Blasio's plan would reverse that incentive. By reserving nearly all the spots for public school students and distributing those slots evenly across the city's public middle schools, de Blasio would give students who go to public schools with disadvantaged populations a greater chance of getting into a specialized high school. Perhaps, if enacted, de Blasio's plan would even get some relatively affluent parents to choose more diverse public schools, where their children have a better chance of landing in the top 7 percent.
Like all New York City public schools, the specialized high schools are supported by all taxpayers across the city, even though there are low-income, African-American and Latino neighborhoods that send hardly any students to them.
The specialized high schools are not the only prestigious public high schools in New York City. There are many high schools with strong academic reputations and relatively racially diverse student bodies – Midwood High School and Edward R. Murrow in Brooklyn and Townsend Harris in Queens, to name just a few – that use their own various admissions processes. Despite the hysterical claims from SHSAT advocates about what would happen under de Blasio's plan, these other well-regarded high schools manage to educate smart students and send them to selective colleges. If some white or Asian-American students who aren't in the top 7 percent of their middle school class have to go to one of these other schools, it won't condemn them to a life of ignorance, poverty and misery.
While de Blasio could just change the admission criteria for the five newer specialized schools – the High School for Math, Science and Engineering at City College, the High School of American Studies at Lehman College, the Queens High School for the Sciences at York College, Staten Island Technical High School and Brooklyn Latin School – that would hardly fix the problem. Those schools are tiny compared to the original three. Bronx Science, Stuyvesant and Brooklyn Tech have 12,169 students, versus 3,371 at the five newer schools combined. Also, Stuyvesant and Bronx Science are the most prestigious of the specialized high schools, and their lack of Latino and African-American representation is by far the most egregious.
De Blasio is not proposing to lower standards for entry into the specialized schools; he is proposing to change them. The same number of students would be admitted, so it would not be easier to get in overall. It would be easier to get in if you are a top student at a socially disadvantaged middle school but not a great test-taker. It would be harder to get in if you are a well-off white slacker or a student from a competitive middle school in the Asian-American community.
This is not necessarily unfair. It is disadvantageous to those who are best-positioned under the current system, some of whom work very hard at studying for the test. But the current system is disadvantageous to others, including many people whose community had 400 years of their labor being violently stolen and their human rights systematically violated and continue to be economically, socially and politically oppressed today.
There used to be more African-American and Latino students at Stuyvesant, Bronx Science and Brooklyn Tech. As a pair of sociologists note in The Atlantic, "In 1989, black and Latino students made up about 16 percent, 22 percent, and 67 percent, respectively, of these schools' attendees." The increasing numbers of Asian-American students scoring extremely high on the SHSAT in recent years has displaced many black and Hispanic students. But that does not mean the schoolwork at the specialized high schools has gotten much more rigorous or that the middle school preparation required is much greater than it was when the specialized schools were more diverse. Why wouldn't black and Latino students with SHSAT scores that would have gotten them into one of these schools a few decades ago not be able to do the work there today? As with elite college admissions, there is a huge surplus of very smart kids who could succeed academically at New York City's most selective high schools. (That's one reason to perhaps create more of these schools as well as diversify the existing ones.)
Diversifying the student body at the specialized schools might enhance the experience of those who attend. The educational benefits of going to school with a racially diverse cohort have been demonstrated in academic research.
An unstated assumption of many SHSAT defenders is that the test is the best predictor of academic potential. The impressive academic success of the specialized high schools and so many of its alumni prove the SHSAT has identified some very talented people. But students who perform well on the test may not always turn out to be the best students – particularly in some subjects that are not included on the test, such as science, history and foreign languages. That's why some observers reasonably suggest a compromise of using the SHSAT as just one component of the admissions standard, like how selective colleges use the SAT and other standardized exams as only part of the application.
De Blasio's plan does not discriminate against Asian-Americans or keep them out of the specialized high schools. That hasn't stopped Asian-American leaders from claiming that it does. Soo Kim, president of the Stuyvesant Alumni Association, likened de Blasio's proposal to "the Asian Exclusion Act of 2018."
"Exclusion" is an ironic word choice, as the current system excludes blacks and Latinos, while de Blasio's plan would not exclude Asian-Americans. In fact, whites and Asian-Americans would still be overrepresented, while blacks and Latinos still would be underrepresented – just 45 percent of the student body at specialized schools.
Anyone, like Rep. Grace Meng, who says that the real solution is fixing the middle schools most black and Latino students attend is changing the subject. Improved and integrated middle schools cannot eliminate the entire test-score gap between children whose parents have $1,400 and the social capital to enroll them in a prep course and those who do not.
In fairness to the test's defenders, there are a few counterpoints that are also largely ignored:
Many African-American and Latino students who might get into specialized high schools may have the opportunity to go to private schools or parochial schools, including through scholarship programs such as Prep for Prep. That probably contributes a little bit to the current underrepresentation of blacks and Latinos in the specialized schools. But that underrepresentation is so enormous that reform is still clearly needed.
Only 6 percent of New York City public high school students go to one of the specialized schools. From a citywide educational or racial justice perspective, the attention paid to the specialized high schools is disproportionate and arguably distracts from the larger issues at hand.
The citywide problem with inequality is determined overwhelmingly by the segregation of the far more numerous non-selective schools than the specialized schools or other "screened" schools.
The cause of segregation at most New York City public schools is the absence of white students, not the absence of African-Americans or Latinos. And that problem, in turn, is driven primarily by regional residential segregation. In New York City, 85 percent of African-American students and 75 percent of Latino students attend schools that are less than 10 percent white.
While the New York City metropolitan region has a median household income of $71,897, is 46.5 percent white and has a poverty rate of 13.5 percent, the figures are $55,191, 32.3 percent and 20 percent, respectively, for the five boroughs of New York City. For all the hype about gentrification, the suburbs remain richer and whiter than the inner city. A school in East Flatbush, Brooklyn, where the population is 89 percent black and 1 percent white, will be racially segregated, absent a region-wide school busing program that incorporates the whiter neighborhoods and suburbs.
Moreover, the de Blasio administration has continued former Mayor Michael Bloomberg's trend toward enabling parents to choose to send their children to public schools outside of their neighborhood zone. A recent study by the Center for New York City Affairs at The New School shows that parents taking advantage of school choice are wealthier and whiter, on average, than the city as a whole, and that the result has been increased segregation.
Untangling the web of racial segregation in the New York City region's school system's non-elite public schools is the more important task. But the resistance de Blasio has met when proposing to address just one piece of the segregation puzzle shows why that is politically so difficult.