New York City
Could Alexandria Ocasio-Cortez be NYC's first female mayor?
Alexandria Ocasio-Cortez may want executive experience and to implement her agenda in the country's most high-profile city.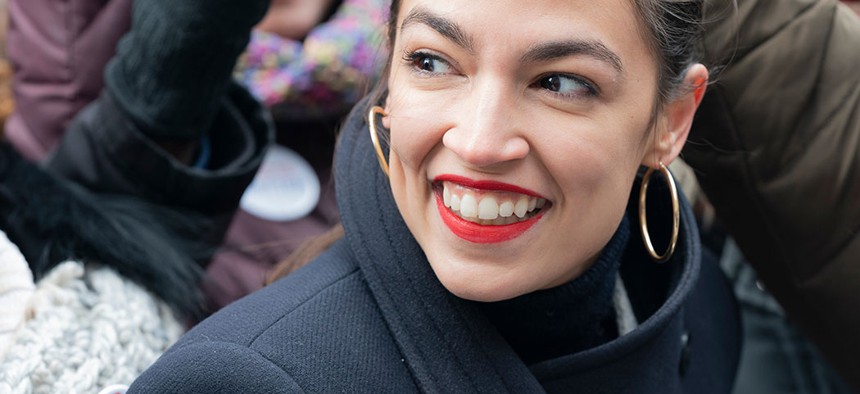 Ask any political insider about the New York City mayoral race in 2021 and they will rattle off four top-tier contenders: Brooklyn Borough President Eric Adams, New York City Comptroller Scott Stringer, City Council Speaker Corey Johnson and Bronx Borough President Ruben Diaz Jr.
But New Yorkers, who never have had a female mayor, might be eager to finally break the glass ceiling at City Hall. And there is one female candidate in the wings who would be a formidable opponent to these four heavyweight pols.
Is it Cynthia Nixon? Chirlane McCray? Christine Quinn?
Nope, nope and nope.
Try Alexandria Ocasio-Cortez. Could the youngest-ever member of Congress decide to jump into the next mayoral race? Well, for one thing, it would offer her some executive experience on her way to running for president in 2024, when she will finally be old enough to serve in the Oval Office.
If that sounds far-fetched, ask yourself: What if I told you in 2014 that a thrice married, serial adulterer and hush money payer would occupy the White House in two years?
AOC, the freshman from the Bronx, via Westchester, has achieved fame in a spectacular fashion. Just last May, she was Alexandria Who? Now, with her three-letter identity, she joins the political pantheon of FDR, JFK, LBJ and other historical figures so significant that they can be known by just a reverential shorthand.
Like FDR's masterful use of the fireside chat, or JFK's memorable speeches ("Ask not what your country can do for you – ask what you can do for your country …"), AOC has mastered the use of social media to speak directly to millennial voters around the country. Even more impressively, she has advanced extremely bold policy ideas – including a 70 percent top marginal income tax rate on the super-rich, a Green New Deal that eliminates carbon causing fossil fuels in 10 years while creating jobs for all and Medicare for All – and she has instantly made these proposals part of the national dialogue.
So why would she give up her national platform for local office? She is a junior member of a slow-moving legislative body that awards power based on longevity. Her ideas have been incorporated into the Democratic presidential policy debate and if someone relatively young and charismatic like Sen. Kamala Harris or former Rep. Beto O'Rourke becomes president, AOC's stardom could be eclipsed by her party's new leader. She also could find the process of working with 434 colleagues in the House of Representatives, 100 senators and the White House to craft compromise legislation that actually can pass to be less gratifying. You get more attention and can stick to your principles more purely when you're lobbing bombs from outside the tent, rather than nodding in unison on the inside.
In two years, when the commute to D.C. starts rankling the Bronx bomber, if the cameras glare starts to dim and the frustrations of being a congressional backbencher start to weigh heavily, AOC may decide that she wants to implement her democratic socialist principles in the most hospitable and high-profile stage in the world: New York's five boroughs.
With a compliant City Council ready to rubber stamp left-wing proposals, AOC could implement Medicare for All for all city residents and order that all city buildings be retrofitted with solar roofs to accelerate New York's Green New Deal. There is precedent for New York leading the nation in developing such major government programs: FDR's New Deal was incubated in New York by Gov. Al Smith, who hired Robert Moses to build the U.S.'s first state park system. Smith worked with the state Legislature in the 1920s to strengthen workers' compensation and women's pensions and child labor laws.
There is a proud history of members of Congress moving to Gracie Mansion; Fiorello La Guardia – whose stature as a national progressive leader grew significantly during his mayoralty – John Lindsay and Ed Koch all went from Pennsylvania Avenue to East End Avenue. It's a natural progression for ambitious politicians who'd prefer to be an executive rather than a legislator, a much less powerful perch. If he hadn't gotten caught in multiple sex scandals, former Rep. Anthony Weiner would probably have been elected mayor in 2013. Yes, AOC could eye Gillibrand or Schumer's Senate seats, but why stop there when she can gain vital executive experience?
There is, however, one argument against AOC embarking on the road to City Hall: Being mayor of New York is the biggest dead-end job in America. In recent history, Lindsay had an aborted run for president in 1972 and then receded from the spotlight. Ed Koch failed in his run for governor. After he lost his bid for a fourth term, he had multiple jobs, including as a movie reviewer for a chain of weekly newspapers (my crazy idea in 1990). Former Mayors David Dinkins and Abe Beame disappeared quickly after leaving office.
Rudy Giuliani ran for president in 2008 and after a brief moment as the front-runner his campaign flamed out. Sadly, for his final act, he decided to become the TV lawyer for a reality TV president. Mike Bloomberg has flirted with running for president a few times, but, as of this writing, he has not taken the plunge. Current Mayor Bill de Blasio's efforts to build a national profile and possible presidential campaign have so far been largely unsuccessful.
That history may say more about the former mayors themselves than the office. Giuliani couldn't win the Republican nomination with his record as a pro-choice social moderate with an embarrassing marital history. Bloomberg is too liberal for Republican primary voters and probably too conservative for Democratic ones. Koch didn't know when to keep his mouth shut, especially when he said in a Playboy interview that "it's wasting your life'' to live in the suburbs and mocked rural areas.
With a dearth of female leaders in New York City government today – all three citywide elected officials are men – and a 200-year streak of no female mayors, maybe AOC wants to blaze one more trail. Having knocked off the fourth-ranking House Democrat and Queens County party chairman, she has certainly beaten the odds thus far. Maybe a historic campaign for mayor will be just the thing to make her an even bigger millennial hero and role model for women.
If nothing else, the rent at Gracie Mansion is a lot cheaper than keeping two homes in the Bronx and D.C.
Correction: Beto O'Rourke is now a former member of Congress. At the time of his defeat, Rep. Joseph Crowley was the fourth-ranking member in the Democratic House caucus. Rep. Alexandria Ocasio-Cortez would be eligible to run for president in 2024, since she would turn 35 in October of that year.