Jared Kushner
The Jared Kushner I know
City & State Publisher Tom Allon reflects back on time spent with Jared Kushner.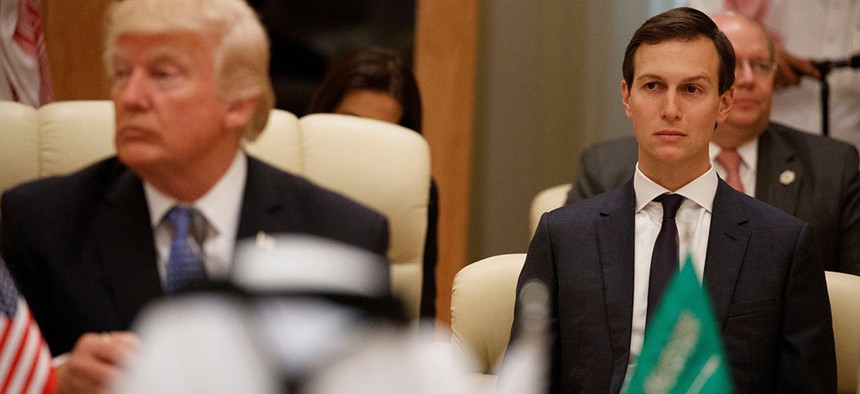 "I don't really know much about magazines – but, if you would partner with me, maybe we could buy it together," Jared Kushner, the new owner of the New York Observer, told me. It was the spring of 2008, and we were having an informal meeting to catch up as two friendly publishers in the same cut-throat New York media market. I had innocently asked him if there were any deals he had heard about that might be appropriate for my company. He brought up a Harvard alumni magazine, 02138, that was looking for a buyer.
I was intrigued by the publication and thought it would be a strategic way to build a network of magazines geared to Ivy League graduates. As a Harvard alumnus, Kushner had a personal interest in this glossy quarterly and his suggestion of partnering piqued my interest. A few days later he told me to go it alone, that he was bidding to buy Long Island's daily newspaper, Newsday, and he didn't have the bandwidth to pursue both deals.
The end of that story is not a pleasant one: My company ended up buying 02138 without Kushner, just a month before Lehman Brothers and the rest of the economy imploded. It was not a good time to relaunch a luxury magazine as the economy teetered on the brink of collapse.
That acquisition is perhaps the biggest failure of my 30-year career as a publisher. I don't blame Jared. The timing was disastrous and he was well-intentioned. But it was his idea and, coupled with his spotty record in publishing and overpaying for the most expensive building in America, it might raise some questions about his ability to manage U.S. relations with Israel, the Palestinians and Saudi Arabia. Going from real estate dealmaker to newspaper publisher is like a dentist trying his hand at architecture. Going from that to negotiating highly sensitive diplomatic agreements is an even bigger, and far more dangerous, leap.
I was reminded of 02138 when I was reading Nicholas Kristof's recent column in The New York Times about Kushner's relationship with his new pal, Prince Mohammed bin Salman of Saudi Arabia. Kristof blasted the administration's idea of selling nuclear reactors to the Saudis, a prelude to becoming a nuclear power – just the thing that our country is working hard to prevent in North Korea and Iran.
Kushner ran his family's New Jersey-based empire at a very young age after his father Charles pleaded guilty in 2004 to counts of tax evasion, filing illegal campaign finance reports and retaliating against a witness – who happened to be his brother-in-law. Jared made one really disastrous move by buying 666 Fifth Avenue for a record $1.8 billion, but the family wriggled out of that calamity last year when Brookfield Properties pre-paid $1.1 billion to lease the building for 99 years. At the time, the Times reported, "The building was 30 percent vacant and only generated about half the annual mortgage payments."
The New York City elite first heard about Kushner in 2007, when he swooped in to buy the Observer, a then-exalted pink weekly newspaper. I say "swooped" because my company had what I thought was a verbal agreement with Observer owner Arthur Carter to acquire the perennially money-losing business. But Kushner's 11th hour bid for a reported $10 million dwarfed ours, so Carter decided to sell to the scion of a New Jersey real estate mogul.
Kushner liked owning a respected newspaper and the power it afforded him – even though recently, his ally bin Salman reportedly ordered the murder and dismemberment of Jamal Khashoggi, a dissident Washington Post journalist. (Asked in December about Khashoggi's death, Kushner didn't mention the crown prince, saying only that intelligence agencies were making their assessments and that "we're hoping to make sure that there's justice brought where that should be.")
I remember visiting him at his office in 2009, the same day the Observer published its annual "Real Estate Power 100 List." As I waited for him in the reception area I perused the issue, noting with surprise that Donald Trump had dropped off the list entirely that year, when he had been No. 38 the year before.
I recalled that a few months earlier, Jared and Ivanka had broken up. When I got to Jared's office, we chatted a bit and then we were interrupted by his secretary: "Donald Trump is on line 1." I assumed Trump was calling to complain. Jared's face beamed ear to ear as he said, very dismissively, "Please tell him that I'll call him back later." Ah, the power of the press.
Like many fans in the publishing world, I watched the Observer shrink in size (literally, as the broadsheet became a tabloid) and in stature, as the paper that was a must-read among the New York City elite and a training ground for a generation of star reporters became pedestrian and underwhelming. Under Kushner's ownership, the steady hand of longtime editor Peter Kaplan, a revered figure in the New York journalism world, was replaced by a rapid churn of editors, some of whom have written unflatteringly about Kushner's management. Eventually, the paper died as a print product and became a pariah among serious journalists for its blatant servility to Kushner and his father-in-law Trump's business, personal and political interests. (Buzzfeed reported last year that when he was publisher of the Observer, "Kushner personally ordered a software developer at his newspaper to remove stories that were critical of his friends and real estate peers.")
He bought a publication whose previous owner could never get the pink paper out of the red, and he tried to innovate its business model, with limited results. His only real success was creating a real estate weekly, the Commercial Observer, which is still running strong. But Jared was ambitious as a publisher: He started a society magazine, Scene, which folded within a few years. He started a parenting publication, Scooter, which also ceased publication after a handful of issues.
At the time, I was co-owner of a society magazine, Avenue, and a parenting magazine, New York Family. The incursion into our space put a crimp in our professional friendship. I did not shed too many tears at the demise of these ephemeral competitors.
Which is why I'm quite worried that Jared has moved out of his "lane" once again. Kushner's primary mandate in the Middle East is to strike a permanent peace agreement between Israel and the Palestinians, a dream that has humbled prime ministers and career diplomats for the past six decades. In the coming weeks there is an expectation that he will unveil a master plan for peace.
I hope that, like the time he asked me to partner with him on a magazine acquisition, he realizes his limitations as a dealmaker, especially in a region that is a powder keg. There is much more at stake here than running a media icon into the ground or wildly overpaying for a skyscraper.
Oh, and by the way, the company that would benefit financially from the nuclear reactor deal with the Saudis: that same Brookfield Properties that bailed out the Kushner family from its ill-advised investment in 666 Fifth Avenue. As Kristof noted, Brookfield owns Westinghouse Electric, the nuclear services business that wants to sell reactors to Saudi Arabia.
Powered By
NEXT STORY: Fusion voting supporters should study its history