New York City
De Blasio's mixed record with public sector unions
Labor and union leaders are doubtful that New York City Mayor Bill de Blasio is fit to be president — despite the fact that he has yet to announce that he is running — due to his mixed record with public sector unions.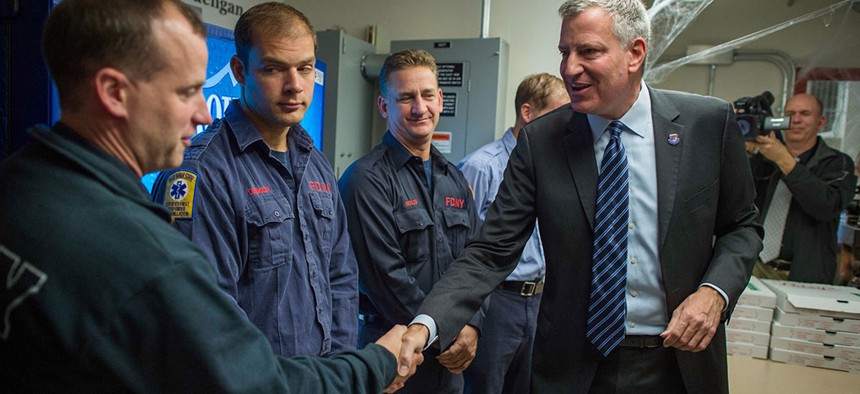 John Samuelsen, the president of the Transport Workers Union, called him a "fauxgressive." Police union leader Patrick Lynch dismissed his negotiating stance as an "absolute disgrace." And the head of a union representing paramedics and emergency medical technicians argued that the "Tale of Two Cities" campaign slogan was "just talk with no substance."
Labor has historically been a key constituency for any Democrat with Oval Office ambitions. Yet judging by the headlines generated by New York City Mayor Bill de Blasio's flirtation with a 2020 run, some of the local unions that know him best are not on board.
Three municipal unions – Lynch's Police Benevolent Association, Samuelsen's Transport Workers Union, and District Council 37's Local 2507 and Local 3621, which represent the FDNY's Bureau of Emergency Medical Services workers – have already spent close to $1 million blasting the mayor's labor record with primary voters in New Hampshire, Iowa and South Carolina, The Chief-Leader reported last month.
"He's the exact kind of Democrat that got Trump elected, and he's exactly the kind of candidate that if he gets traction in the primary will get Trump re-elected." – John Samuelsen, Transport Workers Union president
And although they agree that de Blasio is a disappointment, the unions represent a wide range of political ideologies. The TWU was one of the few unions to back U.S. Sen. Bernie Sanders in 2016, while the PBA's ranks include thousands of Donald Trump loyalists.
"I think he is a fauxgressive, not a progressive," Samuelsen said of the mayor. "He's the exact kind of Democrat that got Trump elected, and he's exactly the kind of candidate that if he gets traction in the primary will get Trump re-elected."
At a press conference in January, de Blasio was asked to explain the gap in pay for FDNY emergency medical technicians compared to other first responders like police officers and firefighters.
"I have deep, deep respect for our EMTs and everyone who works at EMS," the mayor said. "I think the work is different. We are trying to make sure people are treated fairly and paid fairly but I do think the work is different. But it is a conversation that we continue to have with their representatives."
The EMS unions seized on the comments, taking out a full-page advertisement in The New York Times in February lambasting de Blasio for rationalizing a $35,000 pay gap for a workforcelargely made of women and people of color. "This answer has sparked outrage from emergency service workers in New York City and across the country," the unions said in the ad.
Oren Barzilay, the president of Local 2507, which represents paramedics and emergency medical technicians, said the mayor's remarks on the pay disparity contradict his campaign rhetoric around of confronting the "Tale of Two Cities." "We always hear him talking about equity and fairness, but it appears that is was just talk with no substance," Barzilay said. "If he has aspirations to become the leader of the nation, how can he do that without solving the problems he has in his own city?"
After five years as mayor, Samuelsen said de Blasio is no friend of working people. "He's in bed with nonunion developers and the billionaire class," he said. "He's an elitist that has this mix of the social liberal with the corporate Democrat, and that approach is a sure loser for us in states we need to win in like Florida, Pennsylvania, Ohio, Wisconsin and Michigan."
Yet other union leaders see it differently. It is in his role as the elected official most responsible for setting the tone of the city's negotiations with its dozens of public unions that de Blasio wins high praise from one of the longest serving public union leaders in the city.
Arthur Cheliotes, who led the Communications Workers of America Local 1180 administrative managers union for decades, drew a comparison between today and the dismal relationship between then-Mayor Michael Bloomberg and the city's unions.
"Having gone through a whole number of mayors, what Bill de Blasio brought to the table, which is the most important thing, was a respect for the collective bargaining process," said Cheliotes, who stepped down in 2017 and now works part-time for the local. "If you recall, Bloomberg just stonewalled it."
That contrast with Bloomberg is one that the de Blasio administration is eager to emphasize. "When the de Blasio administration took office, every contract with municipal workers was expired," Raul Contreras, a mayoral spokesperson, said in an email. "Since then, the administration has settled with or concluded arbitration with 99.9 percent of the workforce for the 2010-2017 round of bargaining, representing both civilian and uniformed employees."
Over de Blasio's entire political career, he has portrayed himself as an ally of the labor movement. During his 2013 run for mayor, he pledged to lead a municipal government that would be the "protector of neighborhoods" and "guard the people from the enormous power of moneyed interests." And while primary rival John Liu, then the city's comptroller, had the lion's share of public unions in his corner, de Blasio picked up crucial support from the politically influential health care workers union 1199SEIU.
As mayor, de Blasio is the chief executive of the third-largest public sector workforce in the nation, behind only the federal government and California. The city allocates hundreds of millions of dollars in contract services with nonprofit agencies that in turn employ tens of thousands of people doing work for the city. The city also plays a pivotal role in regulating labor-intensive private industries like the food service, construction, transportation and hospitality sectors that employ hundreds of thousands of workers, many of them unionized.
According to Cheliotes, the current administration has had a more much productive relationship with labor. Under Bloomberg, the city had no incentive to negotiate because he wasn't going to be running for another term. "Clearly there is a political part to that," Cheliotes said. "What Bill de Blasio had was a respect for the process. It wasn't easy on us, that's for sure."
The prolonged impasse between Bloomberg and the labor unions has had lasting consequences for the city's 300,000-plus municipal workforce. "It meant that inflation kept eroding their wages and they were getting nothing in terms of increases at a time when the city's cost of living, especially when you look at rental costs were going through the roof," Cheliotes said.
As of January, 60 percent of the workforce had settled contracts for the next round of collective bargaining, covering 2017 through 2021, according to Contreras. Contreras touted a "groundbreaking" 2014 agreement with the Municipal Labor Committee as well, which achieved $3.4 billion in cost savings for the city's health care program. The mayor also made an early move to bring the lowest paid municipal workers up to a $15 an hour.
But getting all of the city's municipal unions back on track in terms of collective bargaining wasn't the only task left over from the Bloomberg era. In 2014, the de Blasio administration reached a settlement with the Vulcan Society in a case that had dragged on for years. The city agreed to pay out close to $100 million to African-American and Latino firefighters who alleged they were victims of racial discrimination for decades. The settlement required the city to reform how it recruits firefighters and ensure that FDNY members are not subject to retaliation if they bring an internal discrimination claim. The implementation of that agreement is still under the supervision of a special master and federal judge.
In the years since, similar discrimination cases have gained traction as the city comes to terms with its legacy of structural gender and race-based employment discrimination. In April 2015, the U.S. Equal Employment Opportunity Commission found reasonable cause to believe that for decades the city had engaged in widespread discrimination against female and minority CWA Local 1180 members who held the civil service administrative manager title. The finding covered every city agency as well as the New York City Housing Authority. The EEOC ruled there had been "structural and historic problems" that resulted in salaries that were "much less than their white male counterparts."
"Back in 1978, when you look at the administrative manager title, when it was mostly held by white males, the job was paying the equivalent of $92,000 a year, yet when we filed the complaint, our members were getting just $53,000 as a starting salary," Cheliotes said.
Similarly, the city's probation officers, civilian FDNY employees, FDNY EMTs and thousands of early education teachers that are represented by District Council 1707 – most of them women of color – are making the case they still earn tens of thousands of dollars less than their white counterparts doing similar work.
The de Blasio administration has made some progress in resolving these issues, even if critics say the process has taken far too long. Earlier this month, hundreds of CWA Local 1180 members and their supporters, including state Attorney General Letitia James and New York City Council Speaker Corey Johnson, converged on the steps of City Hall to celebrate the settlement of a discrimination lawsuit with the de Blasio administration. Under the terms of the $15 million deal, which still requires court approval, 1,600 union members will be entitled to get back pay and pay increases.
"Local 1180's path to the finish line started more than two decades ago," CWA Local 1180 President Gloria Middleton told the cheering crowd, all wearing the union's signature red. "It's been a long path, a complicated path, a frustrating path. But today we can finally say it's been a successful path."
Powered By
NEXT STORY: State budget jeopardized public financing of elections