Opinion
I was a poll worker. I'm not sure NY is ready for ranked-choice voting.
My Election Day side hustle raised some concerns.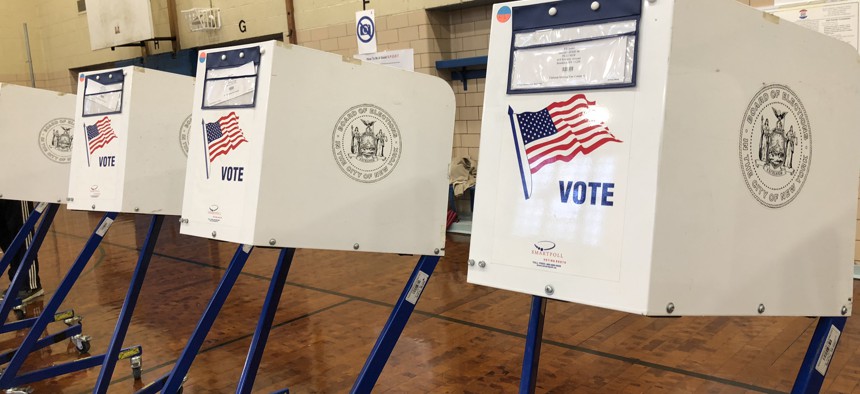 In my 14th hour of being a poll worker, things started to get wild. Diane, my partner for the day, started kicking, punching, and shaking ballot scanner D – the machine I was appointed to stand next to, and to which I had personally grown quite attached. This was my first Election Day working at a polling station, but it wasn't Diane's, and it turns out the unofficial way to clear a paper jam in a ballot scanner is to knock it down and beat it into submission. Diane body-slammed the scanner while I assured the voter whose ballot didn't scan that this wasn't her fault, unless she had stuck gum to her ballot, which she assured me she hadn't. "This stuff happens," I explained. After a full five minutes of Diane knocking the scanner, like a vending machine with a bag of chips half-stuck on its metal coil, we saw the ballot feed through, and heard the paper drop into the container. One more vote counted.
Other votes took some extra work to be counted too, and it wasn't always the machine's fault. Throughout the day, I was surprised by the number of times the scanner rejected people's ballots for overvoting – they had filled in more than one bubble for the same race. Voters who made the mistake were allowed to get another ballot and try again, but the whole experience left me with concerns about the education around ranked-choice voting, which New York City is planning to implement for municipal primary and special elections in 2021. 
I'd always been intrigued by poll workers, who devote long, long hours to helping their neighbors vote. The pay is decent – you get $350 for completing a four-hour training, then working 5 a.m. to 10 p.m. with a two-hour lunch break, which works out to $18.42 per hour. But the workers always seemed to be motivated by something else – a civic duty, or perhaps a love of stickers. 
As a City & State reporter covering New York City politics, I'd always had my own role to play on Election Day – stay up late, watch the returns come in, and write about the outcome. But there were relatively few competitive races happening in the city in this year's general election, and even fewer expected to be called on election night because of the large number of mail-in ballots. And this year, the army of retirees who usually work the polls needed substitutes. The state Board of Elections says that in a typical year, 55% of poll workers are over the age of 60, making them more at-risk to suffer serious consequences from catching COVID-19. So the BOE announced there was a "critical shortage of poll workers" this year. As a politics-obsessed 27-year-old with a positive test for COVID-19 antibodies after contracting the virus back in March, I was more than happy to step up. 
I applied online in August and within a month I had been accepted and assigned to a training session in October. For four hours in a church basement in Gravesend, I and a few dozen other Brooklynites were guided through the poll worker manual, then given an open-book test.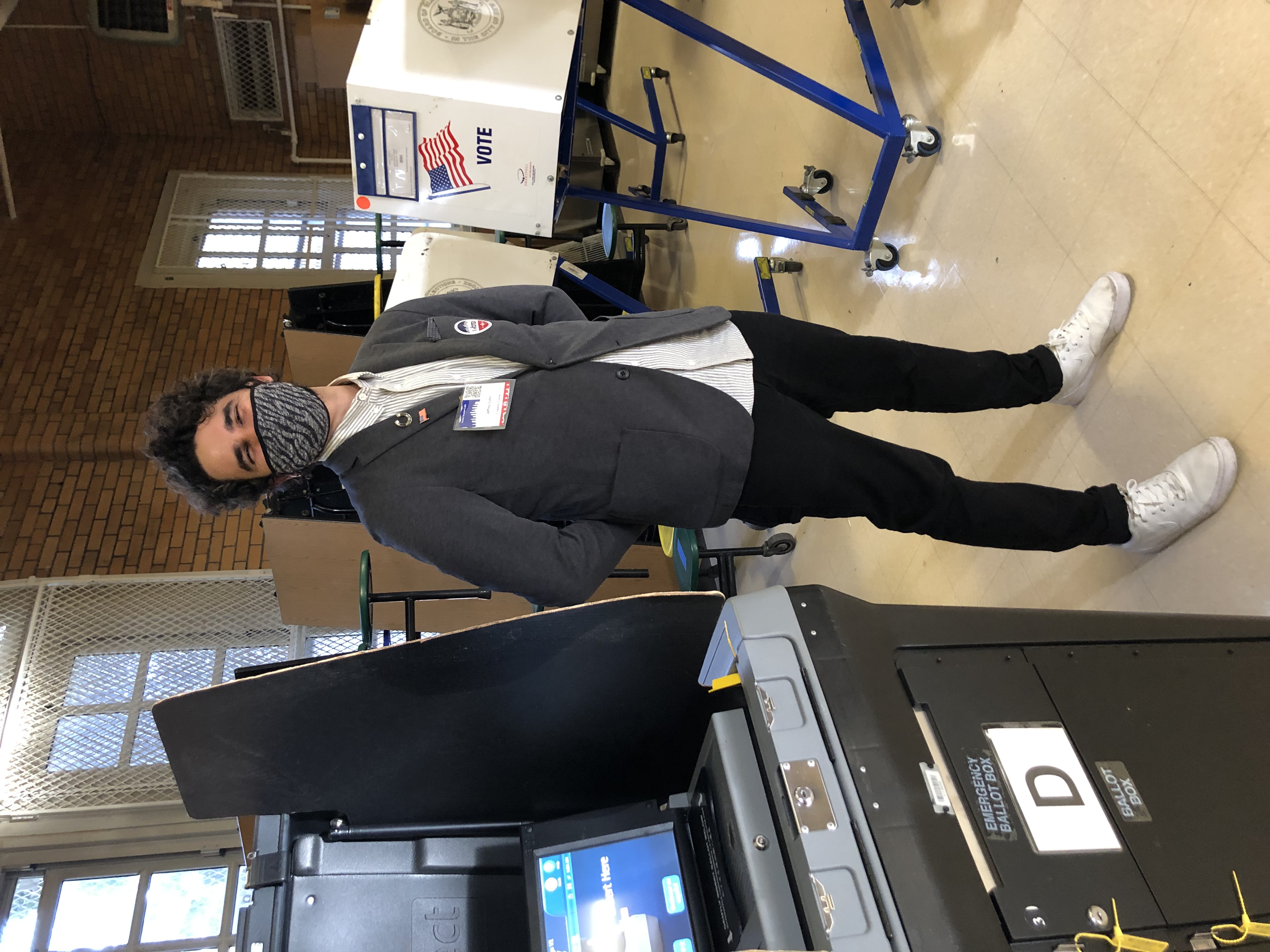 Even spread over four hours, training felt rushed, with so much information to cover. I felt unprepared for any unexpected issues that might come my way. 
But Election Day is an open book test too – you're encouraged to bring your poll worker manual. On Election Day, I ended up feeling like I was building IKEA furniture. Check the instruction manual, make one move, then check the manual again. 
I was assigned to work at P.S. 219 in East Flatbush as a "scanner inspector," directing people to feed their completed ballot into the machine. "Take your ballot and feed it in under the black plastic," I learned to say, repeating myself more than 300 times throughout the day. "Give it a little push and the machine should take it the rest of the way, like an ATM." Then a moment as I watched the ballot feed in. "If your screen says thank you, your vote has been counted. … Did you get a sticker?" Handing out "I voted" stickers, which brought recipients great joy, was the best part of my job, or any job. 
But I also had to help a surprising number of people who over voted. New York allows parties to cross-endorse candidates in the general election, which means that a candidate's name might appear twice or more on the ballot for the same office. For example, Joe Biden and Kamala Harris were on the ballot in both column A, with the Democratic Party, and column D, with the Working Families Party. Even if the candidates are the same, you have to pick just one party to vote for in each race, and if you vote for more than one, neither will count.
I didn't keep an exact count, but this fact confused at least two dozen people throughout the day who might have filled out the bubble for Biden/Harris for both parties. I was situated next to the voting booths, and I did my best to explain the process to any voter who waved me over – and there were a lot. Luckily, if somebody tried to submit an over-voted ballot to the scanner, the machine would give them the chance to take their ballot back and get a new one. Almost everyone took a new ballot and tried again. But on at least two occasions, I heard poll workers gave inaccurate advice, telling those voters they had to pick a party and vote down the line. In reality, voters can split their ticket, voting for the Green Party candidate for president and the Republican for state Senate – or, more likely, for Biden on the WFP line and on the Democratic line in legislative races – if they so choose. But I don't recall any guidance on this during the training session, and there aren't any details on split-ticket voting in the manual. 
That so many voters – and even some poll workers who are supposed to be experts – were confused by cross-endorsements, which have been on the ballot in New York since 1854, doesn't bode well for something that will be new to the city: ranked-choice voting. 
Under the new system, which was approved by voters in 2019, voters will be able to rank up to five candidates in a race by order of preference. If no candidate gets at least 50% of the first-place votes, then the one with the fewest first place votes will be eliminated from contention, and the second place votes of those who supported them will be added to the other's totals. The process, which is also known as instant-runoff voting, will repeat until there are just two candidates left, and a winner is declared. Precisely because of the complications that would be caused by cross-endorsements, there will only be ranked-choice voting in primaries. 
Many politicians are concerned that voters will have trouble with the new system in Democratic primaries that are the de facto election in many city races. Members of the New York City Council's Black, Latino and Asian Caucus opposed the policy before its passage, and are now asking that the city delay its implementation. Their concern is that it could weaken the voting power of communities of color, though the evidence isn't clear on that, and supporters say it has increased the diversity of elected officials elsewhere. They also, understandably, worry that the New York City Board of Elections can't be trusted to roll it out competently. Brooklyn Borough President Eric Adams, a leading candidate for mayor in 2021, is also opposing ranked-choice voting, which he initially supported, telling Politico New York that "every layer you put in place in the process, you lose Black and brown voters and participation." 
Supporters of RCV call those arguments cynical, and say that RCV will further weaken the power of Democratic county organizations, which is why certain machine-backed politicians oppose it. 
Ranked-choice voting, which is now enshrined in the New York City charter, seems likely to be implemented in 2021 without delay, with the Board of Elections saying details on voter and poll worker education will be coming out immediately after a Dec. 22 special election. They'd better hurry, since the first election with ranked-choice voting – a special election to fill the eastern Queens City Council seat recently vacated by Rory Lancman – is scheduled for February 2, with early voting starting 10 days earlier. After working on Election Day, I know poll workers will be essential to ensuring ranked-choice voting goes smoothly, and that nobody is disenfranchised. They will be the people that voters turn to with last-minute questions, just like I saw with people who accidentally filled out too many bubbles for candidates. I'm hoping the BOE does a better job training next year's crop of poll workers when it comes to answering such questions, and makes sure that every worker is able to explain the new process, with no room for confusion, so that everyone's ballot goes down smoothly – no punching, kicking or body-slamming required.
Correction: Ranked-choice voting does not declare a winner until only two candidates are left, and cross-endorsements have been on the ballot in New York since 1854.