Campaigns & Elections
Five things to know about Ray McGuire
The longtime investment banker is running for NYC mayor.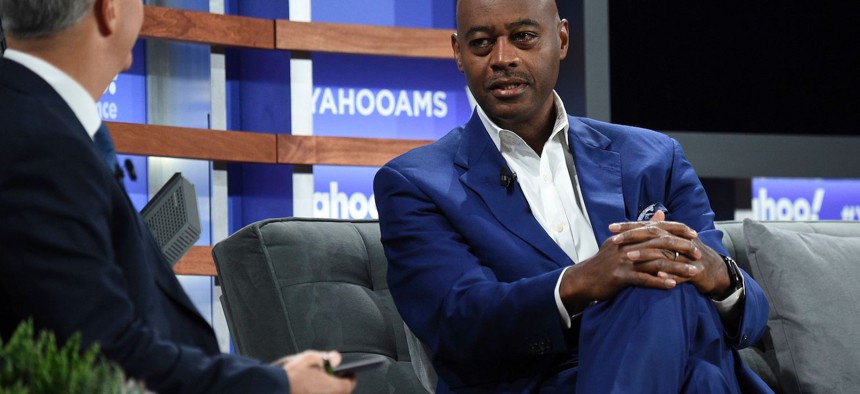 After months of speculation, Ray McGuire, a vice chairman at banking giant Citigroup, announced he'd be stepping down in order to prepare a run for New York City mayor in the June 2021 Democratic primary. McGuire, who is Black, is a veteran financial executive but newcomer to local politics. Here's what you need to know about the man who could be the next Michael Bloomberg. 
He's a Wall Street man
McGuire, 63, isn't just an investment banker, he's a Wall Street institution. He describes himself as "the longest-standing head of an investment bank in the history of Wall Street," after 15 years as vice chairman of Citigroup, where, before leaving the bank, he also served as chairman of banking, capital markets & advisory. 
He joined First Boston Corporation after graduating from Harvard Law School and Harvard Business School in 1984 with a J.D./M.B.A. McGuire joined Wasserstein Perella & Co. when it spun off from First Boston in 1988. He later worked in the mergers and acquisitions group at Merrill Lynch before becoming global co-head of M&A at Morgan Stanley. McGuire then joined Citigroup in 2005. 
At Citi, he advised on mergers of some of the city's biggest companies such as AT&T and Time Warner and Pfizer's acquisition of Wyeth Pharmaceuticals.
The success of McGuire's fledgling mayoral campaign may come down to whether more voters see him as a financial expert that could pull the city out of a fiscal crisis, or as an avatar of a predatory banking system that has exacerbated economic inequality.
McGuire may be the only mayoral candidate who has spent his entire career in the private sector, let alone banking. Other leading candidates include Brooklyn Borough President Eric Adams, a former police captain; New York City Comptroller Scott Stringer, who has spent almost his entire career in elected office; and a former New School Senior Vice President Maya Wiley, a former counsel to Mayor Bill de Blasio.
He has advocated for racial justice
As one of the top ranking Black executives in the predominantly white American financial industry, McGuire has also used his position in recent months to speak to the entire industry on race and racial justice issues. He called on corporate leaders to do more to combat systemic racism after George Floyd was killed by police in Minnesota this summer, and made waves last month by co-authoring a report that said racism has cost the U.S. economy $16 trillion since the year 2000. In the report, Citi pledged to spend $1 billion in the next three years to try to close the racial wealth gap. 
Beyond Citi, McGuire sits on a wide array of nonprofit boards spanning organizations that support first-generation college students such as America Needs You, health care giants like New York-Presbyterian, and arts institutions like the Studio Museum in Harlem. 
He wasn't born with a silver spoon
McGuire grew up in Dayton, Ohio, and was raised with two brothers by his single mother, a social worker, with help from his grandparents. While in high school, he took jobs as a day laborer at a construction site and a hospital orderly. After years of taking the bus to a private school in Dayton, he was offered a scholarship to transfer to the elite Hotchkiss School, a boarding school in Connecticut, which set him on the path to Harvard. "I was on scholarship from 6th grade until the end of graduate school," McGuire told CNBC. "They ask me how I got here, I tell them, it's a combination of prayer, preparation, performance and paranoia."
Now, McGuire is a part of the 1%, and he lives in the San Remo, a luxury co-op on Central Park West. He and his wealthy network of likely donors have the potential to financially shake up the mayoral race. McGuire spokesperson Lupe Todd-Medina declined to say how much money McGuire had raised for his campaign so far, but she noted that he has opted out of the city's matching funds program. 
"We are confident that Ray has the ability to communicate his message through his existing support and a robust grassroots effort," Todd-Medina told City & State. "Especially given the ongoing financial crisis in the city, Ray will articulate his message without using taxpayer dollars." 
Campaigns who opt in to the public funds program – essentially all the other candidates in the race at this point – agree to a spending limit of $7.3 million in the Democratic primary. But if a non-participant like McGuire were to raise and spend even half that, then the limit for all candidates would be kicked up to nearly $11 million. And if McGuire were to spend three times the limit – nearly $22 million – then the spending cap for all candidates would be lifted. 
Still, rich friends can only help so much in the race for mayor. Even those that don't get public funding are subject to a $5,100 limit on individual donations. However, a candidate like McGuire could potentially benefit from unlimited outside spending from business groups. Real estate developer Stephen Ross and his allies in the world of big business have suggested they could raise as much as $100 million for a favored campaign. McGuire might be well positioned to woo them. 
He's new to campaigning, but an experienced donor
McGuire has never run for office before, and is now aiming high, at City Hall, hoping to repeat Bloomberg's success as the only mayor without experience working in government since the five boroughs were consolidated in 1898.
Records from the New York City Board of Elections suggest that McGuire, a registered Democrat, has skipped voting in a handful of recent elections, including both the 2017 mayoral primary and general. He voted in the 2013 mayoral primary, but not the general. McGuire's experience in local politics seems to be limited to that of a political donor, almost entirely to Democrats. While he apparently hasn't donated to any city candidates since 2013, McGuire donated more than $1,000 to six presidential candidates in the recent primary: Joe Biden, Amy Klobuchar, Kamala Harris, Beto O'Rourke, Kirsten Gillibrand and Cory Booker. He also has donated to a handful of New York congressional campaigns this cycle, including Reps. Antonio Delgado, Greg Meeks and Hakeem Jeffries, and Adem Bunkeddeko, who challenged Rep. Yvette Clarke. 
Some of McGuire's campaign hires may balance out his lack of direct political experience. New York-based consultants Todd-Medina and Tyquana Henderson-Rivers are working for McGuire, and Valerie Jarrett, an adviser to former President Barack Obama who currently sits on the board at Lyft will co-chair his campaign. But McGuire is also pulling from outside the political world. Charles Phillips, former software company CEO will be another co-chair, and McGuire's campaign treasurer is William F. Gorin, a corporate finance attorney with Cleary Gottlieb Steen & Hamilton.
He's a biker, in an athletic family
The 6 foot, 4 inch-tall McGuire (shorter than the nearly 6'6" de Blasio) captained his high school basketball team – reportedly dropping 28 points a game – and still shoots around with his son Leo in Central Park. But that's nothing compared to McGuire's stepson, Cole Anthony, a star point guard at the University of North Carolina who is expected to be a first round pick in the November NBA draft. Stepdaughter Ella Anthony is also a standout high school basketball player. McGuire grew up riding bikes, and Todd-Medina said McGuire still rides both Citi Bikes and his own bicycle. It remains to be seen whether he will advocate expansions of bike infrastructure, as many alternative transportation advocates would like. 
McGuire is married to Crystal McCrary McGuire, a TV producer. The couple are serious art aficionados, considered among the top 200 art collectors in the world by ARTnews. But he's not all about high art – Todd-Medina called McGuire a "Fast & Furious" diehard who buys his tickets to each installment of the movie series in advance.