New York City
Ray McGuire wants to grow NYC out of the slump
An interview with the investment banker running for mayor.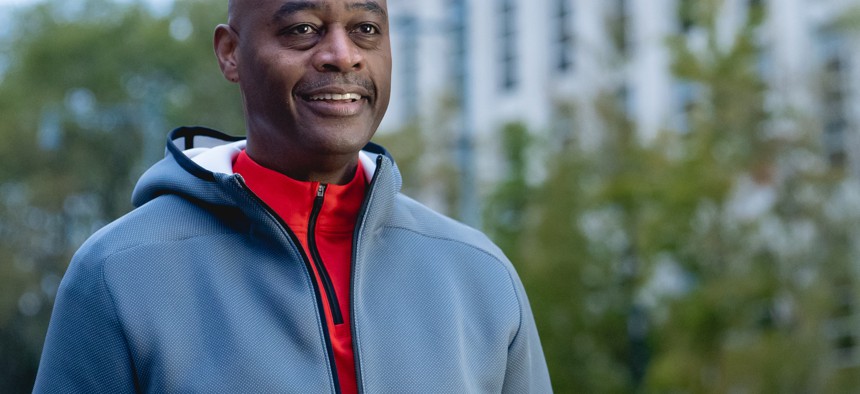 Before Ray McGuire formally kicked off his campaign for mayor of New York City this week, and before he got too deep into his 36-year long career as a Wall Street investment banker, he would play pickup basketball in New York City parks. "I was crossing them kids up, down at Riverside, Central Park, down in the Cage," he said, referring to a Greenwich Village playground with famously high-quality ballers. "I never saw a slump I couldn't shoot out of."
Now, the 63-year-old Democrat wants to help New York City shoot out of its own slump: the financial crisis caused by the coronavirus pandemic. The former vice chairman at Citigroup isn't entirely opposed to raising taxes – particularly on corporations, rather than individuals – but he's more focused on boosting growth, and investing in certain sectors. Time will tell whether that's the message Democratic primary voters are looking for – a return to the financial background of former Mayor Michael Bloomberg, after eight years of the politically experienced Mayor Bill de Blasio. McGuire's campaign said he has already raised more than $2.3 million, which would immediately make him one of the best funded candidates in the race. 
McGuire, who said he's been reading City & State's First Read newsletter "to get me educated" on local politics, talked about what else he's been doing to learn about government, whether de Blasio has ever called him and whether he'd take billionaire Stephen Ross' money. 
You're coming into this with no direct experience in politics and government. How are you preparing for those aspects of the job?
I have experience with leadership and management and building. And when it comes to preparation, I'm talking to the experts in the communities. I'm talking to the community leaders, I'm talking to the civic leaders, I'm talking to the faith-based leaders, I'm talking to people who actually lead these communities and getting their input. And I'm obviously talking to some of the – I guess you'd call them government experts. One government expert would be people who lived through the crisis before.
Like the 1970s fiscal crisis? 
1975! Yes. Talking to the people who actually lived through the crisis, and I'm talking to those people whose parents guided us through the crisis. (The New York Times reported that McGuire met with former Lt. Gov. Dick Ravitch, and has the inside track for his endorsement.)
Famous film director Spike Lee did the voiceover for your campaign kickoff video. How do you know him?
We have a longstanding relationship, a longstanding friendship. Our families have been close for quite some time. I will say his wife introduced me to my wife. They were writing partners.
Have any favorite Spike Lee movies?
Probably "Do the Right Thing."
Your launch video said the city needs "a mayor who can think big. Call on every expert, call in every favor." Have you ever been on the other side of those calls? Has the mayor or the governor ever called in a favor? 
Have they ever called me in? Let's put it this way: I know both of them.
Many Democratic legislators want to raise income taxes on the rich to increase revenue, but Gov. Andrew Cuomo – and many others – have said that if the state raises taxes, "then they just have the people move to Connecticut." You're in that world. Have you ever considered leaving the state? Do you think other people would leave if taxes were raised?
I wouldn't conflate the two, although some will. The first, short answer: No, I've never considered leaving New York. New York is my home. It's where I met my wife. It's where we've raised a family. I came to this city. I had no money. I had lots of student debt and a great education. New York gave me the opportunity to be enormously successful, of which I'm very proud and humbled. 
With respect with taxes, let me be clear, we're in an economic crisis, and we need more revenue. We need more revenue so that we can protect the programs that working-class and low-income families rely on. Everything from pre-K to after-school programs to teachers and firefighters and community health centers. We need those things. Where do you get the money? We can't ask the middle class or low-income people to pay more. They're already struggling. That means those people who have the economic resources, people like me, are going to have to step up even more. Now, some say the way to do it is taxing income. That's possible, but I've run the numbers and that's not going to produce anywhere near the revenue that we could get by, for example, increasing corporate taxes. Remember, income taxes are only 14% of the total revenue. So if I look at corporations as an example, they got a giant tax cut under (President) Donald Trump. So they're doing better than ever. And it's a lot tougher for a big corporation to pick up and move to Florida than somebody who is economically well-off. Bottom line, we're going to ask more from those who can afford to pay so that we can lift up the families who need it the most.
Yesterday on the Brian Lehrer Show you said regarding a millionaire's tax "we can't tax our way out of this, we need to grow our way out of this." You have an outline on your website about supporting growth sectors, but where are you looking for growth, given that so many industries have been affected by the coronavirus pandemic?
It's tough to grow in the pandemic, but we see areas of growth. I think about the vision I have with respect to what is going to be important: jobs. The economy is going to be the most important thing on the agenda. And the idea I have is what I call Go Big, Go Small. Go Big are places where we can actually invest. We can invest in infrastructure. Infrastructure is going to include bridges, it includes waste management. It includes affordable housing, which is going to be really important. It includes technology investments, like broadband. It includes the revitalization of the cultural (sector). Even on an individual basis, they create lots of revenues and jobs. So the idea that I have, given that we have double-digit unemployment, is to create jobs. I want 1,000 jobs in infrastructure that's kind of broadly defined. And then you got to go small. We have to manage the 200,000-plus small businesses that employ 25-plus percent of the employees in New York. And we have to give a lifeline, incentives to those small businesses. That's how I'm thinking about it. Technology, health care, telemedicine.
You live on the Upper West Side, not far from the Lucerne Hotel. Have you followed the issue? Do you think that the city should be able to move the (homeless) residents in response to neighborhood complaints?
I think it is important because we have a moral and legal responsibility to care for the homeless. We need transitional housing. But that alone is not going to solve the problem. Not everyone experiencing homelessness is ready to transition to long-term housing. So what do we need? We need social and mental health care services. We need to ensure service providers are engaged, and that they have the resources. We can't simply assign people to hotels anywhere. We need wraparound services, not warehousing. We also need – it's so fundamental to any one of these issues – we need to have community buy-in. The community needs to be involved. So as mayor, my approach would be to have more transparency, better planning, and more listening to community concerns.
You've been fundraising for your own run for mayor, but you're also raising money for the two Democrats running for U.S. Senate in Georgia. What are you doing and why is that important?
Well, I am focused locally, but I have been a longtime supporter of Democrats and Democratic values. And while 100% of my time is focused on what's taking place locally, I also have to make certain that I don't ignore what's taking place nationally, because that can have an impact on what is taking place locally.
The other thing – think about who's going to go and negotiate on this city's behalf in Washington. Who has got the best relationships and who has been involved in any negotiations of the magnitude and importance as what's going to happen.
Real estate developer Stephen Ross has floated raising as much as $100 million to help elect a favored candidate as mayor. Have you talked with him, or anybody else involved in the effort? Would you want their support? 
There lots of conversation taking place in lots of different arenas. Whatever Stephen Ross is doing, that's for his account. I am focused on us raising the funds and advancing our effort, our commitment, our focus on becoming the next mayor and the next leader of this great city.
Are you planning on self-funding your campaign?
We have, to date, raised all the dollars, and I'm quite proud – and I say this with so much humility – that so many New Yorkers across the five boroughs have, in a relatively short amount of time, have received and are receiving the message of our candidacy. And have found a way to be supportive of our efforts and our mission. I have to this point not put anything into the race. We'll have the resources that are necessary to win this race.
Do you really run with your Air Jordans, like you did in your launch video? Don't you have a beat-up pair of New Balances or something?
Yeah man, they've got good cushion to them! I got my Air Jordans, what do you think I do? I wear the Jordans!
Powered By
NEXT STORY: The power players