Budget
State budget includes health care fund after $2.8 million lobbying push
Following months of threats by the Trump administration to slash federal health care spending, New York state's 2018-19 budget responded by creating a new health care shortfall fund – and a major lobbying push likely played a role.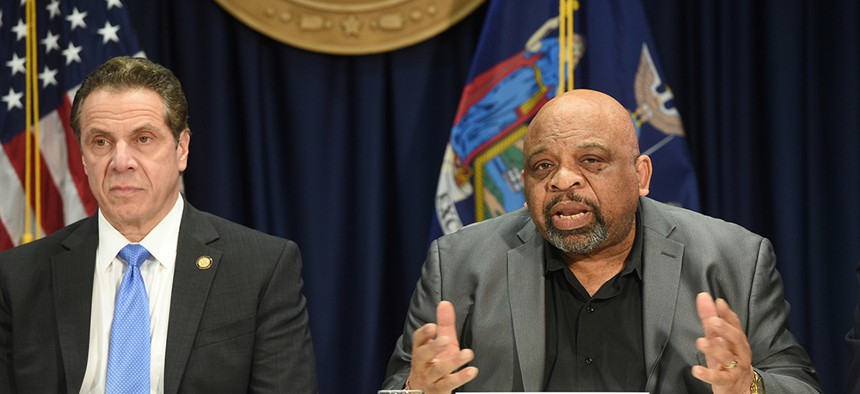 Following months of threats by the Trump administration to slash federal health care spending, New York state's 2018-19 budget responded by creating a new health care shortfall fund – and a major lobbying push likely played a role.
The shortfall fund will shore up health care in New York in the event of federal budget cuts, according to the Cuomo administration. Its funding will initially come from the sale of Fidelis Care, a major Catholic-run health insurer and New York's largest provider of state-funded low-income plans, to publicly-traded health care operator Centene Corporation. The state is expected to net $1 billion this year from the deal, which also played a major role in closing a projected $4.4 billion budget deficit.
The new fund comes after 1199 SEIU, the largest health care union in the United States, spent a staggering amount of money on lobbying earlier this year. Between January and February 2018, 1199 SEIU and affiliated groups spent $2,825,659 on lobbying and lobbying expenses, 27 times what they spent during the same period last year. About $2.7 million of that money was spent on the services of SKDKnickerbocker, which JCOPE, the state's lobbying database, classified as "media" expenses.
Much of that money was spent on the Healthcare Education Project, a 19-year old joint initiative of 1199 SEIU and the Greater New York Hospital Association, a local health care advocacy organization whose lobbying expenses were roughly the same as in 2017. The Healthcare Education Project's stated goals include protecting the Medicaid, Medicare and the Child Health Insurance Program – better known as CHIP – which was temporarily defunded by the federal government. This year's campaign, which included of six weeks of television and radio advertisements, focused on similar issues, largely in reaction to high-profile health care spending cuts from the Trump administration.
"Washington's healthcare cuts have put some of New York's most vulnerable communities in danger of losing access to quality care," 1199 SEIU President George Gresham said in a statement in February. "Now we are looking to Albany to take a stand for working New Yorkers by ensuring that the budget contains the funding needed to keep healthcare accessible to communities around the state."
Those federal cuts include the administration's decision to withhold funding for state-run Basic Health Programs, which are aimed at lower-income households otherwise ineligible for Medicare or CHIP. Those plans are required by law to provide coverage as comprehensive as ACA marketplace plans, often at much lower cost, and Minnesota and New York are the only two states that have them.
Both states are suing the federal government over those cuts, which could deprive both states of nearly $1 billion of federal money and 800,000 people of their health insurance. Basic Health Program plans in New York, which are branded in the state under the name "Essential Plan," have monthly premiums of zero to 20 dollars, with negligible deductibles and copayments.
Those cuts also affect cost-sharing reduction funds, which subsidize private marketplace health care plans, and by extension, deductibles and other out-of-pocket costs.
In the state budget, the fund is described as a "health care facility transformation fund," which will ensure the system's financial sustainability, improve physical health care infrastructure around the state, promote alternative payment structures and undertake other initiatives aimed at improving patient care.
It allocates up to $475 million in grant money for any health care provider willing to apply, and explicitly allows grants to be awarded without competitive bidding. Additionally, a minimum of $60 million will be granted to community-based providers, and a minimum of $45 million will be going to residential health providers.
The campaign also aimed to highlight federal cuts of "hundreds of millions" of dollars to Medicare-subsidized "disproportionate share hospitals," according to the press release. Those cuts also affect healthcare expenses for low-income residents.
Funding for disproportionate share hospitals was extended for another year in the state budget to the tune of $1.1 billion, the same amount those hospitals have received every year since 2013. In addition, a new category of "enhanced safety net" hospitals was created to encompass hospitals where over half of its patients are either on Medicaid or uninsured, and a quarter of its patients are insured. The state health commissioner now has the power to adjust state assistance to those hospitals in order to keep them afloat.
"We are pleased that this budget contains funding to help maintain access to vital healthcare services for New Yorkers," Gresham said in a statement to City & State. "Through the Healthcare Transformation Fund, Albany has demonstrated its commitment to protecting community healthcare in the face of relentless attacks from Washington."