MTA
Cuomo's plan for congestion pricing and MTA restructuring? Another panel
Gov. Andrew Cuomo is proposing that a panel of six appointed experts determine how to implement congestion pricing and make reforms at the Metropolitan Transportation Authority.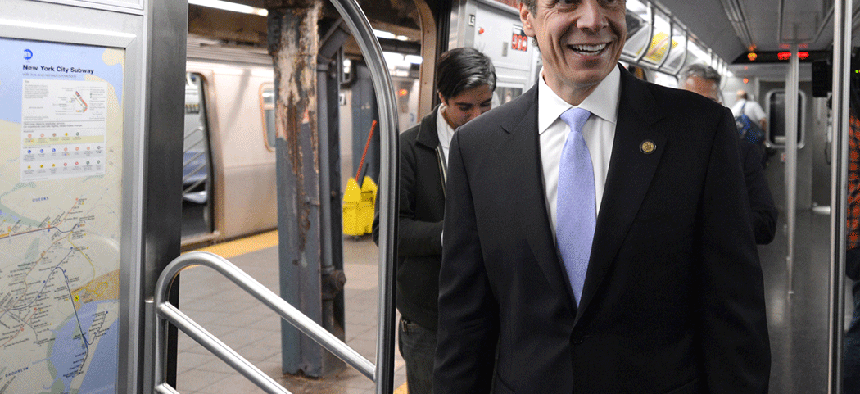 Gov. Andrew Cuomo is proposing that an expert panel determine key details of how to implement congestion pricing and make reforms at the Metropolitan Transportation Authority.
A six-person panel would have authority over a required reorganization plan at the beleaguered transit agency and would set by Dec. 31, 2020, the price that drivers would pay if the Legislature approves congestion pricing in the $175 billion state budget, according to language in the governor's 30-day budget amendments. The panel would also oversee an audit of the MTA's capital and operating budgets, and review and approve them moving forward.
Who would appoint the members of the panel would be a matter of negotiation between the governor and the Legislature, a spokesman for Cuomo said today. According to the governor's office, the experts would have "extensive backgrounds in critical areas, including auditing, public finance, engineering, transportation/transit, corporate restructuring, and risk management."
The budget amendments also included language that would require the MTA to use design-build project delivery on major projects. Another proposal would align the terms of MTA board members with the elected who appointed them. Whether or not all current board members would be able to serve out the remainder of their terms was not immediately clear.
Cuomo has said that passing congestion pricing is contingent on reforming the governance of the MTA. This includes altering the balance of power among the governor, New York City mayor, state legislative leaders and others who appoint members of the MTA's 17-person board. Critics in the state Legislature have said that they need more details before they could back either plans.
With just six weeks to go before an April 1 state budget deadline, the governor and lawmakers have both said that it will be difficult to come to an agreement on congestion pricing and MTA reform by then. However, the proposal to establish the expert panel alters that equation by taking away much of the oversight of congestion pricing that Cuomo's original budget proposal would have given the MTA Bridge and Tunnel Authority, including the power to determine any tolls associated with congestion pricing, which would charge drivers to enter Manhattan below 60th Street.
Reached soon after the release of the budget amendments, state Sen. Brad Hoylman expressed openness to the governor's proposal for the expert board, but added that more details will determine whether or not he thinks it is ultimately the best way to go to implement congestion pricing.
"I think the time for expert panels and blue ribbon commissions is past," he said. "I think we need a concrete plan on which to vote and give colleagues some certainty. That said, I'm eager to work with the governor to make sure congestion pricing is in the budget."