Education
Rising graduation rates linked to alternative assessments
New York state education officials are wondering how successful students are after they graduate taking alternative assessments to get their diplomas.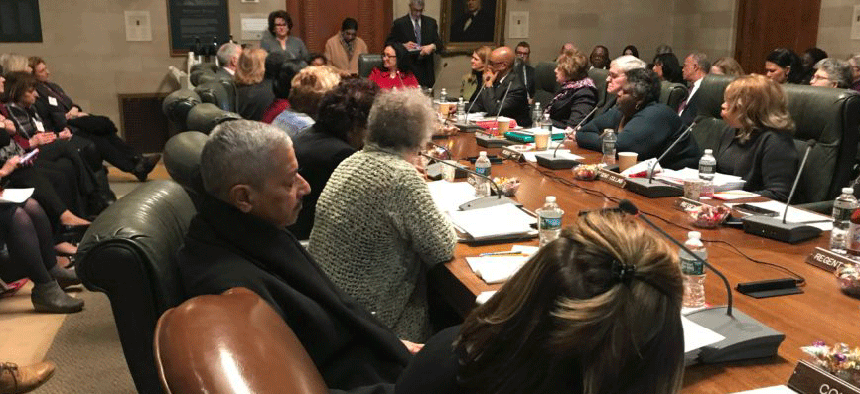 Over the past few years, New York state education officials have approved multiple ways students can earn diplomas, which have contributed to the rising graduation rate in New York City.
Now, some Regents are wondering whether the pathways are actually helping students stay successful after they turn their tassels, and if these alternative routes are accessible for all students.
Graduation rates across the state ticked up very slightly — from 80.2 percent to 80.4 percent. New York City notched its highest graduation rate on record. Most of New York City's improvement this year, where rates rose by almost 1.7 percent, could be linked to the growing number of students who are choosing to take alternative assessments to earn their diplomas and an expanded appeals process that made it easier for students to graduate despite earning a low score on a high school exit exam.
The state allows students to opt out of a social studies exit exam and substitute other assessments in math, art, or career and technical education. About 11,200 students took advantage of one of these options across the state, up from about 9,900 the year before.
"Courageous" is how Regent Kathleen Cashin, who represents Brooklyn, characterized the department and board's decision to expand assessment options "to support our students in getting a degree they need so desperately," she said.
"So don't you think we should track them into college?" Cashin asked Monday as Regents reviewed the latest graduation rate data from across New York. "Let's continue to see if the strategies that allowed them to graduate are working."
Commissioner MaryEllen Elia said the department would "push on that," noting that there could be some way to partner with the State University of New York and City University of New York to determine how students are faring in college.
This is "exactly the right conversation," said Ian Rosenblum, executive director for The Education Trust-New York, a policy and advocacy organization that has tracked the changes in graduation requirements. A department official said there's no consensus yet on how the department might measure the success of different graduation pathways. Last year was the first time the department collected data on how many students graduated using alternative assessments.
KIPP, the national charter network that has 31 high schools nationwide, including one in New York City, has devised a way, using counselors and the program Salesforce, to follow its students' progress through college. Several states, Rosenblum said, use data systems designed to track students from early childhood all the way through college. Education officials in Minnesota use such a system to inform decision-making and "identify the most viable pathways" for success in school and work.
"The strength of those data systems is that it really enables policymakers to understand how students do throughout their educational careers and where the most successful interventions can be," Rosenblum said. "So moving in that direction is a really important discussion to be having, and in the interim, there are positive steps that can be taken to link the data systems that the various state agencies and post secondary sectors already have."
Some Regents and Elia also want to see how accessible different graduation pathways are to students in different districts.
Elia said the department is looking for ways to see which schools are giving students the chance to take different assessments for graduation and access other opportunities, like the My Brother's Keeper program. The department could, for example, create a profile for each school district, she said.
Regent Lester W. Young said he wants to sample results from school districts to see which specific graduation pathways are being used — as the judicial districts that Regents members represent are sometimes too large to provide the necessary insights. He used Brooklyn as an example, which is comprised of multiple districts with vastly different socioeconomic profiles.
"Central Brooklyn is very different from the rest of Brooklyn," Young said. "If you look at a judicial district, you don't see what's going on in East New York or Brownsville."
This article was originally published on Chalkbeat, a nonprofit news site covering educational change in public schools.