New York State
Will gig workers finally get labor protections?
You may have OT, minimum wage and discrimination safeguards. Does your delivery guy?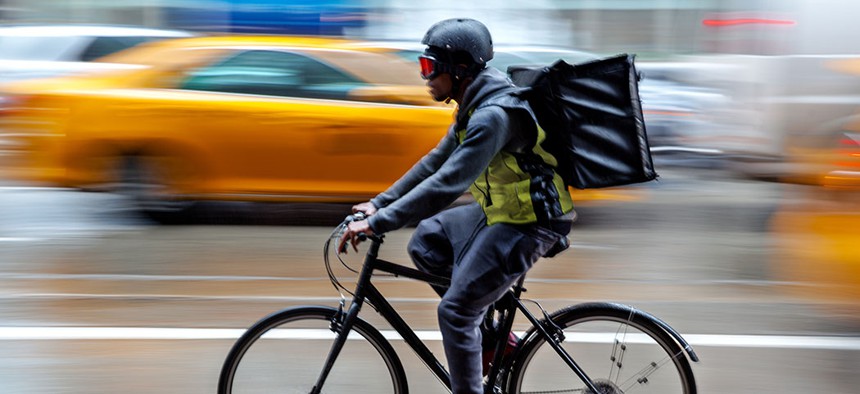 The gig economy is inevitable. Ride-hailing drivers, delivery cyclists and on-demand dog walkers are not just the future of work, they're a growing share of today's workforce. But with the understanding that this type of work isn't going away anytime soon, union leaders and lawmakers are calling for the gig economy to catch up with the labor and employment protections that were standardized for traditional employees decades ago.
One bill in New York, introduced at the end of the state legislative session in June, sought to create a new employment classification for gig economy workers and give them the right to organize and collectively bargain. The Dependent Worker Act, sponsored by state Sen. Diane Savino and Assemblyman Marcos Crespo, would also have given those "dependent workers" protections like the explicit prohibition of wage theft and record-keeping requirements.
However, the Dependent Worker Act fell by the wayside in the hectic final days of the session, but it didn't go unnoticed.
Both the tech industry and some labor groups were quick to object to the bill, though for different reasons. At the time, the industry association Tech:NYC argued that the new dependent worker classification would upend the sector and that the bill sponsors didn't give companies a seat at the table. Labor groups like 32BJ SEIU and the New York Taxi Workers Alliance, meanwhile, thought the dependent worker classification didn't go far enough to ensure gig workers receive the same labor protections as regular employees.
The New York State AFL-CIO did, however, support the legislation as a step in the right direction for workers. "This issue cropped up late in the legislative session, and it's not at all uncommon for issues to fall off the table, whether at the end of session or end of the budget," Mario Cilento, president of the state AFL-CIO, said recently in an emailed statement. "We are pleased however that protections for this class of workers received as much attention as it did last June and we look forward to building on that momentum going into the 2020 legislative session."
Despite strong objections on both sides, Savino is ready to take another crack at the legislation next year. "We certainly got everyone's attention. Everyone went running around banging into walls," Savino told City & State. "And so now we step back and say, 'OK, fine. You didn't like that bill. Let's talk.'" The Staten Island Democrat said she is scheduling a hearing on the bill for Oct. 16 and encouraging all stakeholders to attend. "I think one of the most important things is that this is an economy that's not going away," she said.
As it stands now, gig economy workers are typically classified as independent contractors, or self-employed workers. New York state's criteria for independent contractors include that the workers must be free from supervision, direction and control in performing their duties. While some gig workers and freelancers inevitably meet those criteria, labor groups argue that many gig workers are misclassified as independent contractors, and therefore miss out on the labor protections guaranteed to employees.
"In general, independent contractors are self-employed, by law. That means they are their own employers," said Erin Hatton, a sociology professor at the University at Buffalo and an expert on labor movements and the gig economy. "So they don't have those employee protections that we give people who are deemed to have an employer. So that means everything from minimum wage and overtime protections, to discrimination in hiring and firing, and so on."
"Increasingly, we've seen employers claiming, 'Oh, we're just a tech company who provides tech,' even though the only thing they actually provide are drivers." – Erin Hatton, University at Buffalo sociology professor
Ride-hailing companies in particular have been accused of misclassifying their workers as independent contractors, but these classification questions arise with all sorts of gig workers, Savino said. These problems also didn't arrive with the advent of smartphone apps. Hatton pointed to a FedEx settlement over misclassifying drivers as independent contractors as far back as 2000. Still, the rise of the app-based gig economy is bringing the issue to the forefront.
"Increasingly, we've seen employers trying to get around that system of protections by misclassifying their workers as independent contractors by kind of ludicrously claiming, for example, that, 'Oh, we're just a tech company who provides tech,' even though the only thing they actually provide are drivers through the technology that they've developed," Hatton said.
Though the bill was introduced hastily at the end of the session, New York's debate over how to classify gig workers and what kind of labor protections they should have is coming at the right time. The center of this debate is in California, which is attempting to pass a bill codifying a 2018 California Supreme Court decision that would classify workers using what's called an "ABC test." Under the test, workers would have to be free from the control of an employer, doing work outside the usual course of business of an employer and engaged in an independently established business in order to be classified as an independent contractor. Many believe that ride-hailing drivers would fail this test, meaning they would be classified as employees.
"The states are not receiving tax revenues that they could receive if these workers were classified as employees." – Maria Figueroa, director of labor and policy research at Cornell University's Worker Institute
Some labor groups are eager to see New York adopt the ABC test as well. In June, New York Taxi Workers Alliance Executive Director Bhairavi Desai and Héctor Figueroa, the late president of 32BJ SEIU, pointed to the test as a preferable alternative to the Dependent Worker Act. 
"It is a sensible approach because it would provide these workers with protections that they badly need," said Maria Figueroa, director of labor and policy research at the Worker Institute at Cornell University's School of Industrial and Labor Relations, and the ex-wife of Héctor Figueroa. Maria Figueroa noted that it wouldn't just give workers protections, but would benefit states too. "Right now, due to the fact that these workers are classified as independent contractors, the states are also not receiving tax revenues that they could receive if these workers were classified as employees," she said.
But if the tech industry's objection to the Dependent Worker Act was strong, a test that would likely change the status of many gig workers from independent contractors to employees isn't being well received. The ride-hailing industry has been fighting the California bill, commonly referred to as AB5, advocating instead for giving worker-determined benefits like health care and pension plans. A "portable benefits package" could give gig workers those benefits without turning them into employees.
Maria Figueroa said that if New York took that approach, the benefits should meet current labor standards for employees. "People who are against portable benefits are arguing that if we are going to have portable benefits, they should guarantee protections and they should be at the level of the standards offered by current negotiated pension and health care benefits," she said.
Savino is open to the portable benefits approach as an option. Whether it comes in conjunction with a new dependent worker classification, or on its own, she's not sure. Savino is, however, skeptical about the viability of the ABC test. "At first blush, I believe what they're doing in California is a little bit too rigid," she said.
At this point, Savino is waiting to hear feedback from stakeholders this fall. But with tech and labor on opposite ends of the spectrum, it remains to be seen whether a compromise could realistically happen.
Zach Hecht, policy director at Tech:NYC, echoed Savino in saying that conversations with all stakeholders is the right place to start. But Desai of the New York Taxi Workers Alliance disagreed. "I would say that that's not the starting point," Desai said. "As workers, you have to know what you want for yourself, rather than have it be dictated by compromises that the corporation wants to impose on you."
A spokeswoman for 32BJ SEIU said that the union is working with a coalition on an ABC test program for New York. "ABC tests are already a proven model that New York has instituted for misclassification in construction and commercial transport industries," said Kyle Bragg, the union's newly elected president said in an emailed statement. "Tech companies should play by the same rules as any other employer."
With California's legislative session concluding in September, New York is unlikely to act before seeing the outcome of AB5. If it passes, the ABC test would represent a monumental change for much of the gig economy that could impact the direction New York takes. "Legislators are following closely what is going on in California," Maria Figueroa said. "Whatever happens in California and in New York usually sends a signal to all other states, because these two states are the leaders in terms of setting labor and employment standards."
But as far as tech legislation goes, there's some precedent for New York waiting on the sidelines while California takes big swings. Hecht pointed to California's digital privacy legislation, which goes into effect in 2020, as an example. "It's not exactly clear how it will work in practice, or what the implications will be," Hecht said of the California Consumer Privacy Act. "So we can monitor, look at what the implications of something will be and then pass better regulations in New York or take a better and more measured approach that has less negative implications." New York could take that same approach if AB5 passes in California.
"California does what they want. Sometimes California and New York are on the same page, and sometimes they're in totally different places," Savino said. "My goal is for us to put forward the best piece of legislation that becomes a model for the nation, regardless of what happens anywhere else."
Powered By
NEXT STORY: AOC's Twitter blocking sparks ongoing debate