Technology
Will New York follow California on gig worker protections?
California is poised to turn its gig workers into full employees, and New York may soon follow.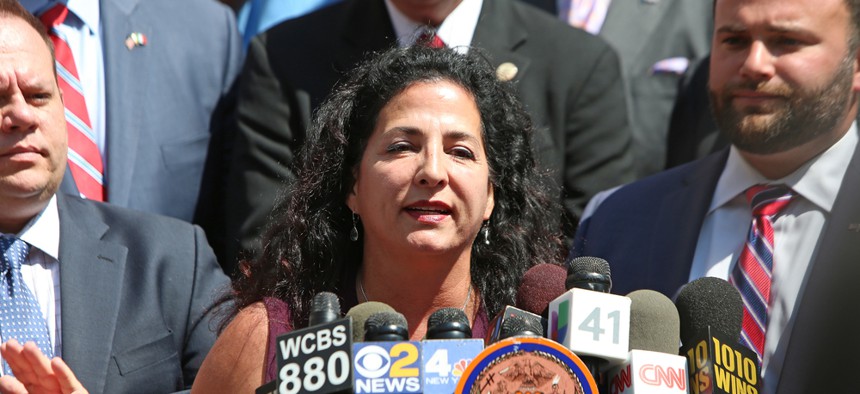 Late Tuesday night, California advanced a bill that would classify many gig workers as regular employees, granting them basic labor protections like minimum wage, overtime and unemployment insurance. And while the proposed law has no direct bearing on New York's gig workers, some locals woke up to the news Wednesday morning, optimistic that California's AB5 means New York won't be far behind.
"Although the sun rises earlier for us in New York, today our allies to the West were the first to welcome the light of a new day for workers in America," said Bhairavi Desai, executive director of the New York Taxi Workers Alliance, in a statement early Wednesday morning. "The light shined first on California, but workers in New York will see our dawn soon."
Before that can happen, however, California has to finalize the law – and a number of people then have to get behind New York's own efforts to grant more labor protections to its Uber drivers, delivery cyclists and other gig workers. A bill introduced in June to create yet another classification that would give gig workers the right to unionize failed to pick up steam in the state Legislature. But momentum has been building recently, including through a new coalition of labor experts aiming to impose the same employment classification standards for New York. On the other end of the spectrum, AB5 opponents Uber and Lyft are still angling for exemptions to the proposed law, which could yet happen. As this latest battle between labor advocates and the tech industry progresses, a number of questions still need to be answered, both in New York and in California.
What is AB5?
California's Assembly Bill 5 is that state's attempt at codifying a 2018 California Supreme Court decision that would classify workers using something called an "ABC test." The test has three criteria that a worker has to meet in order to be classified as an "independent contractor": workers have to be free from the control of an employer, doing work outside the usual course of business of an employer, and engaged in an independently established business. A least one million people currently classified as independent contractors in California – including nail salon workers, app-based ride-hail drivers and on-demand delivery workers – would fail this ABC test and be considered employees, eligible for all the labor protections that come along with employee status. After passing the California state Senate on Tuesday night, AB5 awaits the signature of Gov. Gavin Newsom, who has endorsed the bill. 
What efforts are being made in New York?
Legislation introduced in New York by state Sen. Diane Savino and Assemblyman Marcos Crespo at the end of session this June would have created a third classification of workers –  "dependent workers" – who would have the right to organize and collectively bargain. The bill drew ire from both the tech industry (who said it went too far) and labor groups (who said it didn't go far enough), signaling that any compromise between these groups will be tough to secure.
The Savino and Crespo bill failed to win favor within the state Legislature as well, but labor advocates have continued to move the ball forward on the independent contractor issue over the summer and recently announced a coalition to institute an ABC test in New York. Members of the coalition include the New York Taxi Workers Alliance, the New York Nail Salon Workers Association, the Legal Aid Society, Make the Road New York, 32BJ SEIU and the National Employment Law Project.
What does this mean for Uber, Lyft and other tech companies?
While the ABC test would apply to all independent contractors, the months-long fight over California's AB5 and similar efforts in New York has largely become a story about what it would mean for Uber and Lyft to have their drivers classified as employees. The two companies launched an aggressive and expensive campaign against the California bill, and along with the online delivery company DoorDash, they have committed $90 million to a ballot initiative that would exempt them from AB5. An ABC test for independent contractors would mean that companies like Uber, Lyft and DoorDash would have to provide employment benefits that could jack up their costs by an estimated 20 to 30 percent – one explanation for why these companies have been fighting so hard against the bill. 
Though the New York legislation from Savino and Crespo didn't garner quite the same backlash, the tech industry group Tech:NYC did immediately come out against it.
Some labor advocates are already celebrating California's approval of AB5, although Newsom said Tuesday that he's still in negotiations with Uber, Lyft and other companies to reach a deal.
"We are fully prepared to take this issue to the voters of California to preserve the freedom and access drivers and riders want and need," Lyft spokesperson Adrian Durbin said in a statement on Wednesday, alluding to the possibility of a ballot initiative. 
Tony West, chief legal officer for Uber, said Wednesday that Uber drivers would not be classified as employees under AB5, arguing that the company can pass the ABC test because the drivers' work is outside Uber's usual course of business.
Will New York follow California's lead?
New York has undoubtedly been keeping a close eye on the AB5 fight in California, and some experts expect New York to follow California's lead. And while most agree that California's recent action will invigorate the debate over independent contractors in New York, others say that New York could take a slightly different approach. "Even if California acts, we don't necessarily need to act here in New York in the same manner," Zachary Hecht, policy director at Tech:NYC told City & State recently. "We might proceed with a little bit more nuance, we might proceed with a little bit of a different approach." 
Along those same lines, Savino has pointed to a portable benefits package as one way New York could grant more labor protections to its gig workers without classifying them as employees. She told City & State last month that she's not convinced that the ABC test is appropriate – calling it "a little bit too rigid" – and that New York could very well take a different path than California. "California does what they want," Savino said. "Sometimes California and New York are on the same page, and sometimes they're in totally different places. I think New York is going to have the most comprehensive conversation about it. My goal is for us to put forward the best piece of legislation that becomes a model for the nation, regardless of what happens anywhere else."
Where does Cuomo stand?
California's AB5 fight did bring the issue of independent contractors to New York Gov. Andrew Cuomo's attention, as he recently suggested that he favors classifying more gig workers as employees. "I think we have to look at how we define 'employee' versus 'independent contractor' going forward, and I think, in my opinion – forget the specifics – more people should be considered employees, because what has been happening is companies have been going out of their way to hire independent contractors to get out of those obligations," Cuomo said at an unrelated press conference this week. "I don't want to lag California in anything, I don't want to lag any other state," he added, referring to California's action on AB5.
Spokespeople for Cuomo did not immediately respond to a request for comment on Wednesday, but his suggestion that he doesn't want to fall behind other states on this issue could signal that the labor rights of gig workers may garner more attention in the coming months than they were able to at the end of this last legislative session. 
Savino said she is ready to take up the issue again in January, and with California still nailing down the details and labor advocates in New York gearing up for a fight, the debate is unlikely to fade from view. Savino said that she will be soliciting feedback from all interested groups this fall, including at a hearing scheduled for Oct. 16.
Powered By
NEXT STORY: City Council looks for answers on ride-hailing regulations