New York State
Activists pushing to limit solitary confinement in 2020
In a letter exclusively obtained by City & State, 137 progressive groups demand passage on first day of legislative session.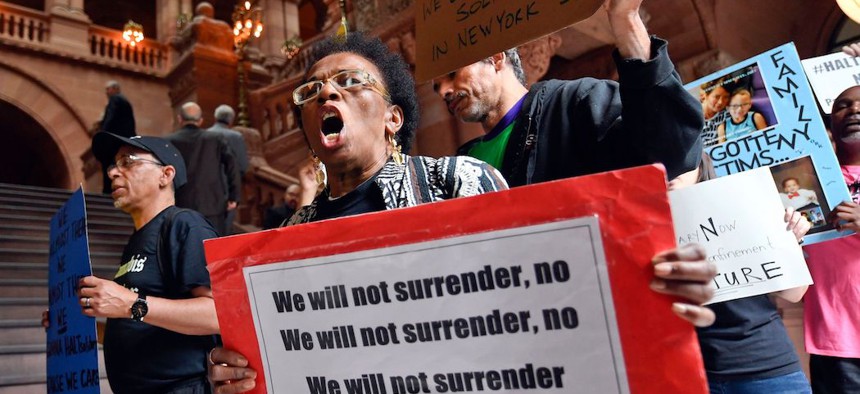 Progressive activists are planning a concerted push to place limiting solitary confinement at the top of the legislative agenda in 2020.
In a letter exclusively obtained by City & State, a group of 137 progressive groups are demanding that Assembly Speaker Carl Heastie and state Senate Majority Leader Andrea Stewart-Cousins pass on the first day of the upcoming state legislative session a bill that would limit how long inmates in local jails and state prisons can be placed in solitary confinement to 15 days.
Any period of confinement longer than that amounts to torture, according to the activists and the United Nations. "Every day without HALT, we continue to feel the devastating impacts of solitary confinement," reads an Oct. 28 letter signed by groups including the New York Civil Liberties Union, Amnesty International USA, JustLeadershipUSA and Black Lives Matter of Greater New York, referring to the Humane Alternatives to Long-Term Solitary Confinement Act. "Every day that goes by without HALT's enactment will mean another mind destroyed and the possibility of another life lost.
"
Solitary confinement is an issue that already has become prominent in newly launched primary challenges against state lawmakers, whose progressive challengers say the incumbents were not vocal enough in pushing for the bill's passage last year. HALT did not come to a floor vote in either the state Senate or the Assembly, although a majority of lawmakers in both houses co-sponsored the legislation. Heastie and Stewart-Cousins were not among the co-sponsors however. The two leaders struck a deal with Gov. Andrew Cuomo at the end of the legislative session that will limit the use of solitary confinement to 30 days, through administrative changes that take full effect in October 2022 and do not preclude consecutive placements in solitary. More than 2,300 people are currently held in isolation in the state prison system, with an average stay of 105 days, according to previously undisclosed data released on Oct. 28 by the NYCLU. A total of 40,000 solitary confinements were made in 2018 in state prisons in a total inmate population of about 45,000, with many inmates receiving multiple confinements. 
Efforts to pass the more aggressive legislative proposal have been led by the New York Campaign for Alternatives to Isolated Confinement, a signatory of the letter, which plans to hold a day of action in Albany on Jan. 21, according to Jerome Wright, upstate community organizer for the campaign who was previously incarcerated and placed in solitary confinement. The campaign has organized visits to college campuses, town hall meetings, and outreach to religious and union groups in recent months as it gets ready for the upcoming legislative session. "We're going to have an actual presence in Albany every day leading up to January 21," Wright said. "We're going to plan some strategic action, not to interfere with the budget process, but to make sure we don't get lost in the wrangling over budgetary items – which always happens."
Progressive activists are emboldened following a successful effort in the last session to get lawmakers to pass a package of permanent, tenant-friendly changes to the state rent laws. The renewed push to limit solitary confinement will test whether that same energy can convince lawmakers to go further than what Cuomo has called for on yet another high-profile issue. "We were devastated by the Governor's decision to undermine and kill the HALT Act last session," said Nick Encalada-Malinowski, civil rights campaign director for VOCAL-NY, a New York City-based progressive membership advocacy organization, which signed onto the Oct. 28 letter. "We are all in for 2020. The bill can and must pass right away on January 8." A spokesman for Cuomo did not respond to requests for comment by publication time. 
The passage of landmark bills on voting reforms, abortion rights, and other issues this year have raised hopes among activists that Democratic lawmakers will be willing to pass HALT early in the 2020 session, despite likely opposition from the Cuomo administration, whose proposed administrative changes began public comment period in August. Representatives of Stewart-Cousins and Heastie did not respond to requests for comment by publication time. If activists are not able to get votes on the HALT bill in the first days of session then they say they will turn to the same types of political tactics they used in the 2019 legislative session, which included rallies, meetings with key lawmakers and a hunger strike. 
Supporters of the HALT Act face opposition from law enforcement unions including the New York State Correctional Officers and Police Benevolent Association, which has argued that solitary confinement helps corrections officers maintain order in prisons and jails and that more time is needed to implement reforms to the practice that arose from a 2012 legal settlement between the state and the NYCLU. "Designed with safety for all in mind, special housing units separate dangerous individuals from the general population, and only when they commit serious infractions," said Michael Powers, president of the state correctional and police officer's union. "They also provide safety to incarcerated individuals who would be subject to dangerous situations among the general population." Neither of the sponsors of the HALT Act – state Sen. Luis Sepúlveda and Assemblyman Jeffrion Aubry of Queens – could be reached for comment by publication time.
There are significant differences between the proposed law and Cuomo's administrative changes, besides limiting the number of days that a person could serve in solitary confinement to 15 and 30 days, respectively. The HALT Act would take effect one year after passage, while the administrative changes would limit solitary to 90 days by October 2021, 60 days by April 2022 and 30 days by October 2022. The HALT Act would also apply to all forms of solitary confinement, including what is called "Keeplock," a practice which keeps inmates in isolation but gives them more privileges – like access to personal possessions and phone calls to family members – than the Special Housing Units that have much stricter rules. The administrative changes would not limit back-to-back confinements – meaning that even when fully implemented, inmates could still be kept in confinement for longer than 30 consecutive days. Critics like the NYCLU say this means that Cuomo's proposed administrative changes creates a broad loophole.
The bill has already become a top issue for some left-wing challengers to Democratic incumbents. "I will include this in my campaign," said Pharra Souffrant Forrest, a candidate backed by the local chapter of the Democratic Socialists of America, who is challenging Assemblyman Walter Mosley in Brooklyn. "When we talk about human rights, if we can't even match what the international standard is with this – 15 days maximum (in solitary confinement) – then I think that we are torturing people and that's not right." Mosley is a co-sponsor of the legislation, but Forrest vowed to be more vocal than Mosley was on the issue in the upcoming session in the hopes of bringing it to a vote. 
Mosley told City & State that the bill couldn't get passed and signed into law by Cuomo because the governor wanted concessions on issues like funding to retrofit facilities to accommodate the changes. "We had an opportunity to get it passed, but we couldn't get it passed like we wanted," Mosley said. "We just felt like that was not the proper thing to do," Mosley added. "We want to end solitary on our terms as defined in the current legislation."
Boris Santos, another DSA-backed candidate in Brooklyn, is also emphasizing his support for the legislation in his primary challenge to Assemblyman Erik Dilan, another co-sponsor of the legislation. Santos said that Dilan's past campaign donations from groups such as the Nassau County Police Benevolent Association make him vulnerable on criminal justice issues. "He does the bidding of the Police Benevolent Association," Santos said. While the HALT Act would bring solitary confinement policies statewide in line with international standards, Santos says the practice should be completely eliminated. "Starting in the beginning of the session, I will be up in Albany if need be, especially if the advocates and the folks that are leading the organizing want me up there," Santos said. "For sure, I'll fast." 
Dilan said through a spokesman that he will continue to support the legislation and defended his record on criminal justice in both the New York City Council, where he served from 2002 to 2013, and afterward in the Assembly. "My record on criminal justice is clear," he said. "I've spent my career fighting for criminal justice reform, from casting the deciding vote to end stop and frisk and create an independent monitor for the NYPD in the City Council to Raise the Age in the Assembly." The landmark 2017 bill removed both 16- and 17-year-olds from the adult prison population once it fully took effect this year.
The HALT act is already highlighting differences between mainstream Democratic incumbents, who have limited influence over the fate of the bill, and their left-wing challengers, who vow to participate in every rally, protest and hunger strike. Assemblyman Joe Lentol of Brooklyn, who is facing a leftwing primary challenge, said in an interview that his work on legislation like Raise the Age showed not only his commitment to criminal justice reform – but also an ability to get things done in a Legislature where progressives from New York City have to compromise at times with moderates from the suburbs and upstate. 
Even if activists succeed in getting Heastie and Stewart-Cousins to schedule a vote on the HALT act, they would still have to convince Cuomo to sign it. With the political dynamics of budget season overwhelmingly in Cuomo's favor, that would mean that the legislative leaders would have to use significant political capital to get Cuomo's support on HALT – a price they showed earlier this year they are reluctant to pay.