Criminal Justice
Beyond legalization: More questions surrounding recreational pot
From CBD to criminal justice.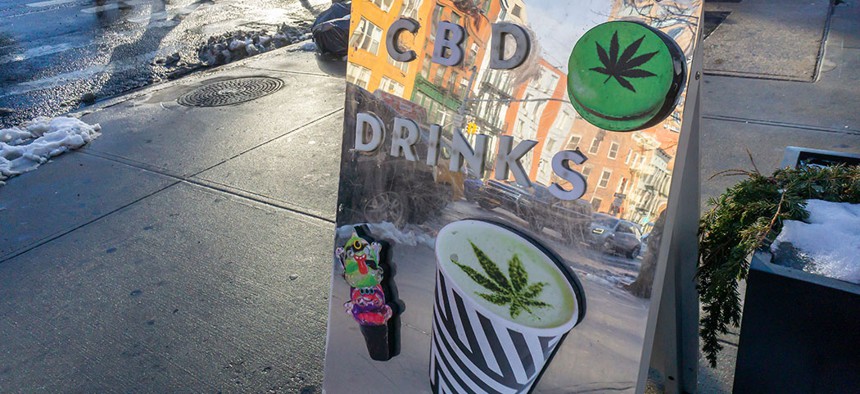 Recreational marijuana legalization is shaping up to be a major issue again next year as state lawmakers and activists gear up to fight to include it in the state budget. Whether or not that actually happens – and what needs to get done for them to be successful – are the big questions. But within the politics are a number of policy questions – such as how legalization will affect the state's climate goals – for lawmakers to consider.
Environmental impacts
One concern about legalizing recreational marijuana is the massive environmental impact of actually growing the plants. Unlike its nonpsychoactive cousin hemp, which can act as a carbon sink and replace crops like cotton whose cultivation has greater negative environmental effects, cannabis requires lots of water and pesticides. The massive water consumption in particular has caused issues in California like water theft, particularly where marijuana is grown illegally. Most legal marijuana cultivation happens indoors, reducing the effects of pesticides and impact on the local ecosystem, but it requires massive amounts of electricity. Grow rooms accounted for an estimated 1% of national electricity consumption in 2012 – a number that is likely higher today now that more states have legalized the drug – most of which is still produced through fossil fuels.
According to cannabis and environmental lawyer Liz Bogle, the majority of states where recreational marijuana can be grown legally did not take proactive steps to mitigate the energy and environmental impacts of indoor grow sites. To her knowledge, Massachusetts was the first state to institute energy regulations, including energy efficiency standards, for indoor grow operations at the time of legalization. Proposals from Gov. Andrew Cuomo and the state Legislature from this past session mention addressing environmental concerns, but offer no specifics on what those rules would look like, leaving those determinations to a proposed state Office of Cannabis Management.
CBD and industrial hemp extracts
Marijuana and hemp are used for very different purposes. Hemp has very low amounts of the psychoactive chemical THC that is found in marijuana and can be used to make concrete, clothing and paper, among other things, and most of it will continue to be regulated by the state Department of Agriculture and Markets. However, hemp grown for its extracts – namely CBD – and for human or animal consumption would be overseen by the proposed state Office of Cannabis Management. Under legislation recently signed by Gov. Andrew Cuomo, however, CBD production will be overseen by the agriculture department, at least until a recreational marijuana legalization bill passes.
The most significant change that came with the new law is that it explicitly regulates CBD. The extract has grown in popularity in recent years and is commonly ingested for its purported calming effects. It is also used as an additive in personal hygiene products and even clothes. Although the federal 2018 Farm Bill officially allows hemp to be grown in the United States for commercial purposes – provided states institute a regulatory framework – it did not promulgate rules for drug products that contain CBD, which are not approved by the Food and Drug Administration. This left New York, among other states, in a regulatory purgatory, resulting in a Wild West of sorts for a substance that has had relatively little research conducted on it.
Criminal and social justice
One of the biggest reasons behind the push for legalizing recreational marijuana is to end the overpolicing of black and Latino communities that have disproportionately been targeted due to the drug's criminalization. Data has shown that minorities, particularly black New Yorkers, are far more likely to be charged for minor marijuana-related crimes than white people, getting young people caught in the criminal justice system. A key aspect of the pending recreational marijuana legislation involves expunging low-level marijuana convictions and reducing the sentences or reclassifying the convictions of those charged with more serious offenses. The process of expunging criminal records has already begun under a marijuana decriminalization law that passed at the end of the previous session.
Another provision that has been a sticking point is using tax and licensing revenue generated from legal marijuana sales to reinvest in communities harmed the most by marijuana criminalization. Conservative estimates put state tax revenue at about $300 million per year once the market is established. Some of that money could be used for other priorities, such as investing in public safety and education, but advocates want to see a considerable amount steered into minority communities and toward efforts to help black and Latino people enter the legal marijuana business. One major issue legalization supporters had with the governor's proposal last session was that it did not detail how the revenue would be spent, instead putting most of the money into the state's general fund.
To see more Setting the Agenda pieces click here.