Transportation
NY City Council may require truck underride guards
They could save pedestrian and cyclist lives, but industry fears costs.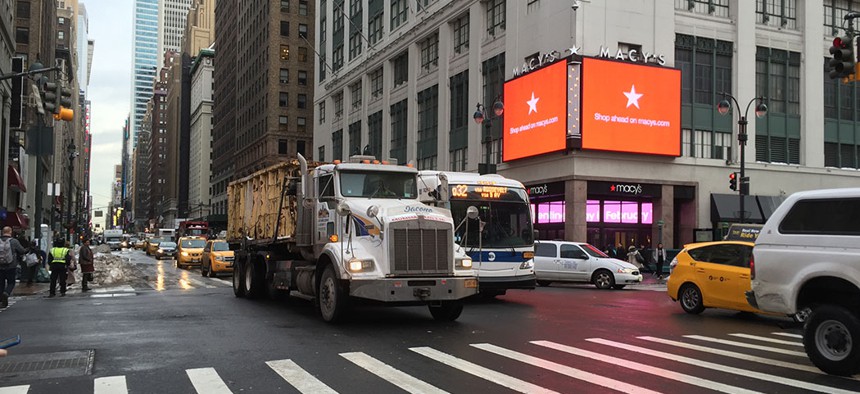 New York City residents may soon be seeing more trucks with side guards – safety devices, usually a flat piece of metal that covers the top end of a truck's wheels, that mitigate the impact of collision with pedestrians, motorists and cyclists by preventing them from being caught under the truck's wheels. 
Last year was the deadliest year for pedestrians and cyclists nationwide since 1990. There were 3.4% more pedestrians and 6.3% cyclists killed on American roads in 2019 than in 2018. New York City was no exception: 29 cyclists died on the city's roads in 2019, more than in any year since 2000 and there were 116 pedestrian deaths in 2019, more than in 2017 and 2018. Twelve of the cyclists' deaths were due to collisions with trucks. 
Some elected officials think side guards could help reduce those numbers. A report from Vision Zero Network shows that nearly half of bicyclists and a quarter of pedestrians killed by a large truck "first impact the side of a truck." The Vision Zero Network report references a 2005 British study that showed in collisions with trucks, bicycle fatalities dropped 61% and pedestrian fatalities dropped 20% after side guards were installed.
In October 2019, a bill was introduced in the New York City Council that would mandate side guards on trucks fulfilling contracts with the city by such as garbage private trucks contracted by the city to plow snow. Sponsored by Council members Ydannis Rodriguez and Ben Kallos, these vehicles would need to be equipped with side guards by January 1, 2021.
This would build on a law signed by Mayor Bill de Blasio in June 2015 after being unanimously passed by the City Council, which required truck side guards on city-operated vehicles and private trash haulers fulfilling a contract with the city. That law was itself a major expansion to the city's previously announced pilot program that added 240 side guards to their city fleet.
The new bill also will shift the deadline for side guard implementation in the city fleet and for trade waste hauling vehicles from January 1, 2024 to January 1, 2021. The owner or operator of contracted vehicles without side guards face penalties of $10,000 per city contracted vehicle and $500 for each day without a side guard for 30 days. The current council bill differs from the 2015 law because it extends the mandate for side underride guards to anyone doing contracting work with the city. It would not, however, cover trucks conducting purely private business.
But critics argue side guards are too expensive to be installed on a wide scale and policymakers should look for cheaper, more effective ways to reduce a greater number of fatalities. Side guards cost almost $3,000 each, not including labor installation expenses, and people rolling under trucks account for a small share of traffic deaths. According to a U.S. Government Accountability Office March 2019 report, from 2008 to 2017, an average of 219 fatalities from underride crashes were reported annually nationwide, accounting for less than 1% of total traffic fatalities over the same time frame. GAO says, however, that these figures may be underreported due to the variance in "state and local data collection."
The bill has been referred to the Committee on Transportation which Rodriguez chairs. Councilmember Kallos told City & State in a phone interview that he expects the bill to move quickly through the council because it has the support of the chair of the relevant committee and Speaker Corey Johnson is likely to support the bill, given that Johnson wrote in 2014 which became law in 2015. 
Kallos said he works especially hard on the issue of side guards because the mayor has recently opened a marine transfer station in his district, on the East Side of Manhattan, where "garbage trucks operated by the city are entering a ramp that bisects a children's playground."
In terms of how the side guards would be paid for, Kallos said it would be on a "case-by-case basis." Kallos has not responded to follow-up emails asking for clarification as to what that means. 
A similar bill, the Stop Underrides Act of 2019, was introduced in Congress in July 2019. That bill, sponsored by Rep. Steve Cohen from Tennessee and Sen. Kirsten Gillibrand of New York, called for the mandatory installation of side underride guards and strengthening rear underride guards to prevent other motor vehicles from sliding underneath. 
In a letter opposing the bill, the American Trucking Association said that equipping 12 million trailers with side underride guards, costing approximately $2,900 each, would prove disastrous for the trucking industry and "result in what is likely the largest unfunded mandate on a private sector industry in US history." The letter added that the "expected cost of labor in installing these guards would exceed the industry's annual net revenue, essentially putting trucking out of business, and grinding our economy to a screeching halt." 
Congress tasked the GAO with studying underride crashes to test the merits of truck underride guards and the agency recommended that the federal Department of Transportation standardize data collection, make annual inspections for rear guards and conduct more research.
The Insurance Institute of Highway Safety, a nonprofit organization reportedly funded by the insurance industry, favors a mandate for truck underride guard rails. Russ Rader, a spokesperson for the group, emailed City & State in a statement saying that their "tests show that side underride guards have the potential to save lives." When asked about the costs Rader emailed that "IIHS hasn't estimated costs."
A 2012 report by the institute found that "strong side underride guards have the potential to reduce injury risk in about three-fourths of large truck side crashes producing a fatality or serious injury to a passenger vehicle occupant. This proportion increased to almost 90 percent when restricted to crashes with semi trailers." 
Marco Conner, Deputy Director at Transportation Alternatives, a pedestrian and cyclist advocacy organization, said the group is "strongly in favor of and supportive of" the truck side guard bill. The bill is a "commonsense, low-cost, safety measure that should be part of every truck in the city," Conner added.
DeBlasio's Vision Zero program, launched in 2014, was intended to eliminate traffic deaths in New York City by 2024. While truck side guards seem to lessen pedestrian and cyclist deaths in side impact collisions, they are a small share of fatal crashes. A truck side guard mandate could help reach the city's Vision Zero goals, but far more comprehensive steps may have to be taken to get all the way there.