Criminal Justice
The Democrats working to reform bail reform
A working group of state senators is under pressure to rethink criminal justice – again – or risk electoral defeat.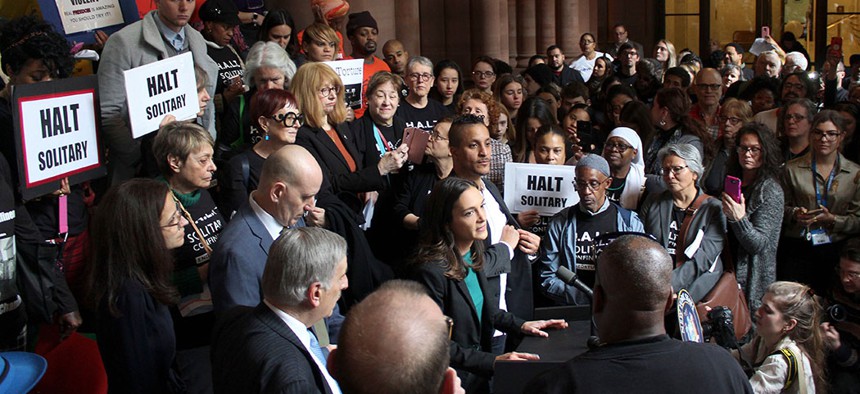 The political storm surrounding bail and discovery reforms was gathering strength at the state Capitol as more than 100 uniformed law enforcement officers and Republican lawmakers assembled on the Million Dollar Staircase earlier this month. Suffolk County Sheriff Errol Toulon Jr. warned of public safety threats posed by new reforms passed by Democrats that set more rigid limits on when defendants can be required to post cash bail in order to be released before their trial. Local officials lamented the unfairness of the new laws giving prosecutors 15 days to disclose their evidence to defendants after an arraignment. And GOP state lawmakers were doubling down on attacking Democrats as subverting law and order. "They took the whole criminal justice system and turned it on its head," state Senate Minority Leader John Flanagan said of the laws that took effect Jan. 1. "We will do everything we can to change this." 
What Flanagan might not know is that eight state Senate Democrats were already working to update the reforms.
Across the state Capitol a little over an hour later, a dozen Democratic lawmakers and activists rallied outside the Senate chamber to push back. Assemblywoman Catalina Cruz accused law enforcement of "cherry-picking cases, weaponizing trauma and lying to communities" based on media reports of criminal defendants allegedly committing offenses after being released. State Sen. Jamaal Bailey said the new laws were helping people keep their jobs because they weren't missing work due to being jailed while they wait to prove their innocence in court. "What about focusing on that?" he asked.
The combination of pressure from constituents, cops, prosecutors, Republicans and the news media has made many Democrats in Albany fearful that new limits on cash bail and changes to discovery laws are a liability for their party in moderate areas upstate, in the suburbs and in the deep outer boroughs of New York City. With Democrats two seats away from a supermajority in the 63-member state Senate, there is a lot more at stake than criminal justice reforms in the November elections. Gov. Andrew Cuomo has said he is in favor of allowing judges to have more discretion to require bail, while Assembly Speaker Carl Heastie has said it is too soon to change laws that went into effect less than two months ago. State Senate Majority Leader Andrea Stewart-Cousins thinks changes are likely, but she hasn't said what exactly will change in the law or when.
City & State has learned that Stewart-Cousins' plans depend on eight Democratic state senators in a working group developing a broadly acceptable proposal for how they should address an issue that could threaten their potential supermajority in the 2020 elections. A bipartisan majority of state senators – including more than a dozen Democratic senators from Long Island, the Hudson Valley and the outer boroughs of New York City – favor amending the reforms to either make more criminal offenses eligible for cash bail or giving judges more leeway in deciding whether a defendant is jailed before trial.
Pressure from constituents, cops, prosecutors, Republicans, and the news media has made many Democrats in Albany fearful that the new laws are a liability.
Stewart-Cousins appointed the working group after the governor's Jan. 8 State of the State address with the same senators who served on a criminal justice working group last year. The group includes five lawmakers from safe Democratic districts in New York City: Deputy Majority Leader Michael Gianaris, Bailey, and state Sens. Zellnor Myrie, Luis Sepúlveda and Brian Benjamin. Three suburban moderates, state Sens. Todd Kaminsky and James Gaughran of Long Island and state Sen. Jen Metzger of the Hudson Valley, are on the team as well and will be pushing the working group to support amending the reforms.
Appointing an eight-member working group keeps moderate lawmakers away from straying toward divisive actions like using their leverage as swing voters in the state budget process or working directly with the 22-member minority conference to push for changes. The working group also puts Democratic senators, who have yet to discuss the issue as a conference, in a stronger negotiating position by already having a unified position if Cuomo makes proposals of his own during the state budget process, one Democratic source told City & State.
No member of the working group, which meets several times per week, would speak about its inner workings on the record, but Kaminsky, Gaughran and Metzger have all argued publicly in recent weeks that some rollbacks on bail reform are necessary. They are among the senators pushing for judges to have more discretion in deciding whether someone is jailed before trial.
There is also broad support among suburban senators for making more offenses eligible for cash bail. At least one lawmaker, state Sen. Monica Martinez of Long Island, has vowed to vote "no" on the state budget if changes to bail and discovery reforms are not made by the April 1 budget deadline. These same Democratic senators have also distanced themselves from their involvement in passing the new laws in the first place by suggesting that they voted for the budget for other reasons. "I was not supportive of the bail reforms as it was originally proposed," Gaughran, the sponsor of a bill that would broaden the use of cash bail, told "The Capitol Pressroom" last month.
There are some advantages to the working-group approach: In a microcosm of the conference, Senate Democrats get to curb divisions within their ranks by mixing racial, geographic and ideological composition. The collaboration represented by a working group also reflects the image that Stewart-Cousins has cultivated as a consensus-driven leader. Her conference turned to the working group model last year to bridge their differences on state rent laws, congestion pricing and climate change. Like with other high-profile issues, a deliberative process allows the majority to say they are making progress without having to provide details in the short term. If the working group does nothing else, it allows state Senate Democrats to say they are willing to tweak controversial reforms when issues come up, whether or not the working group develops specific proposals for the conference at large. "We are not a 'set it and forget it' conference," state Senate Democratic spokesman Mike Murphy said, echoing recent comments from Stewart-Cousins on the state's voting laws.
State Sen. Monica Martinez of Long Island, has vowed to vote "no" on the state budget if changes to bail and discovery reforms are not made
Based on public statements, bill sponsorships and interviews with City & State, it appears that most Democratic lawmakers from outside New York City have joined forces with outer-borough state Sens. Andrew Gounardes and Simcha Felder of Brooklyn, Diane Savino of Staten Island and Joseph Addabbo Jr. of Queens to push for changes. "It would be my hope, in a macro sense, that the governor, the Senate and the Assembly could come to an understanding in the budget," said state Sen. Pete Harckham of the Hudson Valley. "We want to make targeted adjustments based on facts, not hyperbole and sensationalism." One suburban Democratic senator expressed optimism that the working group is up to the task of presenting proposals in the coming weeks.
The criminal justice reforms that passed last year represented a compromise among lawmakers and Cuomo, who included criminal justice reforms among his legislative demands in budget negotiations. Cash bail was eliminated for most, but not all, misdemeanors and nonviolent felonies. Judicial discretion was limited and prosecutors lost significant leverage in extracting plea bargains because defendants have better access to the evidence against them. "We needed to reform the system," Harckham said. "The second piece is, if there are holes in that, which it appears there may be, we are certainly open (to changes)." For now at least, Cuomo appears to be taking a light hand with lawmakers on the issue, but his ability to get congestion pricing approved last year, over the objections of some suburban and outer-borough lawmakers, underscored how strong his leverage is in the budget process.
While support for recalibrating criminal justice reforms is gathering steam in the Senate, there are tougher odds in the Assembly. Democratic members from suburban and outer-borough districts are currently meeting with law enforcement and sponsoring bills modifying the reforms, but they have limited sway with Heastie. The speaker's majority is centered on New York City liberals, some of whom face primary challengers from the left, and any broadening of bail or weakening of discovery would provoke a backlash on the left, which only further incentivizes Heastie to protect them by refusing to revisit the issue. One member facing a primary challenge is Assemblyman Joseph Lentol of Brooklyn, who chairs the Codes Committee that oversees criminal justice issues.
Heastie's public comments also suggest a personal commitment to an issue that is particularly important to his own black and Latino constituents in the Bronx. "In the month and four days that this law has been in place, we saw thousands of people have been arrested and processed," he told the Times Union on Feb. 4. "But we're just hearing about six, seven, eight sensationalized stories."
Heastie, however, has not categorically ruled out supporting changes in the future. "I've simply said it is too early to determine whether this law is highly successful," he told the Times Union. "There's never been, in the history of any government, a perfect law that is going to be taking care of every single issue." The speaker also faces additional pressure to amend the reforms from avowed progressives in New York City, such as Mayor Bill de Blasio and Brooklyn District Attorney Eric Gonzalez.
"Because of weak leadership at Governor & Mayor, stand away (water thrown at them) regulations, and lack of support, our wonderful NYC police are under assault. Stop this now!" - President Donald Trump, in a tweet
A Jan. 21 Siena College poll found that voter support for bail reform had fallen six points to 49% from the majority that had supported the idea in April 2019. The same day that Heastie made those comments to the Times Union, state Democratic Party Chairman Jay Jacobs, a top Cuomo ally, sided with the GOP when he urged lawmakers to roll back reforms by giving judges more discretion – or risk the consequences in upcoming elections. A day earlier, NY1 reported that Heastie was trying to muffle dissent among rank-and-file members.
Many liberal urban lawmakers and activists are urging Heastie to hold the line on bail. "No exchanges. No rollbacks," said Victor Pate, statewide organizer for the HALT Solitary Campaign. Others appear to be more flexible, given the opportunities they see in the give and take of the budget process to advance other criminal justice reforms. "If we lose a little here and gain more there, then there's a net gain," said JoAnne Page, president and CEO of the Fortune Society, a nonprofit that serves formerly incarcerated people.
On Feb. 9, a tweet by President Donald Trump made cash bail more prominent than ever by using the issue to stoke opposition against the new laws. "Because of weak leadership at Governor & Mayor, stand away (water thrown at them) regulations, and lack of support, our wonderful NYC police are under assault. Stop this now!" Trump tweeted. GOP state leaders followed his lead in castigating Democrats over bail reform, driver's licenses for undocumented immigrants and the shootings that injured three NYPD officers.
Swing district lawmakers are caught in between these competing forces. Their political future may hinge on whether Democrats strike the right balance on the issue. The working group is meeting and moderates want to get something done as soon as possible. "For me, the timetable was yesterday," said state Sen. Anna Kaplan of Long Island.