Coronavirus
Federal coronavirus bill could throw a wrench in Cuomo's budget
On top of possible restrictions on changing Medicaid, the governor could face reduced tax revenues due to the coronavirus.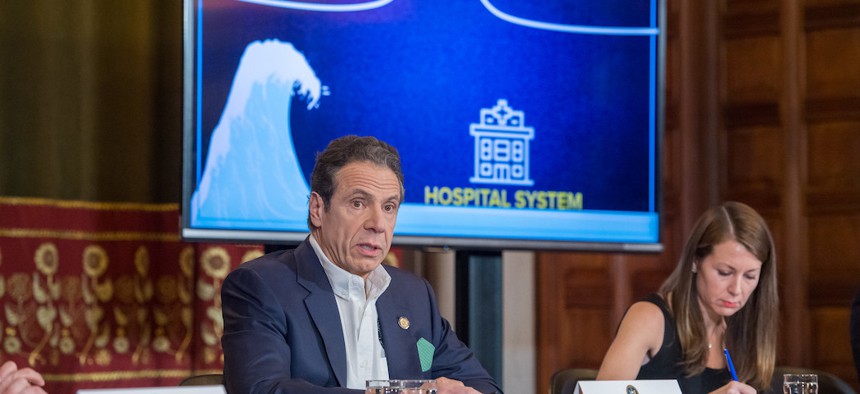 In Albany, state leaders are making moves to pass an early budget in light of the coronavirus pandemic, perhaps as soon as the end of this week. But Congress has approved a coronavirus relief bill that Gov. Andrew Cuomo said would hamstring his ability to balance the state budget.
Even before the coronavirus crisis, the state faced a $6.1 billion budget shortfall, with $4 billion coming from Medicaid costs. Cuomo's budget already factored in a variety of cost-saving measures to partially close the gap, but was heavily relying on shifting some Medicaid costs to counties and finding another $2.5 billion in Medicaid savings through a task force. Now, Cuomo charges that the federal legislation aimed at providing relief during the coronavirus outbreak will make it impossible for him to shift those costs to counties and enact the Medicaid reforms he had been relying on to balance the budget. This could leave the state in a fiscal bind as the deficit continues to grow during the coronavirus outbreak, which could further decrease tax revenues by a projected $4 billion to $7 billion, according to state Comptroller Thomas DiNapoli.
The $850 billion coronavirus relief bill passed the House on Saturday, was approved by the U.S. Senate on Wednesday and now awaits President Donald Trump's signature. It would, among other things, increase New York's federal reimbursement rate for Medicaid by about 6%. That translates to roughly an additional $6.7 billion for New York.
U.S. Senate Minority Leader Charles Schumer took credit for the temporary funding increase and lauded it as a major win for the state. "It'll probably help the state review (and) solve some of their Medicaid problems that we've talked about previously," Schumer said at a Saturday press conference with New York City Mayor Bill de Blasio, referencing the state's $4 billion Medicaid deficit.
However, Cuomo called the bill "insanity" during a Saturday conference call with reporters and blamed Schumer and Rep. Nita Lowey, despite New York receiving more money than any other state. He said a provision in the bill would prevent him from shifting some state Medicaid costs to the counties. "If I can't change that, we can't do a budget," he said. He added it would prevent his Medicaid Redesign Team II, tasked with reforming Medicaid and finding $2.5 billion in savings, from fulfilling its duties. Balancing the budget currently relies on the state implementing that working group's recommendations, which are supposed to be released Thursday.
The federal bill said that a state can't receive additional Medicaid funding if it makes "eligibility standards, methodologies, or procedures" more restrictive or changes the "amount of any premium imposed by the State." It also revived a clause from the American Recovery and Reinvestment Act of 2009 that prevented states from adding new costs to localities in order to receive new Medicaid funding. According to David Friedfel, director of state studies at the Citizens Budget Commission, the federal language is "quite clear" that the state would not be able to shift any additional costs to the counties. But realistically, Friedfel said that wouldn't have an enormous impact on the state's ability to pass a balanced budget. "The fiscal impact of that was only supposed to be $150 million a year," he said.
On Monday, when asked about the federal bill, Cuomo suggested that the counties provision was added for political reasons to protect counties in New York specifically.
Bill Hammond, director of health care policy at the Empire Center for Public Policy, a right-leaning think tank, suggested the provision tying Cuomo's hands seemed tailor-made to protect counties in New York. And Rep. Brian Higgins told The Buffalo News that he pushed for the clauses that would help counties after he received a call from Erie County Executive Mark Poloncarz.
And at the Monday press conference, Cuomo called the provisions a "blunder" that federal lawmakers needed to fix.
Mark LaVigne, spokesman for the New York State Association of Counties, denied that any sort of organized effort took place on the part of counties to have those provisions included. "This did not come about because of county intervention with the U.S. Congress," LaVigne said in a statement to City & State. "This is standard language that has been used every time there's been an increase in federal Medicaid matching funds for the states." The clause regarding eligibility standards for additional Medicaid funding can be found nearly verbatim in the American Recovery and Reinvestment Act of 2009, with the exception of the effective dates. One New York House Democratic aide also confirmed that the approach to emergency Medicaid funding currently being used had been used before.
Perhaps the bigger question is how vague language in the federal bill could impact the recommendations from the Medicaid Redesign Team. "It looks to me like they could not make eligibility changes in a broad sense, but there are other things they can do to reduce Medicaid costs," Friedfel said. "It's a little more gray when it comes to that."
Hammond said that the federal bill could completely tie the Medicaid Redesign Team's hands, leaving the state with a considerable budget hole to fill. "It could be also read to basically prohibit almost any reform of how Medicaid is delivered," he said.
As Schumer suggested on Saturday, the additional Medicaid funding for the state could be used to help close the state budget shortfall. And in the short-term, that could solve Cuomo's problem, as he would have more money without needing to implement any changes to Medicaid.
But Hammond said that would be a mistake because the funding is only temporary. Once the federal state of emergency is lifted, the additional revenue stream would disappear. That would leave the state scrambling if it was shut off in the middle of the fiscal year. And even if the funding lasted a full year, the state would still be left with the systemic Medicaid problems that caused the deficit in the first place.
On top of that is the additional projected $4 billion to $7 billion tax revenue shortfall that the state comptroller is now predicting due to the coronavirus crisis. That further complicates the state's budget prospects as state leaders deal with an expected recession while they try to pass a budget by April 1. "I think realistically, they're going to have to stretch out the (Medicaid Redesign Team) process and the budget-making process generally over a period of weeks or months beyond the deadline," Hammond said. That would be a first for Cuomo, who prides himself on passing on-time budgets.
Much of the federal relief bill's impact remains up in the air as interpretations of the Medicaid reform provision seem far from unanimous. But at the very least, it would seem that years of questionable Medicaid management by the state is taking its toll at a very inopportune time.