Coronavirus
Gig worker reforms won't be included in the budget
They're on the front lines of the pandemic, but they'll have to wait for labor protections.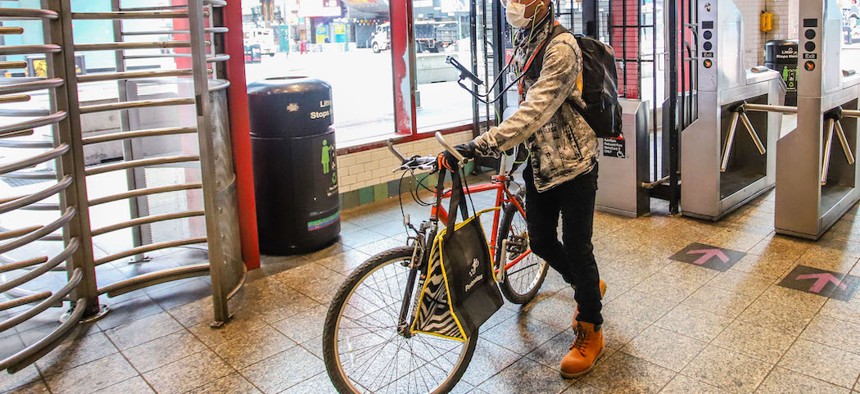 Before the coronavirus pandemic turned the world upside down, it seemed that New York was on track to follow California in granting gig economy workers – like delivery cyclists and on-demand task do-ers – labor protections that they don't currently have as independent contractors. 
Sure, New York faced a challenge in being pressured to find a solution more palatable to both sides of the debate than California's AB5 – a new law classifying most gig workers as employees, which has prompted challenges from gig economy giants Uber, Lyft and DoorDash, while garnering intense criticism from freelancers, who want to maintain their status as independent contractors. Even so, state lawmakers had suggested they were up to that challenge. Several bills had been introduced in the Legislature that would either reclassify gig workers as employees or create a new employment classification that would grant them more labor protections like overtime pay and unemployment insurance. Then in January, Gov. Andrew Cuomo included in his budget proposal a state task force that would bring together workers and representatives from organized labor and business to come up with recommendations on how gig workers should be classified and other issues like wages and benefits for gig workers. If that task force didn't come up with recommendations by May 1, the state Department of Labor would then be able to introduce regulations on its own.
But now, with the coronavirus occupying most, if not all, of lawmakers' time, it looks like the effort to secure gig workers more labor protections will be put on the back burner. "The world has changed a million ways since January. Things that we thought we were going to be able to negotiate and get passed into law by April 1, don't appear to be likely anymore," state Sen. Diane Savino told City & State on Wednesday. "And part of that is going to be how we define the sharing economy, and what protections we can provide for workers, because we just don't have the ability to get it done right now."
In one sense, it's not all that surprising that a task force charged with deciding the complicated question of how gig workers should be classified is poised to fall by the wayside as the state focuses on addressing the unprecedented health and financial challenges posed by the coronavirus. But considering the fact that gig workers like food delivery cyclists are working on the front lines of the pandemic, meeting increased demand for home-delivered meals, some groups are saying this moment is making very clear the urgent need to provide those workers with labor protections. "The need to provide app-based workers with the same rights as all other hardworking New Yorkers has never been more clear than during this pandemic," Mario Cilento, president of the New York State AFL-CIO, said in an emailed statement. "We are committed to working with the governor and Legislature and will not rest until this inequity is addressed once and for all."
Bhairavi Desai, executive director of the New York Taxi Workers Alliance, noted she was happy to see the task force pushed out of the budget, as she'd rather the state take more dramatic action by classifying gig workers as employees. Still, she said she hopes the state Legislature prioritizes the gig worker debate this session. "If anything, I hope the pandemic has made more clear the urgent need for workers across the economy – including gig workers – to have full, permanent protections, like unemployment, minimum wage and overtime, paid sick leave and family leave," she said.
But while Savino suggested that the issue is taking a back seat, she said she wasn't blind to the idea that some gig workers are acting like first responders in the crisis. "The irony is, as everybody else is forced home and businesses are shutting down, it's those very workers who are out there that are making sure that deliveries are made and people can get food and restaurants are able to operate to a certain extent," Savino said. "So you see how integral they really are to the economy."
Assemblyman Clyde Vanel, who chairs the Assembly Subcommittee on Internet and New Technology, said on Tuesday that he didn't want the governor's gig economy task force proposal included in the final budget. "I didn't think that was the right way to go," Vanel said, referring to the fact that the governor's proposal would have allowed the Department of Labor to set its own policy if the task force didn't come up with its own recommendations.
Even though it looks like the debate over how gig workers should be treated will be pushed off in New York for the time being, many of those workers could benefit from federal action. Cuomo asked the federal government to release Disaster Unemployment Assistance funds to the state, which allow workers not traditionally covered by state unemployment benefits – essentially, people who aren't classified as employees – to still receive assistance tied to the coronavirus crisis. Congress took an important step in that direction this week, as the deal struck in the Senate on Wednesday would extend unemployment benefits to gig workers and other kinds of independent contractors, like freelancers and the self-employed. The House of Representatives will still have to pass the bill, however. 
Representatives for Cuomo did not directly respond to the possibility of the gig worker task force being left out of the budget, but suggested that the governor's focus for now is on securing unemployment assistance for gig workers from the federal government. "It is clear the coronavirus epidemic will have a real impact on working New Yorkers, and they deserve protections now," Jack Sterne, a spokesman for Cuomo, said in a statement. "The federal government must provide Disaster Unemployment Assistance to New York, which will allow independent contractors, self-employed New Yorkers, farmers, and others to receive unemployment insurance tied to the COVID-19 crisis."
In the meantime, unemployment assistance from the federal government would be an important way to address the immediate needs of many gig workers, Savino said. "The federal action, thank God, at least provides some assistance and relief for those people until we figure out the bigger issue of what it means to be a gig worker in our economy," she said. 
To say that gig workers have no labor protections in New York isn't exactly true, as the landscape is not so black and white. In 2018, a state labor review board ruled that three Uber drivers and others "similarly situated" were employees for the purposes of unemployment insurance, which Desai said means those ride-hail drivers can and should be applying for state unemployment insurance. Other gig workers and independent contractors, however, may not be eligible for state unemployment benefits. Ride-hail drivers for the large companies – Uber, Lyft and Via – in New York City also have minimum pay protections and some paid sick leave. 
And then there are all the efforts that gig economy companies have made in recent weeks in response to the coronavirus outbreak. Uber has said it will provide paid sick leave for drivers affected by coronavirus. Other companies, like Lyft and Instacart, have said they will introduce similar measures. 
For now, gig workers in New York will have to rely on those kinds of benefits being doled out on an app-by-app basis. Still, that doesn't mean Cuomo couldn't convene a task force to continue to look at the gig worker issue, Savino said. "Governors generally like task forces, it gives them a little bit more flexibility," Savino said, noting that the governor doesn't need legislation to convene a task force, and could still bring all the relevant industry and labor voices in a room to study the issue. "I think they were actually moving towards that. And then shit hit the fan, so to speak."
Correction: Jack Sterne's description has been updated to reflect a recent title change.