Labor
Front-line workers hope newfound respect leads to better conditions
Labor unions are determined to make sure employers don't forget essential workers' sacrifices.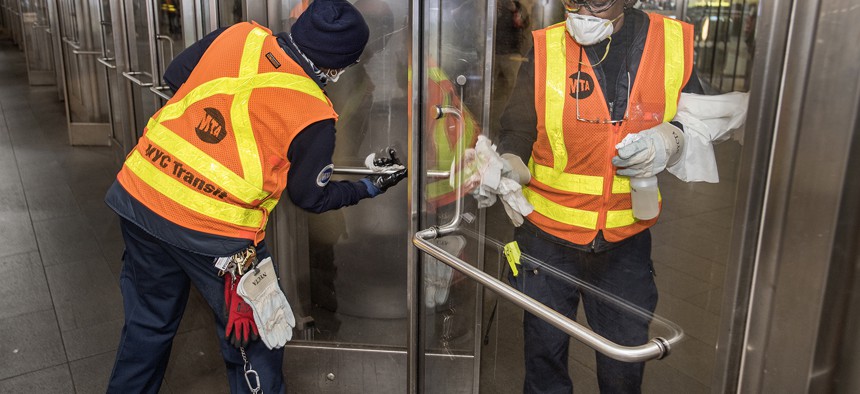 In normal times, an unlimited MetroCard is a key to New York City – a way to ride the subways and buses as much as you want, without having to weigh the cost of every swipe. But these aren't normal times, and during this outbreak of the new coronavirus, many members of the newly formed NBC Digital News Guild are working from home. So they decided to share their MetroCards. 
Members of that union of journalists mailed their already-paid-for unlimited monthlies to another labor union, Local 338 RWDSU/UFCW, which represents many workers who have been deemed essential during the crisis – including those working at grocery stores such as Gristedes and Morton Williams and pharmacies such as Duane Reade. 
The union was surprised by the generosity. 
"These essential workers are not highly paid workers. So these little things that are taking the burden off of them make a big difference," explained Nikki Kateman, Local 338's political and communications director. "That's $127 more in their pocket this month that they don't have to think about."
Some of the NewsGuild members sent in the gifts along with handwritten notes. "Hi – this MetroCard should last until April 10," one wrote. "Thank you for what you're doing during this time."
Many New Yorkers are passionate about grocery stores – just ask an Upper West Sider about Fairway, or a Rochesterian about Wegmans – but this praise and appreciation for the people bagging groceries is a new development. "I've had members say to me, 'I've been doing this for 30 years, and this is the first time I've ever been thanked. People are telling me thank you for coming to work,'" Kateman told City & State. "I hate that it took a crisis like this, where they're the thread keeping our communities together right now. But the recognition still means a lot to people." 
These workers are just some of the soldiers in New York's ongoing war against the coronavirus, but there probably won't be a parade for retail workers when the war is over. Nobody is sporting bumper stickers supporting the cashiers at Zabar's. 
But amid the COVID-19 outbreak, many labor unions are feeling appreciated in ways that they haven't before. They're hoping to maintain this newfound respect even after the pandemic dies down and the crisis is over. And they think their performance in a time of crisis could serve as leverage during future contract negotiations and legislative battles to win long-lasting improvements in pay and working conditions. 
"I just hope that this uplifting (of workers), that everyone remembers this when things 'go back to normal,'" Kateman said. 
Things are far from normal right now for emergency medical technicians, who are responding to nearly twice the number of calls they would on a normal day. Because of that, they're working 16- or 17-hour shifts instead of their usual 8-hour tours, explained Vincent Variale, president of the Uniformed EMS Officers Union Local 3621. For the few hours between shifts, some EMTs are sleeping in their cars, afraid of bringing the virus home to their families. 
The EMTs of the New York City Fire Department have always had a chip on their shoulder, and have fought for years for equal recognition to their fellow first responders in the FDNY and NYPD. EMS responders are paid much less than other uniformed city workers, and don't get unlimited sick days, unlike cops, firefighters and even sanitation workers.
"Nothing against civilians, but our members don't spend their day in an office," Variale told City & State. "When people say first responders, what do they think about? Police, fire and EMS! Those are the top three. And for them to treat us as anything less than that is offensive."
Now, as ambulance sirens are constantly sounding, Variale says he's seeing more public appreciation for his members and their work. And that could result in some leverage once the crisis is over. "I hope it brings to light the importance of health care and EMS in society," he said. "I hope the city starts to recognize that. And I hope we're able to negotiate a more fair, equitable contract for our members."
But it's not just about getting more pay in the future. Unions have been using their leverage during the crisis to secure the basic necessities their members need in the moment. The New York State Correctional Officers and Police Benevolent Association, which represents state prison guards, convinced the Department of Corrections and Community Supervision to allow their members to wear personal protective equipment, such as masks and gloves, while on duty. While most New York City schools are closed, some so-called regional enrichment centers are open as a way to provide child care for certain essential workers including cops and nurses. Local 338 lobbied the city to allow their grocery store and pharmacy workers to be included, and after a week without it, they got access. On the federal level, unions like the Freelancers Union are taking credit for making sure gig workers and freelancers are eligible for unemployment benefits during this time when so much work is drying up.
Of course, it hasn't been all rosy for unionized workers. Many members of the Retail, Wholesale and Department Store Union, or RWDSU, have been laid off from their jobs. One of the union's largest employers, Macy's, put nearly all its workers on furlough. Many of those who are still working, such as EMTs and grocery store employees, have been putting up with punishing hours as companies deal with staff shortages while so many employees are out sick. Nurses have been under incredible stress while treating patients at the same time that many hospitals are dealing with shortages of protective masks. Members of the New York State Nurses Association protested about the supply shortage outside Jacobi Medical Center in the Bronx on March 28, but it wasn't immediately clear if the situation has changed. And the United Federation of Teachers, which represents New York City public school teachers, had to go along with the state's plan to shorten spring break, sacrificing a much-needed rest for teachers for the good of their students. 
Of course, union leaders are taking notes and keeping lists of the sacrifices their members are making. Elias Husamudeen, who represents New York City jail guards in the Correction Officers' Benevolent Association, agreed.
"Where I am right now, I just want my members not to die from this COVID-19," he said. "Will this be a part of ongoing talks and negotiations? You absolutely can bet on it.