Transportation
MTA to shut down overnight subway service
It may be good for cleaning, but what about essential workers and the homeless?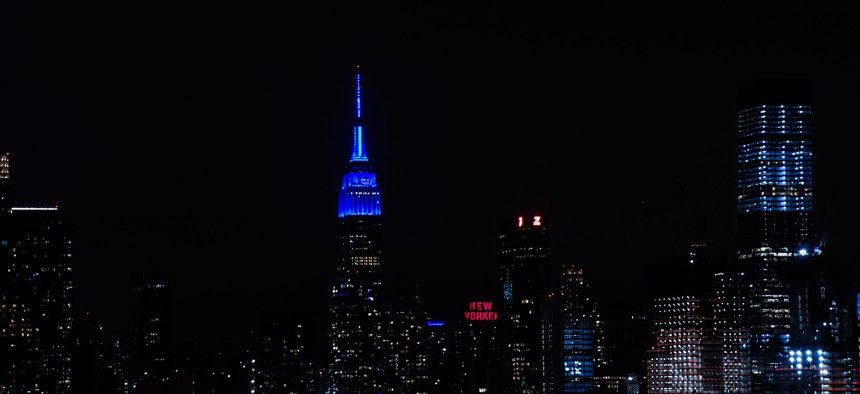 On Thursday, Gov. Andrew Cuomo announced that New York City's subway system would discontinue its 24-hour service for the first time in its history.
Beginning May 6, at 1 a.m., the subway will shut down each day between 1 a.m. and 5 a.m., so subway cars can be disinfected. The subway has only closed two other times within the past decade: during Hurricane Irene in 2011 and Hurricane Sandy in 2012.
The decision to terminate late night service came after Cuomo and New York City Mayor Bill de Blasio complained that a majority of subway cars were being occupied by the city's homeless population earlier in the week. "That is disgusting what is happening on those subway cars," Cuomo said during his Tuesday press briefing.
The city's homeless have become infected with COVID-19 at higher rates, due to crowded shelters, and are unable to isolate and self-quarantine, making them more likely to transmit the infectious disease. The high number of homeless crowding into subway cars, in an attempt to avoid overcrowded shelters rife with COVID-19 positive individuals, has made it more difficult for other riders to distance themselves. Many homeless individuals are also without face coverings. 
MTA employees have become frustrated with the number of homeless New Yorkers crowding cars, pleading with the authority and the New York Police Department to boot homeless riders off of trains. Thousands of MTA workers have fallen ill from the coronavirus and at least 84 have died from it, forcing the MTA to reduce its service by 30%. Subway ridership overall has seen a steep 90% decline during the city's coronavirus outbreak, as most residents are staying in their homes.
"My members have been harassed and assaulted by unstable riders countless times," Tony Utano, Transport Workers Union Local 100 president, told the Daily News on Wednesday. "Since the pandemic, they've also had to worry about getting the virus from people camped out in the system who can't practice good hygiene."
The city was already cleaning subway cars twice a day and plans to continue to do so, on top of its additional nightly cleaning, MTA Chairman and CEO Patrick J. Foye said during an appearance on 1010 WINS, Friday morning. 
The NYPD will be in charge of enforcing the new policy and have already been removing homeless individuals off of subway cars. Though de Blasio has said that homeless outreach workers will also be assisting the city's police force. "When it gets to 1 a.m. and stations are being cleared out, there'll be plenty of outreach workers there right away, able to get someone to help to get them to a safe haven, to get them the medical care, whatever they need, police officers to help." De Blasio said during a press conference on Friday. 
However, not everyone is pleased with the state and MTA's decision to shut down the system. 
"All — I am shocked and stunned by today's announcement of the 1 AM-5AM closure of the New York Subway System," Andrew Albert, an MTA board member, wrote in an email to the board on Thursday. "While I obviously understand the need to thoroughly clean and disinfect the system during the pandemic, is this really the only way to achieve this? And not ANY notice to the Board?! There are still people who need to get around during those hours, including some first responders. And what guarantee do we have this this is indeed temporary?"
Homeless advocates have also argued that this decision does nothing but penalize one of the city's most vulnerable and at-risk populations. "Many homeless New Yorkers are rightfully afraid of crowded congregate shelters, where coronavirus continues to spread and where the COVID-19 mortality rate is 50 percent higher than the NYC overall population," Giselle Routhier, policy director at Coalition for the Homeless, said in a statement. "Punitively closing the subways and sending in more police will only make things worse."
Essential workers who rely on the subway during those hours are also concerned about how these changes will affect their ability to get to work. MTA buses will primarily supplement late night subway services but "livery cabs, yellow and green taxis and with for-hire vehicles" may also be supplemented as needed, according to Foye. Dollar vans will also be made available to riders during the times the subway is shut down, but, if the city's Access-A-Ride program is any indicator, it's unlikely these alternatives will prove reliable. Essential workers will also be granted two free ride-hail trips each night, as well as free bus and dollar van trips that they can call a hotline to request.
"We stand behind our decision to protect the health and safety of customers and employees during the pandemic," Tim Minton, MTA communications director, said in a statement emailed to City & State.
Details regarding the city's plan to shut the subway down late at night are expected to be released in the near future, according to Foye. With limited information about the new plan at our disposal we have a lot of questions about what to expect and what issues might arise. Here are a few of them:
Will kicking homeless New Yorkers off the subway actually help mitigate the risk of COVID-19 transmissions, or will it create a new problem?
How reliable will the supplemental service be? 
Which New Yorkers will be most affected by this change and where do they live? 
What does it mean that taxis and ride-hail vehicles will be supplemented "as necessary?"
Does the MTA have the means to potentially reimburse thousands of cab rides on a frequent basis? How much will that cost, relative to operating subway service. 
Will riders need to have a credit or debit card in order to be reimbursed for cab fare?
Is it safer to ride a bus or a cab than it is to ride on the subway?
And most importantly, will New Yorkers even recognize the subway after such thorough cleansing
This article was updated to include a comment from the MTA on Sunday, May 3, at 10:12 am.