Criminal Justice
A black Buffalo cop stopped another officer's chokehold. She was fired.
Will Cariol Horne finally see justice 12 years after losing her job?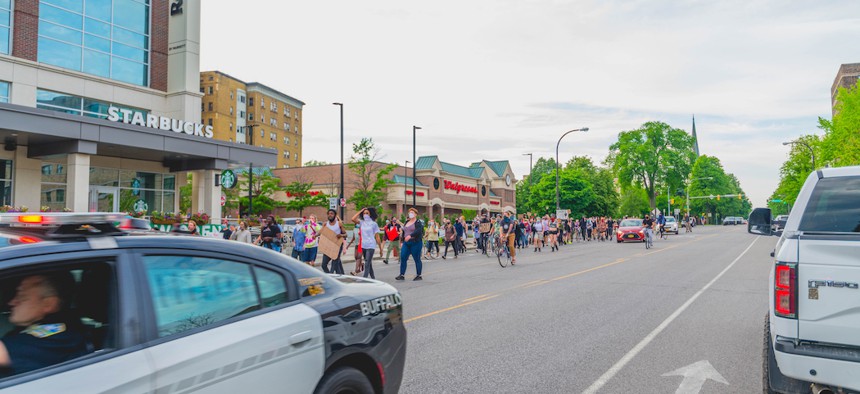 In 2006, Cariol Horne, a black Buffalo police officer, intervened when a white officer, Gregory Kwiatkowski, had a black suspect, David Mack, in a chokehold. Horne jumped on Kwiatkowski's back to prevent him from harming Mack. In 2008, she was fired from the Buffalo Police Department for her intervention in that case and lost her pension.
Horne, who had been on the force for 19 years, was just one year away from earning her pension. The Buffalo Police Department investigated the incident and its final report said Horne's actions put her fellow officers in danger.
"The police department didn't believe her story, and they punished her severely," Brenda McDuffie, president and CEO of the Buffalo Urban League, told City & State. "She lost her livelihood. I mean, which one of us who has any humanity, seeing someone choked to death, just like those officers (in Minneapolis) who should have said, 'Get off his neck.' ... Excessive force is something that we're finally dealing with as a nation. But we had a woman in our community who stood up and she has suffered greatly."
After she was fired, Horne worked several jobs to make ends meet. "It didn't just affect me," Horne told Spectrum News in 2016. "I have three sons that I have to worry about now. The message that they sent was clear: Even as a police officer, you don't stand up against police brutality."
On Tuesday, the Buffalo Common Council approved three resolutions in the wake of George Floyd's death and the recent protests against police brutality. One of the resolutions will enforce the city's "duty to intervene" policy, which mandates that officers intervene if they see another officer using excessive force. The council will also create a task force to review police policies, and the third resolution will ask the state attorney general's office to determine how many days Horne would need to work to regain her pension.
Since her firing in 2008, Horne has become outspoken against police brutality and hopes to have legislation passed in her name that would protect officers who intervene when another officer uses excessive force and when reporting misconduct by fellow officers. According to McDuffie, a petition campaign is expected to unfold within the next few days to draw attention to the need for such legislation.
The Buffalo Police Department has been widely criticized since June 4, when 75-year-old protestor Martin Gugino was pushed to the ground by Buffalo police officers. In the video, Gugino walks over to a large group of officers, appears to say something and then is shoved and falls on the concrete sidewalk. As he lays motionless, he begins bleeding from his ear. One officer attempts to tend to him, but a fellow officer motions for him to keep moving. On Saturday, the officers who shoved Gugino, Robert McCabe and Aaron Torgalski, were charged with second-degree assault. They had previously been suspended without pay on June 4.
New Tonight: Disturbing video from @WBFO in Buffalo, NY shows an elderly man walk up to police in riot gear. An officer shoves the man...he falls backwards, hits his head...starts bleeding immediately...motionless.
Why did this happen @BPDAlerts ?
pic.twitter.com/qbTvXAAPLH

— David Begnaud (@DavidBegnaud) June 5, 2020
In response to the suspensions, 57 Buffalo police officers resigned from the department's Emergency Response Team in protest, but they are still on the force. It is not uncommon for police officers in any city to stand in solidarity with their fellow officers, even if the offending officers are found to be in the wrong. "In case after case, police unions have defended deadly misdeeds committed by law enforcement," Peter Suderman writes for Reason.
It's this culture that McDuffie cites as one of the major reasons why Horne was fired in 2008. "She's a woman, and a black woman, and she broke the wall of silence," she said. "So basically (the department said) let's get rid of her because she's somebody that we can't depend on to be silent in matters like this."
The Buffalo Police Department has a history of police brutality and racial profiling, and lacks de-escalation training and transparency. The Buffalo Police Department did not return a request for comment. And residents have been asking Buffalo Mayor Byron Brown to reform the police department for years.
McDuffie hopes that Horne is finally "made whole again and feels that whenever that happens that there were people who were listening and people who didn't forget (her)."