Education
Internet access remains a problem as schools plan for reopening
With remote learning likely to continue, can New York finally get students connected?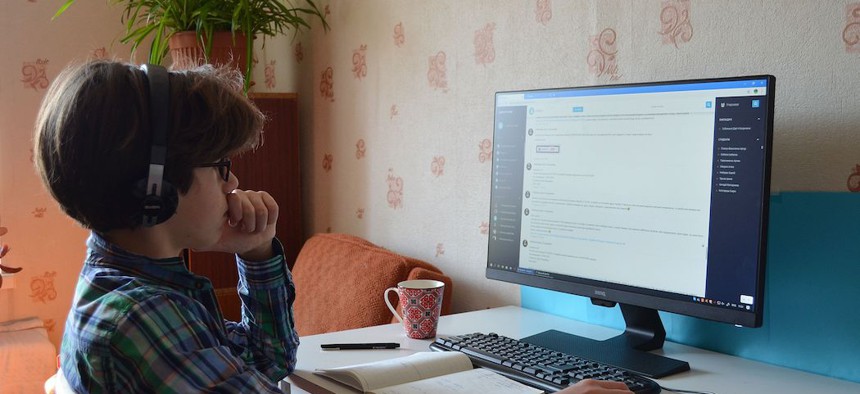 In March, when New York and other states shuttered schools as the coronavirus crisis worsened, some internet service providers offered free broadband internet service to help families navigate the transition to remote learning. Spectrum and Optimum, for example, each offered a few months of free broadband service to new customers with K-12 or college students.
But now, as those offers have started to expire, one problem remains: While plans for reopening schools across New York in the fall have yet to be finalized, it's likely that some students will continue remote learning, at least for part of the time. For students and families who lack internet access both in New York City and in rural parts of the state, the digital divide – a long-standing problem of unequal internet access, which has been exacerbated and exposed by the pandemic – isn't going to go away on its own.
Kevin Casey, executive director of the School Administrators Association of New York State, predicted that schooling in the fall will be some sort of combination of in-person and distance learning. New York City Mayor Bill de Blasio announced such a combination earlier this week, but Gov. Andrew Cuomo later clarified that the final decision would be made by the state in early August. "There'll be some sort of hybrid, because I don't see how in the world you can stick with the distancing requirements we hear about every day and have all your students," Casey said. "And you are still going to have a population where the remote learning aspect presents challenges."
A lack of internet access is a pervasive problem – not just in rural parts of upstate New York, but in New York City too. In January, de Blasio released an Internet Master Plan, a $2.1 billion roadmap for achieving universal broadband access in the city. Roughly 1.5 million New Yorkers, or about 18% of city residents, don't have a home or mobile broadband connection, according to census data. A previous report by New York City Comptroller Scott Stringer showed that disparities in internet access are most apparent in communities of color.
This week, de Blasio announced that the Internet Master Plan would be accelerated, investing $157 million to expand broadband internet access to 600,000 New Yorkers – including 200,000 New York City Housing Authority residents – over the next year and a half. The announcement was made jointly with the city's Racial Inclusion and Equity Task Force, as the plan will prioritize the deployment of free or low-cost broadband – $15 per month or less – for public housing residents. "It's an enormously positive policy for New Yorkers, and it really couldn't come at a better time," said Emil Skandul, the founder of the digital innovation firm Capitol Foundry, who has previously advocated for universal internet access. "This is the first pandemic of the Information Age. And not everyone had information at their fingertips. The Internet Master Plan is really seeking to solve that problem," Skandul said.
The first phase of the plan began earlier this spring, with a request for proposals that would be quick to implement, including new pricing plans, products and innovative Wi-Fi solutions – mobile hotspots, for example. But the Internet Master Plan, as detailed in January, will also involve expanding the existing fiber optic infrastructure to areas without it. That work will likely take much longer. "For the timeline that they have for developing the infrastructure, two months is really not a lot of time," Skandul said, predicting that the problem of internet access will still exist when students go back to school in September. A de Blasio spokesperson did not immediately respond to a request for comment about how soon students without internet access could start to see benefits from the initiative.
Despite efforts to quickly equip New York students with internet-connected devices in the early weeks of remote learning this past spring – New York City purchased over 300,000 iPads for students and will order another 40,000 – getting students connected remains an obstacle. Chalkbeat New York reported that a week into summer school, 36% of students had yet to log on to the city Department of Education's virtual platform. In other parts of the state, schools have deployed mobile hotspots on school buses to help reach students.
Short-term solutions like that could continue this fall, assuming that remote learning continues in some capacity. Casey said he thought that, given the difficult circumstances, remote learning went as well as could be expected in the spring, but he acknowledged some students were left behind because of existing inequalities. With the start of school just a few months away, short-term solutions like mobile hotspots and free or low-cost internet options offered by providers may help some, but won't close every gap. "Can you ameliorate by September? Yes, I do think so. I think they've been working toward that," Casey said, noting that both Cuomo's Reimagine Education Advisory Council and the state Education Department's Reopening Schools Task Force are well-aware of the internet access issue. "Can you make it 100%? No, realistically."
And not every school district can afford to purchase the devices and equipment to continue remote learning, though Casey said many were doing what they can. "Districts all across the state are making efforts to distribute devices, and even districts in high-poverty areas are setting aside money for that purpose," he said. "But there'll be some disparities. Life is just easier when you have a lot of resources."
As for whether internet service providers would continue to offer free service, Casey said a bit of pressure might help. "There's also the bully pulpit – whether the governor's office in particular can lean on some of these service providers to continue offering free access," he said.
So far, those companies have not agreed to extending their offers of free access – despite prodding by some local elected officials, like Manhattan Borough President Gale Brewer – but cited lower-cost programs. "Our goal is to work with our customers to find a plan that matches their needs and budget, including for qualified households, our affordable low-income broadband service, Spectrum Internet Assist," John Bonomo, a spokesman for Charter Communications, wrote over email, citing Spectrum's $15 per month plan. Meanwhile, Altice USA, which operates Optimum, said it's in talks with school districts about other options to keep students connected, including its own $15 per month offer for qualifying families. "We have ongoing dialogues with the NYC Department of Education along with many school districts throughout the region and are actively working with them on a variety of options to continue to assist those students and families in our footprint," a spokesperson wrote over email.
While few would argue with the idea that New York is in great need of expanded internet access – perhaps now more than ever – universal broadband still lies a ways in the future. Still, some think that shouldn't keep New York from aiming for that goal. "I believe that the internet should be a right, and everyone should be afforded free or low-cost internet. In this case, it's low-cost, but I do think that free internet is the goal here," Skandul said. "It shouldn't cross anyone's mind whether or not they need to spend $15 a month on the internet, or decide to save that $15 and walk 20 minutes to the library, take a bus to a library or go to a coffee shop in order to have internet access."