Health Care
New generation of politicians open up about mental health struggles
Corey Johnson cited depression in deciding not to run for mayor. His frankness reflects a shift.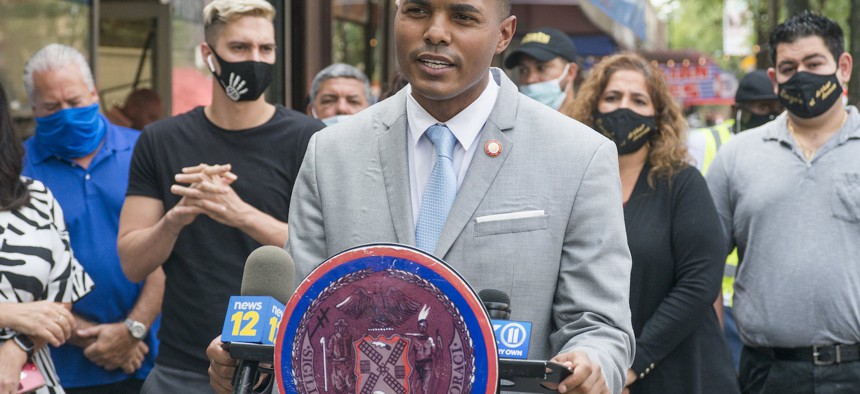 New York City Council Speaker Corey Johnson's announcement on Thursday that he would drop out of the 2021 mayoral race also highlighted a personal struggle that is familiar to many New Yorkers.
"In the same spirit of openness, I would also add that I have been dealing with some personal challenges over the past few months, namely - depression," his statement reads. Johnson, who has also been transparent about his challenges with sobriety, opened up about his struggle in an interview with The New York Times, explaining that his depression was sparked by isolation related to the COVID-19 pandemic and the pressures of leading in his role as speaker. 
"A lot of people counseled me not to disclose my depression - I did so because I knew that it was the right thing to do for me and would bring some relief to myself and hopefully others," he tweeted.
His candidness is emblematic of a recent trend among elected officials and candidates to be open about personal battles with worsening mental health. It's a stark turnaround from decades past when politicians were penalized for dealing with mental illness. For example, in 1972 then-U.S. Sen. Thomas Eagleton was pressured into withdrawing as the Democratic vice presidential candidate when it was revealed that he suffered from depression and underwent electroshock therapy. 
Johnson isn't the only one who has put self-care before running for office. New York City Council Member Jimmy Van Bramer was a frontrunner in the Queens borough president race, but he dropped out this February to spend time with family – and referenced time in therapy as part of that decision-making process. 
"The stress and pressure is enormous, quality of life takes a hit, and people have become increasingly vicious toward public officials on social media," he wrote in the Queens Daily Eagle. "Most people appreciate the sacrifice you make and time you give up being with your family, but with each passing day you can find yourself asking if the trade off is worth it." 
Boris Santos, the former chief of staff for state Sen. Julia Salazar, might well have joined a slew of state legislative candidates backed by the Democratic Socialists of America that broke through in June, but he left the race for Assembly District 54 before the primary election, citing strains on his mental health throughout the campaign.
Mental health experts say these kinds of anecdotes point to a broader shift in society. "I think that mental health is much more normalized," said Glenn Liebman, CEO of the Mental Health Association in New York State, while noting that stigma still exists. Findings from the American Psychological Association last year showed that 87% of American adults reported that a mental health disorder was nothing to be ashamed of and 84% agreed people with mental health problems can lead normal lives. The ongoing COVID-19 pandemic has brought even greater attention to battles with depression, anxiety and other mental health challenges, with many Americans, like Johnson, struggling in isolation while adhering to social distancing guidelines. Four in 10 adults reported struggling with mental health or substance abuse in June, according to the Centers for Disease Control and Prevention.
The unique pressures of serving in politics can exacerbate existing mental health problems. "They don't have an outlet, not only to express themselves in an authentic space, but also they don't really have an outlet to just take a pause and not be in the spotlight all the time, be accessible to constituents all the time," said a former political staffer, who asked to remain anonymous to speak candidly. "So at some point it becomes draining and it builds up."
Other local politicians have opened up about mental health as well. New York Council Member Ritchie Torres, who won a competitive congressional primary this year, has talked about his past dealing with suicidal ideation and depression as he struggled with his identity as a young gay man. Brooklyn Borough President Eric Adams has said his experience both as a victim of police brutality and as a police officer himself have given him post-traumatic stress disorder.
"I didn't realize until I retired and things slowed down a bit, that I experienced what I consider to be PTSD," he said on Harvard Business Review's The Anxious Achiever podcast in June. "I was reliving much of the anxieties that were attached to some of the crimes that I witnessed." Adams – who also actively promotes meditation to improve mental health – created a public service announcement last year to reach out to law enforcement officers dealing with suicidal thoughts. 
"At the end of the day, this is what changes the minds of a lot of people," Liebman said. "When you hear public figures talking about it, then it becomes relatable to their own lives."
New York City Public Advocate Jumaane Williams told City & State that was part of why he spoke up about his own experience struggling with mental health and accessing therapy. "I really felt it was an issue, just based on my own experience, that not a lot of people were talking about it, even though they were going through it. I think that's prevalent all over, but especially in Black and brown communities, low-income communities, immigrant communities."
And that openness has resonated with people. Williams has heard from people who were compelled to seek help after hearing him speak, and even from a teacher who shared his comments with her classroom. "That's very humbling," he said, "just amazing to see."