New York State
Police brutality is prevalent statewide in NY
New York City has no monopoly on alleged police misconduct and systemic racism in law enforcement.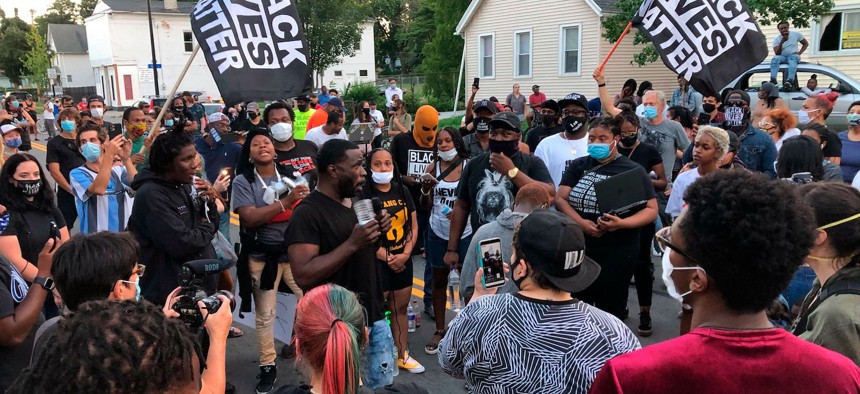 As prolonged protests against racism and police brutality rock the nation, new incidents of alleged police brutality continue to happen or come to light, each time adding fresh fuel to the movement. 
In New York, discussion of police reform has been overwhelmingly focused on New York City. It's understandable, because the five boroughs constitute the biggest and most diverse city in the country, with a world-renowned police force. But New York City is hardly the only part of the state that suffers from systemic racism and police brutality. 
In fact, a series of recent revelations have shone light on systemic racism and alleged excessive use of force in cities and suburban counties across New York state. Here are some of the most significant examples.
Death of Daniel Prude
Prude died on March 30, after a March 23 encounter with Rochester police officers left him braindead. Medical examiners determined he died of asphyxiation and ruled the death a homicide. Prude had begun acting erratically, prompting his concerned brother to call 911 for help. He was running through the streets naked when police detained him. After placing him in handcuffs, they put a bag on his head meant to prevent Prude from spitting on them and wrestled him to the ground. Officers pushed his face into the ground and knelt on his bag as he continued to struggle. After a few minutes, he stopped. Prude's heart had stopped and paramedics attempted to revive him. He died seven days later, after his family took him off life support. Prude's family described the incident as murder and demanded that the officers involved be fired. All are still currently employed. The case also reignited debate on who should respond to mental health calls, as Prude's death is one of many instances when a police encounter with someone experiencing a mental health crisis ends up turning violent. The Rochester Police Department has called Prude's death an "isolated incident."
Albany marijuana enforcement
Black people are arrested for marijuana charges in Albany County at a staggeringly disproportionate rate. A review of police records by the Times Union found that of the 134 marijuana-related arrests made or tickets issued between July 9 2019 and July 9 2020, 97% of the people were Black, despite making up only 14% of the population and data showing Black and white people use marijuana at about the same rate. Only four of the people arrested or ticketed over the course of the entire year were white, despite white people making up 76% of Albany's population. A year earlier, the New York Civil Liberties Union released a report that found police in the county disproportionately targeted Black residents for marijuana enforcement, but apparently nothing has changed since then. 
Alleged police brutality on Long Island
In January, Nassau County police officers arrested two Black brothers, ages 15 and 14, in connection to an assault that had occurred shortly before, a few blocks away from a park the boys were in. The family accused the Nassau Police Department of brutality, saying officers slammed 15-year-old Ahmad Tillery into the ground, cut his ear, then slammed his head into a car. They also accused the officers of wrongfully arresting the brothers after racially profiling them as members of a gang – the only gang their mother said they were a part of was the Boy Scouts.The arrests were made in the majority-Black hamlet of Roosevelt. Police denied the allegations of excessive force and said that one of the teens had attempted to flee and was also charged with resisting arrest. They added that TIllery, his brother and a friend who was also arrested fit the description from the assaulted man, who also positively identified them. Tillery's arrest led to some protests in Roosevelt and the family sued the Nassau Police Department.
Viral video of Poughkeepsie arrest
A 17-second video of a police encounter with several Black teens in Poughkeepsie, a small city in northern Westchester, circulated on social media in March 2019. The video shows 12-year-old Julissa Dawkins and her 15-year-old sister Jamela Barnett getting arrested, with the older of the pair getting thrown to the ground, in connection with a fight. The video quickly led to allegations of police brutality, which police denied. At the time, Dawkins said that an officer arrested her when she jumped into him as she left the scene of the fight after consoling the victim, while said Barnett she was thrown to the ground before she even realized that she was being arrested. Later in the year, the girls' mother sued Poughkeepsie, its police department and the two officers involved. Among other accusations, the lawsuit alleges that police intimidated teens into surrendering their phones that contained videos of the encounter and deleting those videos.
Settlement reached in Ithaca brutality case
In January, Ithaca settled an excessive-force lawsuit related to a 2016 incident. The city paid over $250,000 to former Ithaca College student Kyle Goldstein, who is white, after he alleged officers violated his rights when they entered his home, pepper sprayed and arrested him over a noise complaint. Body camera footage showed that police had quickly entered Goldstein's house, where he had been hosting a party, and detained him. Officers could be seen brandishing a taser at guests after throwing an already-handcuffed Goldstein to the ground when he began yelling. It was at that point that police pepper sprayed him. The city of Ithaca and the officers involved did not accept liability or admit wrongdoing as part of the settlement.
Investigation into use of force in Buffalo
A May arrest in Buffalo caught on video raised questions about the force used by officers. The incident started as a traffic stop, after police observed a car driving the wrong way down a road. After police asked the driver to exit the car – they said they smelled marijuana – they wound up wrestling him onto the ground while attempting to arrest him. Video shows an officer repeatedly punching the driver in the head after he was already in cuffs. The Erie County district attorney announced that he was investigating the arrest.
Accused corruption in Mount Vernon
For months, Gothamist has been reporting on corruption in the police department of Mount Vernon, a small majority-Black city in southern Westchester. The most recent addition to the series includes numerous allegations of police brutality and abuse between 2017 and this year, caught on tape by a whistleblowing cop. The tapes, as well as interviews, lawsuits and a review of internal affairs documents pointed to a shocking pattern of brutality within the police department, often of people who were already detained or in custody. Past allegations revealed by Gothamist included framing innocent Mount Vernon residents and allowing favored drug dealers to operate with impunity in exchange for being confidential informants leading to arrests of their own clients.
Alleged brutality in response to protests
Protests in the wake of George Floyd's death happened all over the state, and in several instances, led to fresh allegations of police misconduct and brutality in how they handled them. Perhaps the highest profile occurred in Buffalo, when officers are seen in a viral video shoving an elderly white man to the ground, where he begins bleeding. The police who shoved him walked away, while others appeared to ignore the man on the ground. The two officers involved in the incident were later charged with assault. The violent arrest of two non-violent protesters on Long Island also sparked outrage and garnered some national attention after video of the arrest was widely circulated on social media. In the second of the two arrests, multiple officers could be seen wrestling the protester to the ground after he bumped into one of the officers.