Health Care (Archived)
Does contact tracing need more cultural awareness?
New York City's contact tracing program's lack of Yiddish-speakers is just a symptom of the program's larger issues.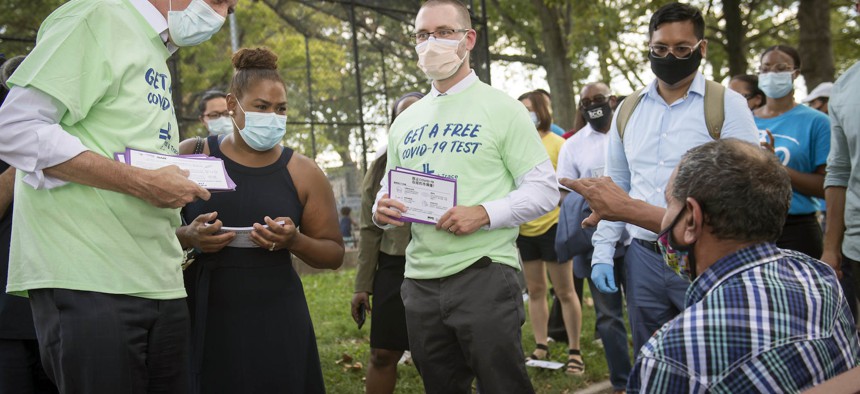 New York City has fewer than half a dozen contact tracers who speak Yiddish, according to a New York Post report, which has raised some concerns as COVID-19 infections have begun to rise in neighborhoods occupied by members of the city's Ultra-Orthodox Jewish community. "It's really a problem. It reflects a failure to adapt to the cultural needs, the linguistic needs of this community," New York City Council Member Mark Levine said during a City Council oversight hearing on Wednesday.
Following the hearing, the health officials said the city is currently looking to hire 21 people who speak Yiddish, Russian and Hebrew to improve outreach in neighborhoods seeing coronavirus spikes in Queens and Brooklyn. 
However, the current lack of contact tracers who speak those specific languages may reflect a lack of cultural awareness on the city's part. Experts also point to other impediments to hiring tracers from diverse communities, such as restrictive job qualifications that may exclude members of some communities throughout the city. There is also the possibility of confusion caused by the city's Health Department and public hospital system's joint effort running its test and trace program.
New York City's contact tracing positions have extensive educational and experiential qualifications, including some college training and experience working in the public health field. New York Lawyers for the Public Interest legal director, Hayley Gorenberg, tells City & State that these prerequisites are keeping members of communities most affected by COVID-19 from helping the city. "The core, the key, the grail to contact tracing is being able to build trust and rapport so that people will turn over sensitive information in a scary situation for them," Gorenberg said. "So we need to have people from the communities that are most directly affected to be able to have communication (with contact tracers) and have it be successful and make a program like this work the way it needs to work."
Gorenberg also pointed out that the World Health Organization states in its contact tracing guidance that tracers do not need to have high levels of education in order to be successful. She also questioned why the city's goal was only to have half of its contact tracers come from the communities most affected by the coronavirus, instead of more than half. "I understand that it's better than less than half but I don't understand why the goal wasn't close to all," she said. "Isn't that the metric that's needed here?"
The Test & Trace Corps, which manages the city's contact tracing program, told City & State in an emailed statement that it is proud of the work its 3,600 tracers – over 50% of whom are from zip codes that have been impacted by COVID-19 – have done thus far and stands by its job requirements. "We wanted tracers with public health backgrounds (degree and/or experience) and those who are representational of and committed to the communities we serve," reads the statement. "These things are essential to the role: Employing people from the neighborhoods most affected by Covid-19 with public health experience allows frontline tracers to build empathy and trust quickly."
The hiring of more community members could also help the city become more culturally adept when it comes to engaging with different segments of its vast Jewish population. For example, ultra-Orthodox communities in Brooklyn and Queens, including members of Hasidic sects, are often referred to by Gov. Andrew Cuomo and New York City Mayor Bill de Blasio as "the Orthodox Jewish community" or even just "the Jewish community," which may indicate that the government is not aware of all the various cultural, religious and linguistic practices of different Jewish populations. (It may also be, in part, because ultra-Orthodox Jews often prefer to identify simply as Orthodox or Jewish, without making the distinction between their practices and those of more liberal, assimilated strains of Judaism such as the Modern Orthodox, Conservative and Reform Jewish movements.) The mayor faced scrutiny in April, when he referred repeatedly to "the Jewish community" after a group of Satmar Hasidim crowded a funeral procession in Williamsburg, leading to accusations that de Blasio was "scapegoating Jews." 
De Blasio and Cuomo have both said they are meeting with religious community leaders to address the current outbreaks. Additionally, elected officials who hail from the affected communities, including state Sen. Simcha Felder, Assembly Members Simcha Eichenstein and Daniel Rosenthal, and Council Members Chaim Deutsch and Kalman Yeger, also penned a letter asking their constituents to social distance and wear masks to avoid further contamination.
However, the mayor's once-close relationship with the city's Hasidic communities may not outweigh the influence of President Donald Trump, who spreads misinformation and skepticism about wearing a mask, and whom Hasidim – in stark contrast to most of the Jewish electorate – largely supports. 
Contact tracing efforts also have been affected by de Blasio's decision to have the NYC Health + Hospitals run the city's test and trace program, as opposed to the Department of Health. Having both departments working together has slowed down the city's ability to come up with clear messaging quickly, according to Gorenberg. "I think everybody is, as far as I know, very well intentioned and there are committed people, including community leaders, who will acknowledge missteps and try to improve things. So I have all respect for that," Gorenberg said. "It's, nonetheless, very confusing to have both groups meeting and trying to work on this crisis."