New York City
Elected officials, parents call for another chance for New York City students to opt into in-person learning
Staffing and space challenges will limit the availability of five days of in-person learning, but many say the option should open up again for families.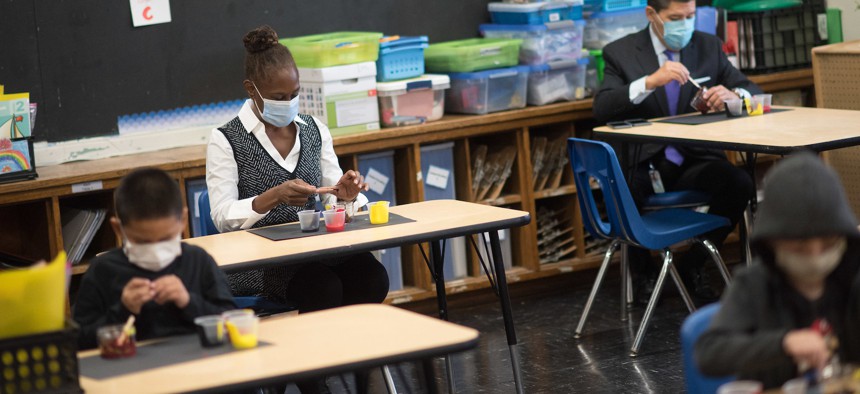 After New York City public schools shut down once again two weeks ago, Mayor Bill de Blasio has yet again flipped the script for school reopening plans. Pivoting away further from the blended learning model, elementary school students and students across all grades with significant disabilities will be back to in-person classes starting next week while middle and high schools remain closed. But the new approach opens up the possibility for certain schools – depending on staffing, space and the number of students signed up – to have in-person classes up to five days a week.
But several elected officials and parents are questioning why the in-person learning option is only available to families that were already enrolled in blended learning, with seemingly no chance for students doing remote classes to join.
"When the health situation improves and particularly when we start to see some vaccine distribution on a broader scale, and we think we're in a much better environment, then we'll do an opt-in because we'll be in a position to do an entirely different approach to our schools," de Blasio said on Monday. New York City Council Members Mark Levine and Brad Lander both called for the city to reexamine allowing families another chance to enroll in in-person classes. But an influx of new students could also make it difficult for schools to offer the five-day schedule.
"A lot of parents want at least one more option to opt in, at least after the holidays," said Vijah Ramjattan, Community Education Council president of School District 28 in Queens. Understanding that there are logistical challenges associated with the shifting enrollment, he said it was necessary to help accommodate parents' schedules amid on-and-off shutdowns. 
It's also currently unclear how many schools will be able to offer five days of in-person instruction. "We have already heard from a number of schools that they are not able to offer five-day in-person instruction at this time," said Randi Levine, policy director at Advocates for Children of New York, an advocacy group that primarily works with low-income students. "So I think that the city has work to do to ensure that schools have the staffing and space that they need to offer five-day in-person instruction." 
Uché Blackstock, an emergency medicine physician and Yahoo News medical contributor, said that overall the new reopening approach is an improvement. It prioritizes younger students – who have been found to be less likely to spread the coronavirus compared with teenagers – and does away with an "arbitrary" 3% positivity rate threshold for closing schools and focuses more on targeted shutdowns and regular testing, she said, though she also shared concerns over offering families a chance to opt-in again. "I'm concerned about the students that did not have an opportunity to in-person learning during that interval in November because I think if there were families that knew that in-person learning would be five days a week, I do think that would've made a difference."
The most recent announcement has also drawn renewed attention to the ongoing deficiencies in remote learning. While about 335,000 students have chosen in-person classes overall, more than half of the city's public school students are engaged in fully remote learning. For myriad reasons such as fear of contracting the coronavirus or frustration with shutdowns, students of color are also more likely to only be taking online classes. And those classes have been marred by the fact that many families still lack access to needed devices and WiFi and a lack of guidance for teachers to teach most effectively remotely. De Blasio and Schools Chancellor Richard Carranza offered little clarity on Monday on what additional steps would be taken to help children and teenagers still taking classes online. 
"The mayor has put no effort into improving the remote learning experience for the majority of our school community," said Council Member Mark Treyger, chair of the council's Committee on Education. 
"I'm very disappointed that the focus has been on reopening schools and not improving online learning." said NeQuan McLean, president of the District 16 Community Education Council in Brooklyn and the parent to two current public school students. The most recent reopening conversation has largely centered white and more privileged parents, while the input of communities of color has lagged, he said. McLean chose to enroll his six-year-old child with dyslexia into blended learning during the last opt-in period because he struggled with online classes. But McLean doesn't feel safe with the possibility of sending him in for five days of in-person classes. "Now we have to weigh his educational welfare against his health welfare. And it's not fair."