New York State
With federal elections undecided, state aid hangs in balance
GOP-led Senate would likely mean less COVID-19 relief funding.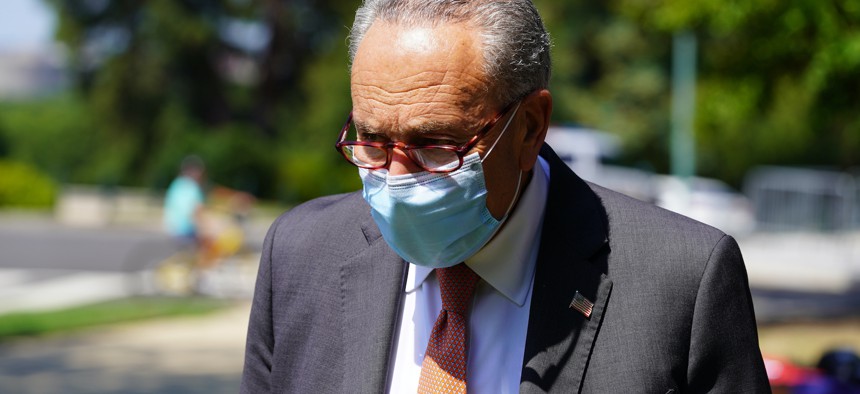 Although the outcomes of this year's presidential and U.S. Senate elections are still undetermined, one thing is clear: Democrats did not win the sweeping victory that many New Yorkers hoped would lead to a more active, generous federal response to the coronavirus pandemic. While former Vice President Joe Biden currently has a much wider path to victory, requiring only that he maintain his current lead in Arizona and Nevada or win Pennsylvania, Democrats still are facing tough odds of gaining a majority in the Senate so far. And there may not be closure on the issue of the Senate's control until early next year, as at least one race in Georgia is heading to a runoff election in January. 
Unless Democrats pull an inside straight and manage a Biden presidency and a 50-50 tie in the Senate, the ultimate result could have dire consequences for New York, which has held out for state and local aid amid a steep budget shortfall.
New York state has lost an estimated $14 billion this current fiscal year, and projects $59 billion in revenue losses through 2022, as a result of the COVID-19 pandemic, the social distancing measures necessary to contain it and the recession it has triggered. The Metropolitan Transportation Authority is an especially dire state because of low ridership and declining fare revenue, facing a $16.2 billion deficit through 2024. State officials pinned their hopes on additional federal coronavirus relief to offset those major losses. Gov. Andrew Cuomo has put off any major decisions on permanent cuts to schools and local governments – which have seen 20% of payments withheld – until after the election, in the hopes that a Biden victory would bring more federal aid. 
A blowout victory for Democrats, delivering them control of the Senate and the White House, would have virtually guaranteed that. The Democratic-controlled House of Representatives has already passed two coronavirus relief bills since May, with the most recent one offering $436 billion in funding to states and localities. But the proposals have been blocked by the GOP-led Senate. The inclusion of state aid has been particularly contentious, with Senate Majority Leader Mitch McConnell opposing what he calls a "blue state bailout."
If Republicans maintain their majority in the Senate, it is likely that they would continue to be a barrier to offering state aid. That opposition might be even harder to overcome under a Biden presidency, as McConnell and his Republican Senate colleagues were much less supportive of deficit spending under former President Barack Obama than they were under Republican Presidents George W. Bush and Donald Trump. 
McConnell, however, hinted at openness to compromise on Wednesday, as he called on Congress to approve a new relief package before the end of the year. "This is a big item for Democrats as you can imagine and they're still going to control the House but we'll have to reach some kind of agreement ... it's not something that my side is very fond of," he said, according to Politico. "I'd like to see it done a little more skillfully than simply providing borrowed money for everyone regardless of their need."
Cuomo seems to still be hoping a Biden presidency could rescue the state's finances, even with a Republican Senate. "Biden is by definition collegial and unifying, and that's going to be all the difference," he said on Thursday morning. New York City Mayor Bill de Blasio expressed similar optimism on Wednesday, saying, "I think if you've got a Democrat president, a Democratic House, and a very closely split Senate, clearly you have the basis for a major stimulus." Democrats are expected to increase their current 45 seats, plus two independents who caucus with them, by at least one or two seats, meaning they would only need a few Republicans to join them to pass a bill. 
Budget experts say that federal aid alone won't be enough to plug the budget gap, even if a stimulus package is passed. "Not only would federal aid not come immediately, but it's very, very unlikely to be of a size and duration to close the state's four year financial plan budget gaps," said David Friedfel, director of state studies at the watchdog group Citizens Budget Commission. He said the state should reexamine how it finances capital spending, potentially access its rainy day reserves this year and figure out how to deal with the money that has been withheld so far. "Those entities either need to be told that they're not going to be getting their money, or the state is going to have to find a way to fund those payments."
Jonas Shaende, chief economist of the left-leaning Fiscal Policy Institute, said a combination of federal aid, borrowing from the Federal Reserve and increased taxes on wealthy New Yorkers could help the state bridge the gap. "We need to look to minimize the harm and economic scarring in the segments of the economy for the populations who are hurting," Shaende said. "And we need to look for additional support from those who are benefiting in this economy."
State Sen. Jessica Ramos agreed that pursuing taxes on the wealthiest New Yorkers would remain one of the best strategies for tackling the budget gap, given that federal aid remains uncertain. "We can't hold our breath for D.C. to take action," Ramos said, noting a continued Republican-led U.S. Senate would be a major obstacle. 
The state's two legislative leaders have indicated openness to some taxes on the wealthy to make up the budget deficit, but Cuomo has opposed it on the grounds that it may lead rich residents to flee New York. 
Friedfel said no single approach will be enough at this point. "It's not going to be federal revenue, it's not going to be tax increases, it's not going to be just spending decreases," he said. "It's going to have to be a combination of those three things in order to close the gap, just because of the magnitude that the state faces."
Regardless of what approach government officials make, Shaende said that the longer the wait, the less time there will be to make the right decisions: "It is not possible to kick the can down the road, with or without the federal help."