New York State
DiNapoli opens up fossil fuel divestment
After years of opposition to fossil fuel divestment, the state comptroller will review and drop the pension fund's investments in energy companies.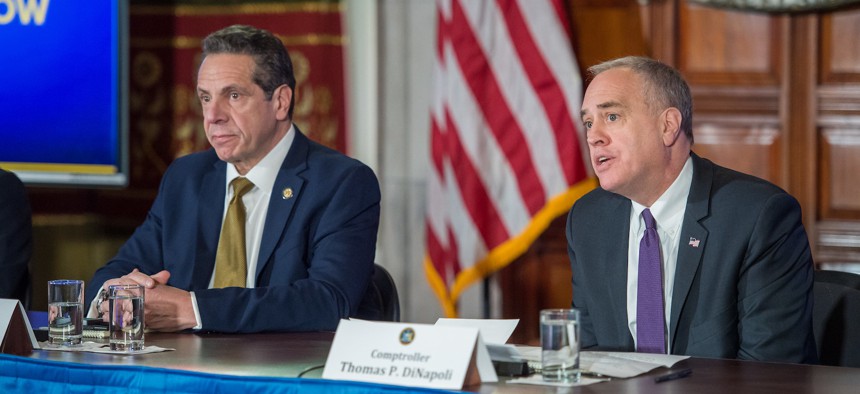 State Comptroller Thomas DiNapoli announced a plan on Wednesday to get New York's $226 billion pension fund to review and divest from many fossil fuel companies and reduce carbon emissions in its portfolio. The announcement marks a shift for DiNapoli, who has long held out against calls from climate change activists to dump the $2.6 billion the fund has invested in fossil fuels.
Over the course of four years, the New York State Common Retirement Fund will review and divest from any oil, gas and pipeline companies that don't have plans to transition away from fossil fuels, assuming the divestment presents no long-term financial harm to the fund. DiNapoli has also committed to reviewing the fund's entire portfolio to ensure the firms it invests in are on track to hit net-zero greenhouse gas emissions by 2040.
The comptroller has argued for years that investments from fossil fuels produce good returns for retirees and that holding on to those stocks allow him to be an activist investor who can push companies to take on stronger environmental policies. "Frankly, what will happen is the stock would be bought by someone else who does not have our position on this issue," DiNapoli said about divestment this summer. "I'm sure that many companies would be very happy if we just sold the stock and did not bother them any more on this issue."
DiNapoli's recent shift was spurred by legislation sponsored by state Sen. Liz Krueger and Assembly Member Félix Ortiz, which would have required the comptroller to divest the pension fund from fossil fuel companies over the course of 10 years. DiNapoli opposed the bill, in large part because it challenged his independent authority over the pension fund. He said during a Wednesday press conference that Krueger approached him earlier this year to find common ground on the issue. The bill has been introduced in some form every year since 2015, and its latest iteration has accumulated a significant number of cosponsors in the Senate and Assembly.
"We always said there are concerns about allowing us to supersede the authority of the comptroller," Krueger said at the press conference. "So, if the comptroller chooses to do it voluntarily, great."
Krueger said the comptroller's actions also went beyond the requirements outlined in the bill, which won't be reintroduced next year. "You're not just saying, 'I'm going to divest from the fossil fuel companies that violate the standards I am setting as the comptroller of the New York state pension fund.' You're going further and saying you're going to look at other industries that do so much harm to our environment, and evaluate removing them from the pension fund." 
DiNapoli still emphasized that he would try to avoid divesting when possible and his priority remained keeping the pension well-funded. "I've always said divestment is a last resort, right? We want companies to do the right thing."
This latest announcement builds off of a plan DiNapoli announced last year to evaluate the pension fund's climate risks. In July 2020, the fund divested from 22 thermal coal companies. It also comes two years after New York City Mayor Bill de Blasio announced the city's pension funds would divest from fossil fuels within five years. 
Climate change activists were pleased with the announcement, calling it among the most comprehensive plans announced by a pension fund. California's Public Employees' Retirement System, one other large pension fund in the United States, has pushed electric utilities to become carbon-free by 2050, for example. Several cities – including Washington, D.C.  and Providence, Rhode Island – have pursued fossil fuel divestment in their pension funds. But New York's stands out for its wide-ranging commitments and the size of its fund. "They're tackling all these subsectors, and doing it on this really good timeline," Richard Brooks, senior campaign specialist at the environmental advocacy organization 350.org, told City & State. "I also think just the sheer size of the fund is what makes us even more significant." New York's pension fund is the third largest in the country.
Farhana Sultana, a professor of geography and the environment at Syracuse University, said the plan could push other states to consider divestment seriously. "This divestment of the pension fund is one of the components of the multi-pronged approach that is absolutely critically essential in moving toward more climate just futures."