Budget
8 contentious issues in state budget negotiations
Gov. Andrew Cuomo and legislative leaders are aiming to make a deal by April 1 despite unprecedented challenges.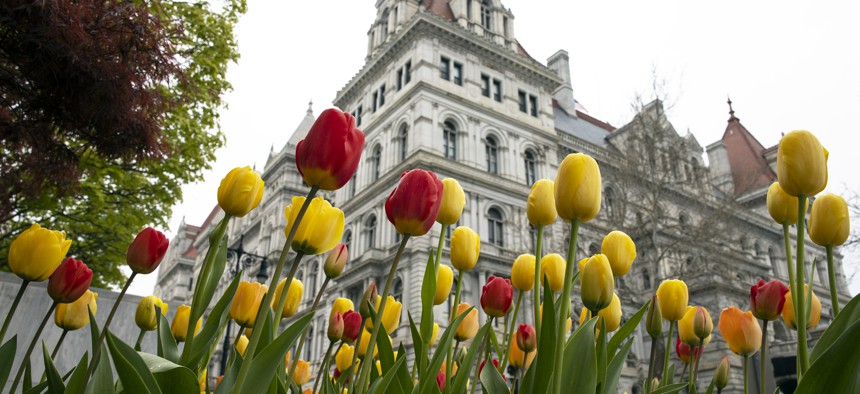 While New York is in better fiscal shape than Gov. Andrew Cuomo, state lawmakers and others feared months ago, there are still a lot of difficult political issues to figure out before the April 1 state budget deadline. Democrats in the state Senate and Assembly have made it clear that they want to raise billions of dollars through new taxes on the wealthy. Many Democratic lawmakers are also calling for a COVID-19 relief fund for undocumented immigrants and other people who did not qualify for previous aid packages. Funding for public schools is an annual point of contention between the governor and legislators.
The coronavirus pandemic and ongoing scandals surrounding the governor have added new twists to the budget negotiations this year, but the fundamental dynamic remains the same. Lawmakers want more spending, the governor wants less. Sometime in the last week of March, the three people who call the shots in state politics – Cuomo, Assembly Speaker Carl Heastie and state Senate Majority Leader Andrea Stewart-Cousins – have to find a way to compromise on a long list of issues affecting millions of New Yorkers.
Stewart-Cousins told reporters March 23 that Democrats in her chamber are aiming to keep it all business with the Second Floor, despite the ongoing scandals and their public statements urging the governor to resign. "The focus of our conference is on doing the job that we're here to do," she said at a virtual press conference. "And right now, it is making sure that we get a good budget for New Yorkers, and we want an ethical, on-time and good budget. I believe that's what we'll get." In other words, the governor's potential impeachment is one thing, negotiating a spending plan for the upcoming years is another matter entirely, and that was before Heastie recently announced he had COVID-19.
But outstanding allegations of sexual misconduct, a reported cover-up of COVID-19 nursing home deaths and safety concerns about the Gov. Mario M. Cuomo Bridge have undermined Cuomo's political standing since he unveiled his spending plan in January. State lawmakers are looking to take full advantage this year of their new legislative supermajorities and the governor's relative lack of political capital. That might be why the governor appears to be giving ground on issues like the seemingly impending legalization of recreational marijuana, though the state constitution still gives him some formidable powers to use in budget negotiations.
Here is where the budget negotiations stand on some of the biggest issues facing the state.
Taxes
The one-house budget resolutions approved by the state Senate and Assembly in mid-March included proposals to raise income taxes on the wealthy. Those proposals would raise about $7 billion to fund new spending on education, social services and other fiscal priorities for the Democratic majorities. State Budget Director Robert Mujica, however, recently said that there is no need to raise taxes that much because of the $12 billion in federal aid recently approved by Congress. While the Cuomo administration clearly has less appetite for big tax increases than state lawmakers, Stewart-Cousins and Heastie are sticking by their proposals to raise income taxes much more than the temporary three-year increase that Cuomo proposed in January. Democratic lawmakers and activists meanwhile are maintaining pressure on the legislative leaders to approve even higher taxes.
Education
Democratic lawmakers and activists have said for years that New York state is still shortchanging local school districts by $4 billion per a 15-year saga that began with the 2006 Campaign for Fiscal Equity ruling. Cuomo has dismissed that idea for years by saying he is not bound on this issue by the commitments of past governors. His damaged political standing and Democrats' legislative supermajorities could mean victory is close for state lawmakers. Even if they do not get Cuomo to go along with injecting that money into the state budget, an increase in education funding is a given. Cuomo backed that idea months ago, though it remains to be seen whether he will succeed in current efforts to use federal aid to replace rather than supplement state aid.
"Excluded workers"
Activists and progressive lawmakers are making a big push to secure $3.5 billion in aid for undocumented workers, recently incarcerated people and other "excluded workers" who were ineligible for unemployment benefits, stimulus checks and other relief. The one-house budgets, however, included a little over half that amount. Convincing legislative leaders to raise the ante could prove difficult considering the amount of money at stake, especially since Cuomo has yet to say whether he would support such aid.
Gambling
Tight fiscal times led Cuomo to ignore his past concerns about potential state constitutional issues with legalizing mobile sports betting. Members of the Assembly have also backed the idea despite past opposition from the chamber. So this could finally be the year that state Sen. Joseph Addabbo Jr. and other supporters finally get their way on the issue, though it remains a very open question whether future revenues will meet projections. There's also up to three new casinos that could get built in New York City if Cuomo and Heastie come around to the Senate Democrats' other idea for expanding gambling.
Health care
Medicaid spending accounts for about a quarter of total state spending, which makes it one of the primary drivers of the structural deficit that predates the pandemic. The budget proposed by Cuomo in January included $600 million in cuts to hospitals to help plug the multibillion-dollar budget hole caused by the pandemic. He has always said, however, that billions in new federal aid would scramble those dire fiscal plans. Opposition from state lawmakers, organized labor, activists and the hospital industry suggests that these proposed reductions in Medicaid reimbursement rates and direct assistance to hospitals will go through significant changes if they are to make it into any final budget. A temporary boost in federal matching funds in the new COVID-19 relief bill, meanwhile, will likely drive state spending even higher on home- and community-based health care services.
Housing
With the end of the statewide eviction moratorium looming May 1, millions of people are at risk of losing their places to live. Assembly Democrats are proposing a rental relief fund that would direct $3.125 billion in combined state and federal funds to tenants, homeowners and people struggling with homelessness.State Senate Democrats wanted $750 million for the New York City Housing Authority and $200 million for public housing agencies across the state, as well as acash subsidy plan for low-income people. They are also looking to include a provision in the budget to allow thetransformation of commercial real estate into affordable housing, an idea that Cuomo said he supports in principle.Cuomo too has plans to fund housing relief programs this year, but the big issue appears to be funding. The extent to which housing help expands could hinge on how the governor and lawmakers balance spending and revenues overall.
Higher education
Democratic lawmakers are pushing a "New Deal for CUNY" that aims to eliminate student tuition and fees, hire more faculty as well as expand mental and academic counseling. Like other issues, new federal aid could mean that the governor abandons unpopular proposals affecting higher education, like the "predictable tuition increases" for public college students at a time when state lawmakers and activists are pushing for increases in student aid. It also remains unclear whether the governor will stick by his proposal to eliminate a 50-year-old state program that provides operating aid to more than 100 private, nonprofit colleges across the state.
Environment
Lawmakers have resurrected the idea of getting voters to approve a $3 billion environmental bond that could be on the fall ballot alongside a proposal to enshrine the right to clean air and water in the state constitution. Cuomo originally proposed the bond act last year before scuttling it out of concern for how the pandemic complicated a bond offering. While his thinking might be different now, a fight is brewing with lawmakers over provisions of his proposed state budget, such as a proposal that could make it easier for building owners to evade emission limits.
Correction: An earlier version of this story included an erroneous reference to the City College of New York when describing proposals that would affect the entire CUNY system.