Trump praised by Catsimatidis, 'that other New York billionaire'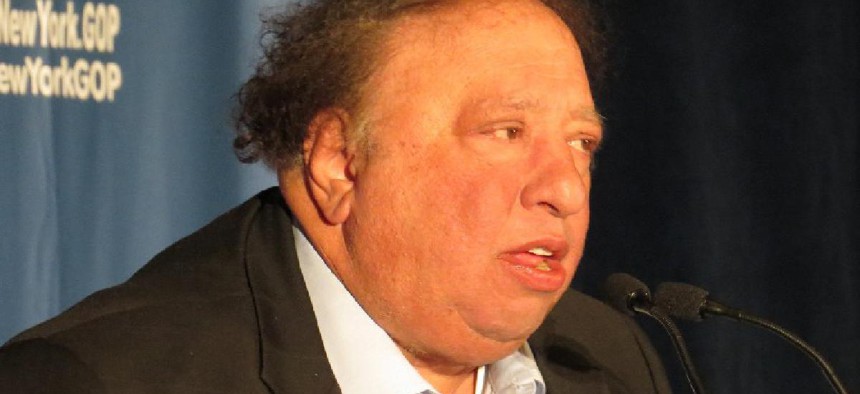 Introduced to the crowd as "that other New York billionaire," the businessman, radio host and former New York City mayoral candidate John Catsimatidis made the case for Donald Trump to be elected as the next president.
Addressing New York's Republican delegation at a breakfast gathering in Cleveland on Wednesday, Catsimatidis invoked his own family's history of emigrating from Greece to the United States.
But he asserted that President Obama is "clearing the way for a million immigrants to come in." He added, without citing the source of the figures, that 800,000 of these immigrants would become "burdens on the regular taxpayer."
"That's not fair!" he said, eliciting applause. "The American people love the people of the world. We're the most generous people ever, but not to force it down our throat to become a burden on us."
Minutes later, Catsimatidis emphasized the importance of reaching out to Hispanics and other minorities. He noted that 17 percent of the U.S. population is Hispanic, while 14 percent is black.  
"The Republican Party has to appeal to these two groups and get larger sense, and a larger percentage of those two groups," he said. "They're America's soul."
He also questioned the Obama administration's decision to break with Egypt's then-President Hosni Mubarak and Muammar Gaddafi, the Libyan leader, who were overthrown in 2011. He also said he agreed with Trump's remarks on Saddam Hussein, who the presidential candidate has praised for killing terrorists while he was in power.
"Our foreign policy is a mess," he said. "Mubarak was our ally. Listen, he wasn't the greatest guy in the world, but he was our ally. Qaddafi was a jerk, but he was our ally. Why did we get rid of him?"
In trademark fashion, he strayed from the Republican Party's official message at times. He said that times are not so bad, and that even with worries about ISIS and al Qaeda, he was more fearful as a kid in the 1950s when the biggest fear was getting bombed by the Soviet Union.
"That was frightening," he said.