New York City
Predicting the impact of de Blasio's White House bid
How far will the mayor go, and what will his campaign do for him politically?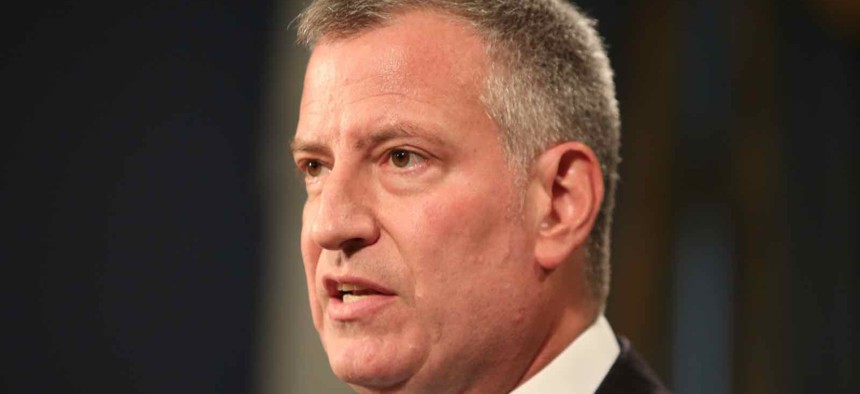 New York City Mayor Bill de Blasio's presidential campaign hasn't exactly gotten off to an auspicious start, with troubling polling numbers, doubts as to whether he'll make the first debate, and the questions about how much money he's raising.
Then again, he's come from behind to win before, both running for public advocate and for mayor. Will he outperform expectations and silence his critics, or will his White House aspirations fizzle?
In this week's "Ask the Experts" feature, we reached out to Sid Davidoff, senior partner at Davidoff Hutcher & Citron; Ben Max, executive editor of Gotham Gazette; Christina Greer, an associate professor of political science at Fordham University; Joseph Viteritti, a professor of public policy at Hunter College; and Eli Valentin, a political consultant who teaches political science at Monroe College.
How long will Bill de Blasio stay in the Democratic presidential primary?
Christina Greer: I may be the only New Yorker who feels this way, but I do see a possible path for Bill de Blasio. He's been an organizer in the past and if he can make inroads in Iowa and South Carolina especially, and as long as media expectations remain low, he could actually pull a Bill Clinton in 1992 and supersede expectations which gives him a boost when he needs it most. Not sure what the fundraising will be, but let's be honest, there are several potential donors who would like to do business with the city which builds in an automatic advantage for BdB over other candidates.
Sid Davidoff: With 23 Democrats legitimately running, it feels like there are as many candidates as there are voters. Now let's add to that their varied ranges of experience, from governors to mayors to U.S. senators and members of Congress. What candidates are now attempting to do is to make their positions as clear, dynamic, memorable and concise as possible to set themselves apart from the pack. It's going to take awhile to position and create memorable identities that will resonate and reach Democratic voters across the nation. Mayor Bill de Blasio has a message that can resonate: He has a record of accomplishment on crime, universal pre-K and minimum wage, for starters. And he's the mayor of the nation's largest city, which is like running a small country – but more difficult. That means he will attract media attention, not always great attention, but attention nonetheless. And even if the polls – which Trump proved have about as much credibility as online psychics – have him down now, that can change. If de Blasio can raise enough money to keep his campaign going, and if his message resonates with not just the uber liberal but with the disenfranchised, expect him to continue to be energized for a while.
Joseph Viteritti: Bill de Blasio will remain in this for as long as there is a sliver of hope that he can become a serious contender. I would say he is in it at least through the summer, since he has already signaled that he does not expect to qualify for the first debate taking place in late June. That event itself could have a culling effect, but it could also establish a few secure frontrunners. Despite the discouraging poll numbers and negative local reaction from the people and the press, I think he really believes he has a shot. If you follow his career as closely as I have, you will see that this leap into the presidential sweepstakes (a gamble, for sure) is very much in character for Bill de Blasio. He has always defied the odds and the pundits, whether it involved a run for a City Council seat, the public advocate perch, or the mayoralty. In 2013, he was the only mayoral candidate willing to run against the Bloomberg record. We all know, however, that this one is different. Running in a crowded field for the presidency of the United States against candidates with more money and name recognition is a world apart from anything he has ever done.
Ben Max: How much money can he raise? There's really no telling exactly how long this presidential campaign will last – in some ways you could see it flaming out fairly quickly, but in others it seems plausible that he's in it through a few of the early primary state votes, depending on many factors, including how the rest of the field winnows and if he can gain any momentum at all. While his chances appear exceedingly daunting, we should be careful about totally dismissing his candidacy, and never forget his apparently irrepressible desire to be on the national stage.
Eli Valentin: I don't think the mayor will stay in the race beyond the South Carolina primary. He will stay until then with the hopes of wooing enough African American voters to remain competitive in the race. The problem for de Blasio is that he is doing very poorly in the early polls and there are no signs of any uptick. In fact, the most recent Quinnipiac poll shows that of all the candidates he has the highest unfavorable numbers. In all other polls he receives less than 1% of the support of likely Democratic primary voters. Add this to his spotty record as mayor, and I think it unlikely that de Blasio will even place third in South Carolina, thus forcing him to bow out of the race.
Will running for president help or hurt the mayor politically?
Ben Max: Both. It will probably help him land his next job, perhaps as a cabinet secretary or whatever it might be, though that's not a certainty. But, he may take some serious political lumps in the process, and already is, both at home and nationally. While he has something to offer the presidential race and the national political conversation, he risks political humiliation if he is the 23rd Democrat into the race, never gets above 1 or 2% in the polls, and either flames out quickly or sticks around too long. And at home, he's only cementing the image many New Yorkers already have that he doesn't care enough about his job as mayor. De Blasio's legacy is largely written at this point, and this presidential bid will likely become a prominent note that illustrates his constant wanderlust. It would obviously help him politically if he wins.
Joseph Viteritti: Immediately it is hurting him locally. People are angry that he is devoting his attention to a campaign that seems whimsical and ill-fated while there are serious issues that need attention at home. It will raise his profile nationally, but how that eventually plays out remains to be seen: Will he be well-received by the national press? Will Democratic voters welcome another progressive voice in a party contest that – except for Bernie Sanders and Elizabeth Warren – appears to be dominated by mainstream centrists who are on the defensive as a new generation of leadership may be emerging? Early national polls are also discouraging. If, by some unforeseen series of events, his campaign gains momentum, will New Yorkers' pride kick in, leading them to think, "Why not our mayor?" With all due respect to the distinguished chief executive of that town, we're not South Bend, Indiana, after all.
Eli Valentin: A looming defeat in the primary will not hurt him anymore than his record as mayor of New York City. With a dysfunctional NYCHA and a homelessness crisis that not only has not been alleviated but has in fact become worse during his tenure, de Blasio will go the way of all other New York City mayors that have run for president – and join the ranks of private citizens.
Christina Greer: Considering the mayor checked out in mid-2018, has no future in New York state politics, leans on the line of legality in several endeavors, why not run? Fortune favors the bold. Everyone sees how luck (John Edwards' implosion) and skill (defeating Hillary Rodham Clinton and the most powerful Democratic family of the latter 20th century) assisted Barack Obama in 2007. De Blasio is making friends across the nation and setting himself up for a post-mayoral life (e.g. speaking fees and engagements, business deals, etc). He can't become governor, so why not build a slightly more national profile of donors, policy professionals, corporations and beyond?
Sid Davidoff: The mayor is taking the message he has honed here in the city nationally. I think it is a positive when a city like New York has a leader that can be considered among the political powerhouses, and be able to seriously receive consideration as the next occupant of the Oval Office. Since he's term-limited from running for mayor again, this will only raise his political profile and add relevancy to it.
Does physically being in the city matter for the mayor?
Sid Davidoff: It's not 1954. You can do anything from anywhere. That being said, yes, he can still lead New York City and run for president of the United States. It's the biggest city with the nation's second toughest job, but he has excellent people in place and, after almost six years, he has established communications protocols that he will rely upon to stay on top of things. He's in communication 24/7 now and he can hop on a plane and get back to New York, from wherever he is, in a few hours. While everyone appears to be highlighting the responsibilities of the mayor, every other governor, senator and member of Congress seems to be getting a pass from the media. Which reporters have asked Pete Buttigieg, for example, if he can run South Bend and run for mayor at the same time? Exactly.
Eli Valentin: If reports are true that the mayor is bored with his job, he will be happy, but New Yorkers will surely not be happy with the mayor being out of town often. We can, therefore, expect his poll numbers to dip further in New York. Yet as regards to actually governing, the job of running the city falls on the deputy mayor of operations, so no chaos will ensue; the wheels of city government will continue to turn.
Christina Greer: I think physically being present does matter. Similarly, this is why I believe teachers should be in the classroom and universities should not solely teach online, but I digress. There are so many micro issues to be dealt with, to say nothing of the fact that the mayor asked for a second term less than two years ago. Potentially using Chirlane as a proxy mayor while he is traveling is a strategy, but New Yorkers did not vote for her, nor did she make a case that she is willing or able to run the city. Therefore, the presence of a mayor in the city does matter to me and I highly doubt I am alone in this line of thought.
Ben Max: Yes, but it is slightly overblown at this point. De Blasio is right that he can travel and still mostly run the city for small stretches at a time. Key word being small. But the rigors of a presidential campaign, including even prep and fundraising while at home in the city, are immense. How many hours a week will the mayor be either on the campaign trail or doing campaign activities from the city? His presence is important, though he already squanders too much of the time he is in the five boroughs by not being at City Hall enough, not meeting with agency commissioners regularly, spending too much time with his gym routine, not holding enough or the right mayoral events around the city, and so on. He and everyone else knows that there is likely to be some emergency that takes place while he's on the trail, which will probably create a firestorm for him, particularly if he is polling so poorly in the race. But there's also the fact that there are already immense, ongoing crises (homelessness, NYCHA, transit, failing schools and more) that demand his presence and attention.
Joseph Viteritti: In an age of high-tech communications, the mayor can be in touch on a 24/7 basis with great ease. He does not actually run agencies on a daily basis. Mayor Bloomberg, for example, used to disappear on weekends without even disclosing his whereabouts. Yet, the mayor's presence in the city still matters with regard to public perceptions. New Yorkers believe that being mayor is a full-time job. They may have a point.