New York City
Who determined the outcome in race for Jumaane Williams' seat?
A contentious rematch is brewing in the Central Brooklyn City Council race after Monique Chandler-Waterman attributed New York City Councilwoman-elect Farah Louis's victory in the special election to "Trump supporters."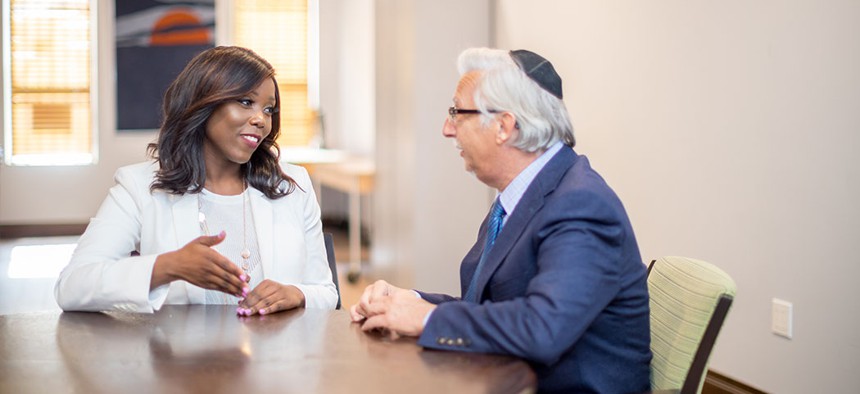 In a contentious rematch for a New York City Council seat, Monique Chandler-Waterman is accusing New York City Councilwoman-elect Farah Louis of winning this month's special election on the backs of "Trump supporters."
Louis finished first in the eight-way special election in Central Brooklyn on May 14, with an impressive 42% of the vote. Chandler-Waterman finished second, with 30% of the vote. Thanks to a recent change to state law governing election dates, the two will face off again next month, on Tuesday, June 25, in a Democratic primary.
Louis garnered widespread support in the special election, including from prominent voices in both the Haitian-American and Orthodox Jewish communities that make up major portions of the district. In a roundtable on NY1, David Greenfield, an Orthodox Jewish leader who used to represent a neighboring district in the City Council, attributed Louis' victory to that coalition.
But in an interview with City & State Tuesday, Chandler-Waterman had a different explanation. "It's unfortunate in the last campaign that the Trump supporters actually determined the race," she argued. "And that's unfortunate in a primarily Democrat district."
Chandler-Waterman wouldn't say who she was talking about, but a supporter of her campaign provided City & State with maps based on New York City Board of Election data showing that Louis received a large portion of her votes from areas west of Flatbush Avenue, where many Jewish voters live. These same neighborhoods with primarily Orthodox Jewish residents were a stronghold of votes for President Donald Trump in the 2016 election.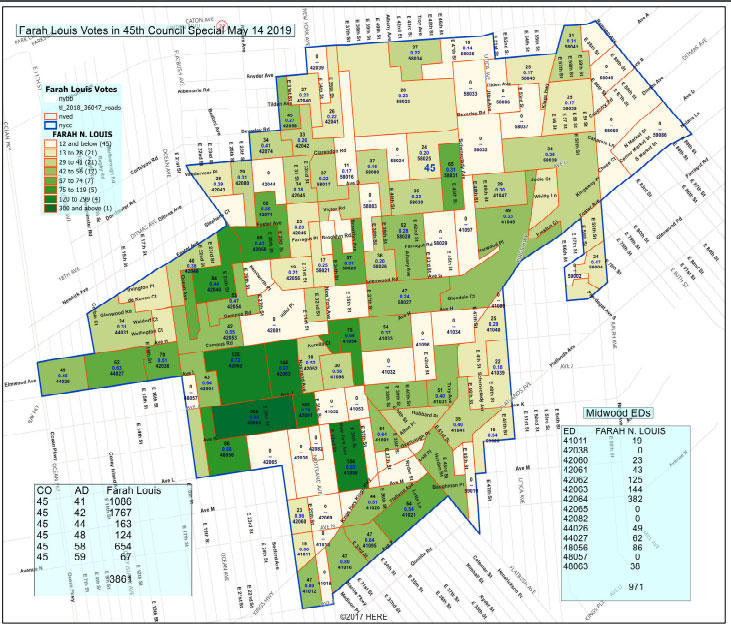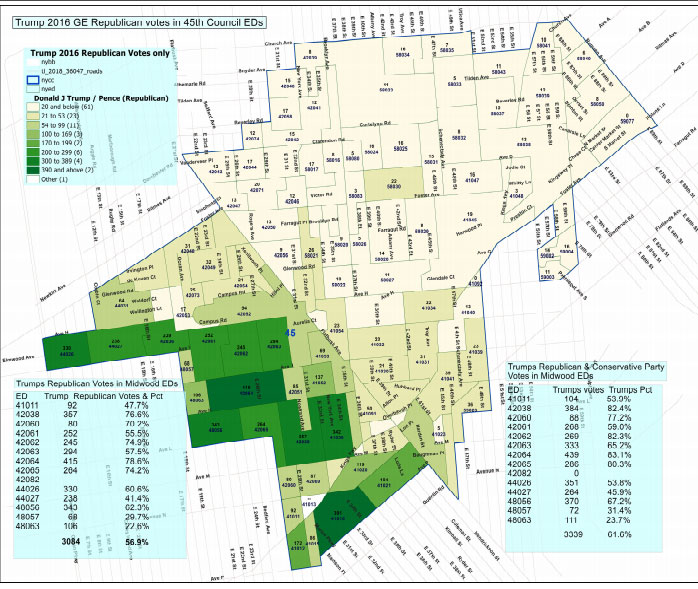 The Flatbush Jewish Community Coalition, a local civic group that endorsed Louis in the special election, didn't back a candidate in the 2016 presidential election, but has shown an affinity for Trump, including sending out a congratulatory email following his election victory.
In an emailed statement, FJCC Chairman Josh Mehlman told City & State that the organization is supporting Louis again in the June 25 primary. Louis "has the right experience and understanding of the many common issues that makes up the very diverse 45th district," Mehlman said. Mehlman didn't address Chandler-Waterman's assertion about the role of "Trump supporters" in the race.
Louis also was endorsed by the New York City Police Benevolent Association in the special election. The group didn't back a candidate in the 2016 presidential election, but regularly endorses Republicans, and named a close Trump ally, former Milwaukee County Sheriff David Clarke, its 2016 person of the year.
But New York City Councilman Kalman Yeger, who endorsed Louis in both elections, said he thought it was clear who Chandler-Waterman was talking about. "It sounds to me like she's saying that Jewish voters in the 45th District didn't have the right to vote in the election," Yeger told City & State.
Chandler-Waterman's comments about "Trump supporters" also signal her electoral strategy of proving that she is the more progressive candidate in the June primary. Voters registered with any political party, as well as independents, were able to vote in the special election, but the primary will be limited to registered Democrats.
However, the pool of voters may not actually be that different. Enrollment statistics from the state Board of Elections show that in Assembly District 42, which overlaps considerably with City Council District 45, registered Democrats outnumber Republicans almost 16 to 1. What's more, not all Trump supporters are Republicans, and many Trump supporters will be able to vote in the primary. There's anecdotal evidence of registered Democrats in Orthodox Jewish communities backing the President, like former Assemblyman Dov Hikind, who represented a neighboring district until 2019.
Chandler-Waterman is also in the middle of an intra-Caribbean ethnic split, with the Haitian Times newspaper reporting that Chandler-Waterman's campaign had been accused of "anti-Haitianism." Apparently this is because Public Advocate Jumaane Williams endorsed Chandler-Waterman to fill his old seat in the middle of the newly-designated "Little Haiti"district – even though neither are Haitian-American.
"When they went low, I continued going high," Chandler-Waterman said.
Chandler-Waterman will once again have the support of Williams, who represented the district in the City Council for nine years until his election to higher office in February. Chandler-Waterman said Williams was making calls on her behalf while on vacation in Bermuda last week, and he's hosting a fundraiser for her on Thursday. "I firmly believed she was the best candidate to continue the productive activist energy in representing the district, and I will continue to support her in next month's primary," Williams told City & State in an emailed statement.
Farah Louis, whose campaign did not respond to a request for comment, has continued gaining support. Her focus was clear in an email sent to supporters on Friday. "We Won! Let's do it again!"
Louis picked up a pair of major endorsements since winning the primary: RWDSU and New York City Council Speaker Corey Johnson. Johnson, and five other City Council members who previously endorsed Louis, will be hosting a fundraiser for her Wednesday evening near City Hall.
Louis and Chandler-Waterman are the leading contenders, but they're not alone. The same eight candidates that were on the ballot in the May special will once again be on the ballot for the June primary. However, not all of them will actually be mounting campaigns. A spokeswoman for the campaign of Jovia Radix, who finished third in the special, said Radix isn't actively campaigning. L. Rickie Tulloch, who finished fifth, officially suspended his campaign. And Adina Sash, who finished sixth, told City & State she would likely not be campaigning for the seat.
Xamayla Rose, who finished fifth in the special, sent an email to supporters declaring "I'm all in!" Anthony Alexis, who finished seventh, is also continuing to campaign in the primary. And Victor Jordan, who finished eighth and last, couldn't be reached for comment, but has continued to raise money.
Powered By
NEXT STORY: Poll: Will de Blasio make the first presidential debate?