New York State
Giuliani's most dubious connections
The globetrotting ex-mayor has a history of surrounding himself with shady fools.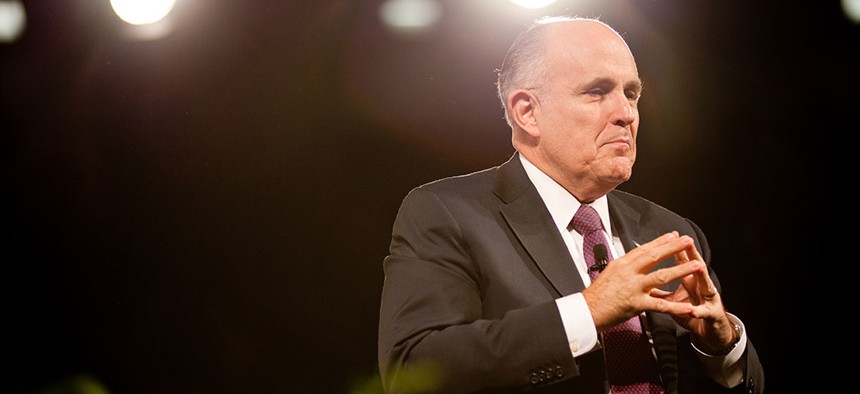 On Wednesday, two clients of former New York City Mayor Rudy Giuliani were arrested and charged with campaign finance violations. According to federal prosecutors, the two men were allegedly lobbying U.S. politicians on behalf of one or more Ukranian government officials.
This is not the first time Giuliani has gotten wrapped up in matters of foreign intrigue.
Although he is not an official foreign policy adviser to President Donald Trump, Giuliani has a deep history of working with countries that have questionable motives, including Turkey, Iran, and Saudi Arabia, often acting as a consultant or lawyer on their behalf.
Considering his eagerness to forge these international ties, as well as his seemingly ambiguous job description, it's hard to keep up with Giuliani's globetrotting. Even the acting director of U.S. national intelligence, Joseph Maguire, is confused by Giuliani's role as the president's personal lawyer. "My only knowledge of what Mr. Giuliani does – I have to be honest with you – I get from the TV or the news media," said Maguire, while testifying before the House Intelligence Committee. "I'm not aware of what he does for the president."
To help clear things up, here are some ethically questionable connections Giuliani has acquired since his time as New York City mayor.
Bernard Kerik
One of Giuliani's early national embarrassments involved the downfall of Bernard Kerik, who he had appointed as New York City Police Department commissioner in 2000, despite more than half of his Cabinet having opposed Kerik's appointment. Leaving the position at the end of 2001 when Giuliani's term ended, Kerik stayed loyal to the former mayor and began working as one of the founding members of Giuliani's consulting firm, Giuliani Partners.
From there, Kerik rose up in the ranks, being appointed by President George W. Bush as interim interior minister of Iraq and senior policy adviser to U.S. presidential envoy to Iraq, Paul Bremer.
Everything seemed to be going fine for Kerik, when in December 2004, at the recommendation of Giuliani, Bush nominated Kerik to head the U.S. Department of Homeland Security. But seven days after his nomination, Kerik withdrew from consideration after it was revealed that he had hired someone as a nanny and housekeeper who was an undocumented immigrant.
Not long after, he found himself bombarded by questions surrounding his work on behalf of the construction firm Interstate Industrial Corp., which had been suspected of having links to organized crime. In 2009, Kerik pleaded guilty to eight federal charges, including tax fraud and making a false statement, and served more than three years in prison from 2010 to 2013.
During Kerik's downfall, Giuliani consistently defended him, while also repeatedly denying knowledge of Kerik's dubious actions and connections.
Exiled Iranian political party, Mujahedeen-e-Khalq
In 2011, the Mujahedeen-e-Khalq paid Giuliani, and other U.S. political figures, to go on speaking tours and voice their support for the exiled Iranian political party. Their goal was to get the group, which was once allied with former Iraqi President Saddam Hussein, removed from the U.S. State Department's terrorist list.
The strong public push made by Giuliani and others, including former Democratic National Committee Chairman Howard Dean, was successful and the party had its terrorist designation removed by the State Department in 2012.
Giuliani has continued to make public pleas in support of the group, most notably in June 2018 when Giuliani spoke at a Mujahedeen-e-Khalq rally held in Paris, during which he called for Iranian regime change.
Reza Zarrab, Iranian-Turkish gold trader
During a 2017 meeting, President Trump pressured Rex Tillerson, then-secretary of state, to assist him in persuading the U.S. Justice Department to drop a criminal case against Reza Zarrab, an Iranian-Turkish gold trader and client of Giuliani's.
Zarrab was facing prosecution for evading U.S. sanctions against Iran, and it had been uncovered that Giuliani had been working behind the scenes to urge Trump to take action on the matter.
Initially denying any attempt to persuade Trump to assist in dropping the criminal charges against his client, Giuliani later said in an interview with Bloomberg that he may have done so.
In a final attempt to save his client from U.S. prosecution, Giuliani even went so far as to propose a prisoner swap between Turkey and the U.S., exchanging Zarrab for Andrew Brunson, an American pastor. The swap was never made, but Brunson was eventually released by Turkey in 2018, and Zarrab pleaded guilty in 2017.
Lev Parnas and Igor Fruman, more ties to Ukraine
On Wednesday, two Soviet-born Florida businessmen, Lev Parnas and Igor Fruman, who Giuliani said were his clients in May, were arrested on criminal charges of violating campaign finance rules by the U.S. attorney's office in Manhattan.
According to the Federal Election Commission, the two men have given hundreds of thousands of dollars to members of the Republican Party, including $325,000 to the pro-Trump super PAC, America First Action.
The men used their donations as a way to gain access to members higher up within the Republican Party, including Trump. Things get even murkier though with the finding that prior to the election of Ukrainian President Volodymyr Zelensky, the businessmen actively worked to install new leadership at Ukraine's state-owned natural gas company, Naftogaz, as a way to try and forge lucrative contracts between Naftogaz and companies controlled by Trump allies.
After the election, the men reportedly changed their focus to assist Giuliani in setting up meetings with Ukrainian officials to push for an investigation of former Vice President Joe Biden.
Powered By
NEXT STORY: Nita Lowey's career of firsts