New York City
Who knows about the charter revision proposals?
A month from the election, groups are trying to inform a disengaged public.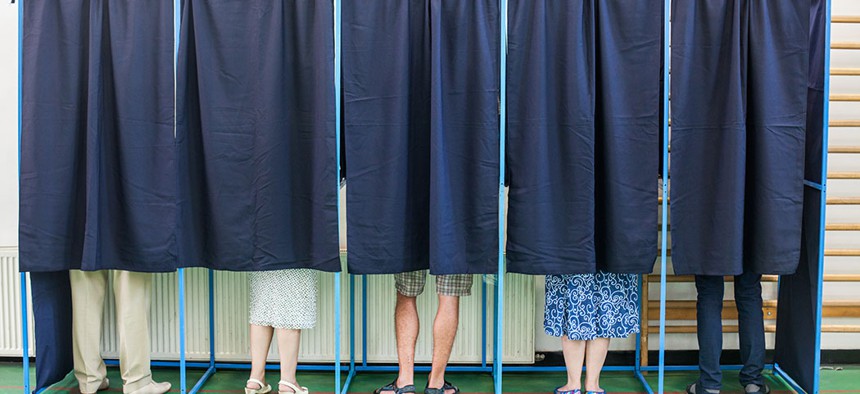 New York City residents on Election Day will have the chance to vote on five questions encompassing 19 different proposed changes to the city charter. About a month from the election, public awareness of the proposals seems low, with only one major advocacy campaign advocating for just a single ballot question. 
Absent some other players getting into the game, that's probably a sign that the initiatives are likely to pass. Even if education only slightly improves, the lack of visible opposition is good news for proponents of the changes, because the only people likely to vote on obscure proposals in a low-turnout election are those who heard of it because someone recommended it to them. 
On Sept. 19, the Rank the Vote coalition launched. It is spearheaded by the good government group Common Cause. It explicitly advocates that New Yorkers vote "yes on 1," the ballot question that includes the proposal instituting ranked choice voting in primaries and special elections. The launch was covered in numerous outlets, including NY1, Gothamist and Politico. The Charter Revision Commission, which created the ranked-choice proposals and all the others, received relatively little coverage previously. 
The coalition promoting ranked choice also includes three major unions: Communication Workers of America District 1, 1199SEIU and the Retail, Wholesale and Department Store Union. Each union told City & State that they intend to participate in events and rallies organized by the Rank the Vote coalition, while simultaneously engaging in member-to-member campaigns within the organizations themselves. While the engagement may not rise to the level unions have committed to elections for public office, simply getting some of their huge memberships to the polls and voting in favor of Question One could ensure the initiative passes. 1199 has 250,000 members in New York City, a formidable force in the low-turnout election. 
Other members of the Rank the Vote coalition include the New York Immigration Coalition, the Partnership for New York City and New York Communities for Change, and it has the support of elected officials including Public Advocate Jumaane Williams and state Sen. Alessandra Biaggi. "There are various indicators that voters look to when they are trying to decide on an issue, and who endorses the issue is a very important indicator," Susan Lerner, executive director of Common Cause New York, said. "I think that a lot of organizations that voters recognize and trust are endorsing ranked choice voting."
Not included in this coalition, though, is New York City Mayor Bill de Blasio, whose spokesman William Baskin-Gerwtiz said he is still reviewing all the questions, but "urges every voter to go out and make their voices heard."
It also helps ranked-choice proponents that there is no organized opposition. Lerner said this may stem from the fact that the system is generally accepted as a positive change to the city elections. However, one New York City political observer, who asked for anonymity to avoid the ire of good government groups, suggested that ranked-choice voting is not a particularly good idea, but those who disagree do not feel so strongly that they would expend political capital in fighting it. The observer argued that ranked choice would simply confuse voters, complicate the electoral process and create a system easier to game for political insiders.
Supporters say that evidence from other cities where a ranked-choice system has successfully been implemented suggests that ranked choice leads to more collegial elections, increased civic engagement and better success of women and minority candidates. 
The fight for ranked-choice voting still faces an uphill battle against big news like impeachment, an election with no major races and a general lack of interest among voters for an in-the-weeds process like revising the city charter. "It's extremely unfortunate that these questions would be on the ballot in 2019, when everyone knew going forward that this was going to be an extremely low-turnout election," Rachel Bloom, political director at the the good government group Citizens Union, told City & State. Unlike in 2018, which had many high-profile state legislative races and the gubernatorial race, 2019 has only one citywide election, for public advocate. And after Jumaane Williams won the position in a special election in February, the November election is effectively a formality.
Keith Wright, chairman of the Manhattan Democratic Committee, told City & State that the proposals, ranked choice or otherwise, have not been on his radar. "But it's going to have to get on my radar pretty soon," Wright added, before asking for confirmation that the proposals will appear on the ballot. Similarly, a spokesman for Brooklyn Democratic Party said it has questions, but no position yet on ranked choice. The executive committee has invited Lerner to speak to them about the issue, which she confirmed to City & State. She said that as of now, she has not had similar offers from other county organizations, but the Rank the Vote campaign has been speaking political clubs and community boards.
Bob Liff, a vice president at George Arzt Communications and a veteran of New York politics, said that ranked-choice voting is on his personal radar and he has discussed it at his political club, but it's generally not a priority for many people that he interacts with. "I don't think it's really on people's radar – I don't think the charter is very high on people's radars, except for hopeless civic junkies like me," Liff said.
There appears to be no organized support or opposition for the other four questions, which encompass 16 total proposals. Those questions cover the Civilian Complaint Review Board, ethics and governance, the city budget and land use. A spokeswoman for Communities United for Police Reform, which strongly advocated for one of the proposed changes to the CCRB, said that the group is engaging in public education about ballot question 2, which concerns the CCRB. Additionally, 1199SEUI has endorsed question 2 as well and had undertaken efforts to educate and advocate among its members. However, Lerner and others paying attention to the charter revision proposals said they have not seen real effort similar to Rank the Vote for the other questions.
At the same time, the Charter Revision Commission itself has been trying to spread the word about the ballot questions. Marissa Solomon, a spokeswoman for the commission, said that commission is spending between $1 and 1.4 million on advertising on subways, buses, LinkNYC kiosks, social media and, soon, television. Commissioners and staff have also hosted information sessions and spoken with community boards and civic engagement groups. "We're working extra hard because we know that this is an off year, and we want to make sure people know that this is happening and that they should vote," Solomon said. She said the goal is to get the interest to the point that it draws voters in a way that a high-profile election might. It's a daunting goal indeed and while Solomon said that interest has increased, only the election results will tell if the commission's efforts were successful.