New York State
A good night for Democrats upstate and on Long Island
Republicans won some races upstate, but Democrats did well in the suburbs.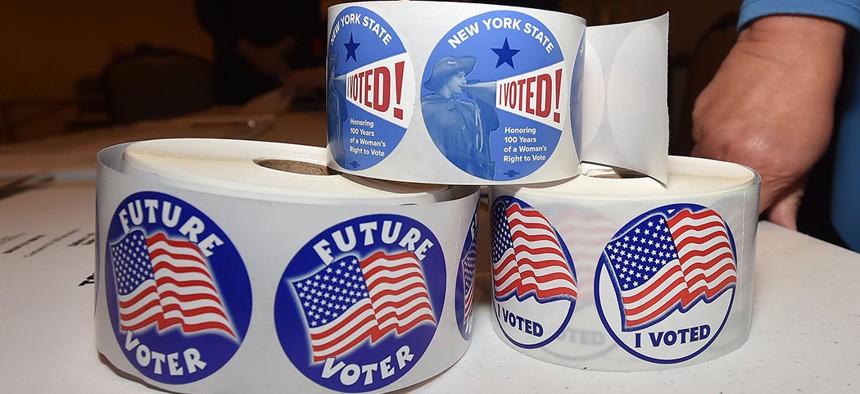 With so much focus on New York City ballot initiatives and district attorney and public advocate races within the five boroughs, some New Yorkers may have forgotten about the races happening outside of New York City. But on Tuesday, a number of significant county executive, district attorney and mayoral races were decided – as well as one state Senate race in the Southern Tier. 
2019's general election – the first to see New York implement early voting – resulted in a mix of victories and upsets for incumbents in suburban and upstate races. The night saw victories for some incumbents, including Suffolk County Executive Steve Bellone, as well as a few successful challenges to sitting officials, such as Monroe County Executive Cheryl Dinolfo. Democrat Adam Bello brought an end to a long campaign season against Dinolfo with an upset victory Tuesday night. City & State broke down election results for those and the other major suburban and upstate competitive races, with the numbers that were available as of midnight.
County Executive – Suffolk County
Steven Bellone (D) (incumbent) – 55.02%
John Kennedy Jr. (R) – 43.77%
Gregory John Fischer (L) – 1.18%
With 957/1052 districts reporting.
Incumbent Suffolk County Executive Steve Bellone, running on both the Democratic party and "Protect the Taxpayer" lines, won reelection for a third term in Suffolk County on Tuesday, beating out Republican challenger and County Comptroller John Kennedy Jr., and Libertarian Gregory John Fischer. Bellone, a moderate who took office in 2012, ran in part on his reduction of a budget deficit.
County Executive – Monroe County
Adam Bello (D) – 51.54% 
Cheryl Dinolfo (R) (incumbent) – 48.43%
With 805/807 districts reporting. 
Insurgent Democrat Adam Bello unseated incumbent County Executive Cheryl Dinolfo on Tuesday, becoming the first Democrat elected to the greater Rochester office in nearly 30 years. While Dinolfo ran as a Republican, and Monroe County Clerk Adam Bello as a Democrat, the two duked it out in June for the right to run on the Independence Party line. Dinolfo ultimately won that primary contest against Bello, but Bello bested her in the race that mattered.
District Attorney – Rockland County
Thomas Walsh (D) – 63.35%
Ken Zebrowski (WFP) – 11.41%
Mike Diederich (Serve Rockland) – 25.14%
With 234 of 277 districts counted.
Since former Rockland County District Attorney Tom Zugibe vacated his seat to take a state Supreme Court judgeship, the field to replace him filled up with several challengers. Former state Supreme Court judge Thomas Walsh beat out a crowded field of Democrats in the June primary, and repeated that victory on Tuesday, defeating retired Army attorney Mike Diederich, who ran on the "Serve Rockland" line.
District Attorney – Monroe County
Shani Curry Mitchell (D) – 44.07%
Sandra Doorley (R) (incumbent) – 55.91%
With 803/807 districts reporting.
Incumbent Monroe County District Attorney Sandra Doorley won a third term, staving off a challenge from a particularly well-funded candidate, Democrat Shani Curry Mitchell. Mitchell's campaign promises included stopping over-prosecution of the poor, and her race drew the attention of the New York Justice & Public Safety Political Action Committee – a PAC tied to billionaire philanthropist George Soros – which paid for more than $800,000 in television ads for Mitchell. Ultimately, the infusion of funds wasn't enough to unseat the incumbent Doorley, who switched parties from Democrat to Republican before her 2015 election and was the first woman elected to the role in Monroe County. 
State Senate – 57th District
Austin Morgan (D) – 26.04%
George Borrello (R)  – 68.01%
With 174 of 215 districts reporting.
The special election to replace former state Sen. Cathy Young finally has its winner: Republican George Borrello. In March, Young vacated her seat in the 57th District, covering the Southern Tier's Chautauqua, Cattaraugus and Allegany Counties and parts of Livingston County. Borrello, the Chautauqua County Executive, ran on the strength of his background in business and public service, including in the county executive seat. But after beating out other Republican candidates in the June primary, Borello faced a surprising challenge from a recent Cornell graduate, Democrat Austin Morgant. Ultimately, Borrello prevailed in the Republican-leaning rural district, though after a year, he will have to run again to seek reelection for a full-term.
Mayor – Yonkers
Mike Spano (D) (incumbent) – 77%
Mario De Giorgio (R) – 23%
With 178 of 243 districts reporting. 
Yonkers Mayor Mike Spano secured a third term as mayor – something he can do thanks to a recent rules change – beating former City Council candidate, Republican Mario De Giorgio on Tuesday after defeating two challengers in June's Democratic primary. Spano has cited fixing the county's overcrowded schools as a priority in his third term. 
Mayor – Cohoes
William Keeler (D) – 82.76%
Steven Napier Jr. (WFP, Ind.) – 15.40% 
With 26 of 26 districts reporting.
Retired State Police Major William Keeler clocked another victory in the race for Cohoes Mayor, beating Steven Napier Jr. – which he also did during the June Democratic primary, when Keeler beat the then-incumbent Cohoes Mayor Shawn Morse, who has since been removed from office after pleading guilty to stealing campaign funds. Though Napier ran for the Democratic Party nomination in June, he challenged Keeler again in the general on the Working Families and Independence Party lines.
Mayor – Mount Vernon
Shawyn Patterson-Howard (D) – 81%
Andre Wallace (R) (acting) – 16%
Rosemarie Jarosz (Con.) – 3%
With 58 of 74 districts reporting. 
On Tuesday, Democrat Shawyn Patterson-Howard made history by becoming the first black woman elected mayor of a city in Westchester County, after fending off a challenge from acting Mount Vernon Mayor Andre Wallace. The Mount Vernon mayoral seat has seen a rocky few months, as former Mayor Richard Thomas was convicted of corruption in July, and Wallace was appointed to replace him as acting mayor. Wallace was then ousted by his City Council, however, who wanted to replace him with Councilwoman Lisa Copeland. Wallace ultimately prevailed after a lengthy legal battle, and is set to serve as mayor through the end of 2019. With her victory, Patterson-Howard is set to chart a new course for the town. 
County Executive – Erie County
Mark Poloncarz (D) (incumbent) – 53.5%
Lynne Dixon (R) – 46.5%
With 831 of 837 districts reporting.
Erie County Executive Mark Poloncarz won a third term Tuesday. The Democratic incumbent staved off a challenge from Republican Lynne Dixon, bringing an end to an especially fraught campaign. Erie County, which includes and surrounds Buffalo, is a primarily Democratic area, giving Poloncarz both the incumbent and the demographic advantage of Dixon, but some watched this race as a gauge of whether voter sentiment in Buffalo and its suburbs was shifting ahead of next year's presidential election. At least in this race, the Republican vote was not strong enough to propel Dixon to victory.
County Executive – Ulster County
Patrick Ryan (D) (incumbent) – 64.07%
Jack Hayes (R) – 35.83%
With 147 of 163 districts reported.
Ulster's incumbent County Executive Patrick Ryan had barely settled in to his new seat after winning a special election this April before he had to mount another campaign to win a full, four-year term. But Ryan proved he could beat Republican Jack Hayes in April, and he did it again on Tuesday, by a fairly wide margin. Ryan, a military veteran, ran on a few key issues, including supporting a "Green New Deal," and fighting the opioid epidemic.
District Attorney – Nassau County
Madeline Singas (D) (incumbent) – 59.88%
Francis McQuade (R) – 40.09%
With 1188 of 1205 districts reporting. 
Incumbent Nassau County District Attorney Madeline Singas fended off a challenge from Republican Francis McQuade, an attorney who has launched unsuccessful runs for the Nassau County Legislature and state Assembly in the past. Both candidates touted their experience in law enforcement on the campaign trail, but while much of Singas' experience was in district attorneys offices, McQuade pointed to his experience as a police officer, as well as a Roman Catholic priest, and a criminal defense and civil rights lawyer, as qualifications for the job. Singas, perhaps the more traditional choice, won out. 
District Attorney – Onondaga County
Chuck Keller (D) – 38.44%
William Fitzpatrick (R) (incumbent) – 53.14%
Gary Lavine (Con., Ind.) – 8.37%
Reporting districts currently unavailable because of technical error on county website. 
William Fitzpatrick, a seven-term incumbent as Onondaga County district attorney, won an eighth term, claiming victory in a three-way race that included Democrat Chuck Keller and Gary Lavine, who ran on the Independence and Conservative party lines. Towards the end of the race, Fitzpatrick's campaign was bogged down by questions about possible wrongdoing in the incumbent DA's firing of a former Syracuse deputy police chief, and though a report cleared Fitzpatrick of wrongdoing, Keller and Lavine questioned the report's independence. The race brough Fitzpatrick his first electoral challenge in 12 years, but he proved Tuesday that he still has what it takes to run a successful campaign.