Technology
NYC launches coronavirus health portal
The city wants to gather data from residents with COVID-19 symptoms to allow for more targeted response efforts.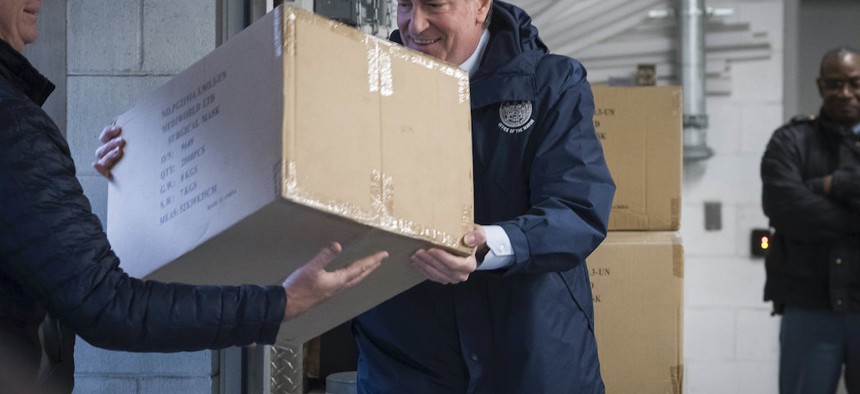 First Google launched a website providing information on the coronavirus pandemic, then Apple did the same with a new app unveiled this weekend. Now New York City is getting into the game. In a press release on Friday, Mayor Bill de Blasio's administration announced the NYC COVID-19 Engagement Portal, an online form for New Yorkers to self-report information about whether they're experiencing coronavirus symptoms, have had a confirmed positive test or have been otherwise affected by the virus.
The portal, which seems to have taken the place of an "isolation app" that de Blasio mentioned in a press conference weeks ago, is unlike the apps and websites that have been created by tech companies so far in that it's less of a way to connect people to public health information and other resources than it is an attempt to let the city communicate directly with affected people and build a broader picture of the coronavirus's spread across the city.
The app was developed by the city Department of Information Technology and Telecommunications with the help of software company Unqork. "Information is power, and we are in a race against the clock. To fight the coronavirus pandemic, we need not only more medical equipment and testing, but also more data in real time," department Commissioner Jessica Tisch said in an emailed statement. "This portal will empower New Yorkers to build an unprecedented data set that will reveal the spread of this virus throughout New York City, and enable City agencies to swiftly and effectively respond to the outbreak and communicate with affected members of the public."
The engagement portal is geared toward users who have experienced symptoms of COVID-19, tested positive for the virus, come into contact with somebody who may have had it or who are otherwise currently in quarantine. Once users select which of those groups they belong to, they're prompted to enter personal information like their name, age, home address and ZIP code, how many people they live with and their contact information. The city has said that this personal information will only be shared with city employees who "have a need to access your information" for the purpose of protecting public health and providing necessary city services to residents with COVID-19. A spokesperson for the city said that those employees are limited to the ones "protecting public health" – for example, those at the Office of Emergency Management or the Department of Health and Mental Hygiene. The city has also said that personal information will be stored securely, won't be used beyond the purpose of fighting the coronavirus pandemic, and won't be accessible by U.S. Immigration and Customs Enforcement or used for law enforcement purposes.
After entering that personal information, users are then given a reference number for their case, which allows them to come back to the portal to update their status – with information about changes in their symptoms or another person in their household testing positive, for example.
What remains somewhat unclear about the portal is whether it will end up primarily as an internal tool to collect data that will aid the city's response efforts, or whether it will be used to paint a broader data picture that can be shared with the public. The spokesperson for the city said that the data collected in the portal would allow the city to do regular, targeted communications to groups of people affected by the virus. If the data suggested that certain neighborhoods were especially affected, the city could push an increased information campaign there. While this self-reported data from the portal won't replace data on confirmed cases from the health department, it could be useful to keep track of situations in which people are experiencing symptoms but haven't gone to the hospital or been tested.
But the second goal of creating a broader data picture would require enough people to actually self-report through the portal to be effective. If the data set gets big enough to be a representative sample across the city, however, it could be used to make data publicly available by ZIP code or by what kinds of symptoms people are experiencing – with personal information omitted. As of now, the city only provides a borough by borough breakdown of cases.
While the mayor – and Gov. Andrew Cuomo – has provided near daily updates on the number of cases in New York City, the number of people tested and the number of deaths related to the coronavirus, the de Blasio administration has faced criticism for not providing detailed enough data. With more than 37,000 confirmed cases in New York City alone as of Monday afternoon, some are clamoring for data broken down by neighborhood. More detailed data might help pinpoint hot spots or allow medical workers to determine whether there are trends in how the virus is spreading.
Katie Honan, a reporter for The Wall Street Journal, asked de Blasio in a press conference last week why the city hadn't released more detailed data on cases and deaths. The city took a step in that direction the next day by releasing a map of the percentage of residents who had tested positive for COVID-19 by borough, but even that was criticized for being confusing and based on uneven testing. De Blasio acknowledged there were issues with the data. "The information we have is skewed," he said. "This information only tells you part of the pattern because the testing has been so inconsistent."
Whether the city's new engagement portal can actually attract enough users and collect enough data to paint a fuller public health picture remains to be seen. Noel Hidalgo, executive director of the civic technology organization BetaNYC, said that he was hopeful that the portal would help. "I'm glad to see that the city is looking to crowdsource more data," he said. "Many of our communities are demanding better data. We hope that the city publishes this information in a safe and protected way, so communities can have a better understanding of what's going on." Still, Hidalgo noted that getting more details on the existing data from the city is a priority. "This tool should augment existing data about COVID-19 cases," he said. "And we really need to see those numbers before we see this engagement portal's data."
Powered By
NEXT STORY: Cuomo at war