Coronavirus
Voting in the time of coronavirus
While states consider postponing elections, expanding absentee voting may be another solution.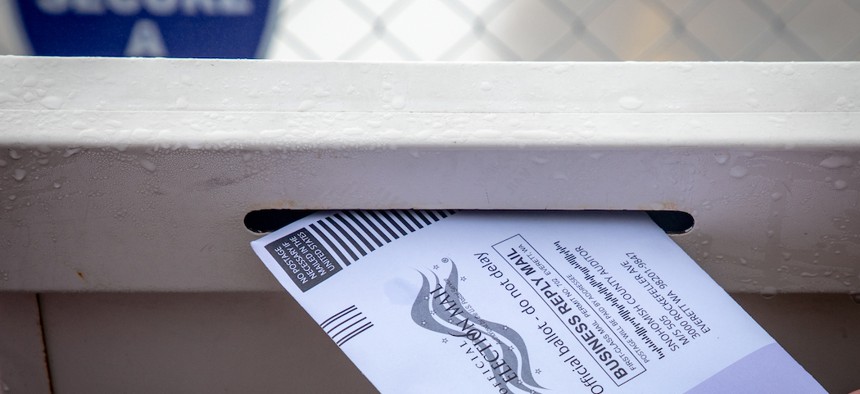 The number of new coronavirus cases continues to climb in New York – surpassing 400 as of Friday morning – and it's starting to cause concern about holding upcoming elections, including the April 28 Democratic presidential primary. Many congressional and state legislative campaigns have suspended petitioning and events, as fears about COVID-19 grow. But so far, Gov. Andrew Cuomo has given no indication that he will postpone or move any elections. With more and more people avoiding unnecessary social contact, many people may be unable or unwilling to go to their polling sites. So some lawmakers have suggested expanding absentee voting to allow people to cast ballots while still self-isolating.
State law restricts who is eligible to receive an absentee ballot. The current absentee ballot qualification include: being out of the county or city on Election Day, being incarcerated for a nonfelony crime, or being sick or disabled. Nowhere does the law give any guidance about the use of absentee ballots in the time of a health crisis, when thousands are voluntarily or involuntarily quarantined and countless others may be wary of traveling to polling places. 
State Sen. Alessandra Biaggi this week introduced legislation that would allow people to vote by mail when under quarantine or otherwise concerned about voting in-person with an existing public health risk. "While I hope that the current public health crisis will have calmed by the April and June primary elections, we must prepare for all scenarios, and act now to ensure that every New Yorker can safely vote in our upcoming primary elections," Biaggi said in a statement announcing the bill.
Biaggi's bill is fairly narrow in scope, and would not enact so-called no-excuse absentee ballots allowed in 28 states. In those states, voters can request an absentee ballot without providing an explanation. According to Biaggi's office, the only way to remove the criteria to qualify for an absentee ballot is through a constitutional amendment. The state is currently in the process of approving such an amendment through a concurrent resolution passed last year. It was part of a slate of election reforms passed last year, including early voting and same-day voter registration. The next step would be for the resolution to pass again in 2021 with a new state Legislature, and then be put on the ballot for voters to approve or reject.
It's unclear how quickly the state Legislature will act on Biaggi's bill, or if the governor would take action on his own. A spokesperson for the state Senate Democratic conference said that as of Thursday, there was little or no discussion about potential changes to elections and voting, but added that issues involving the coronavirus are evolving quickly, so that could change. At a recent press conference, Cuomo indicated that he had not considered changes to how people vote, including absentee ballots. And on Friday, when asked about the upcoming elections, Cuomo said that there may be issues to address with in-person petitioning, but "the elections we haven't discussed."
Louisiana became the first state in the U.S. to postpone an election due to the coronavirus, moving its upcoming presidential primary from April 4 to June 20, potentially setting a precedent for other states like New York to follow.
In New York City, Councilman Costa Constantinides, who is running in the Queens borough president special election on March 24, called on Mayor Bill de Blasio and the city Board of Elections to "immediately institute a borough-wide absentee ballot program" so that all Queens residents could vote by mail. However, neither de Blasio nor the city Board of Elections would have the authority to make such a decision. It would require either an executive order from the governor or action by the state Legislature, according a spokesperson for the city Board of Elections. And on Friday, Cuomo said that he hasn't made any decisions about the Queens borough president election, for which early voting begins Saturday.
However, it appears that local boards of elections would be able to add public health emergency as a new justification when applying for an absentee ballot. The Erie County Board of Elections decided to change its rules to include the new reason on Wednesday, meaning that those with coronavirus concerns can apply for absentee ballots for the April 28 presidential primary and 27th Congressional District special election.
Cuomo said he expects the coronavirus crisis to persist for months, so the June state and federal primaries may be affected as well. If the governor is correct, and the pandemic is still a major issue, expanding absentee voting could be one of the few ways to ensure that people still have a chance to cast their votes.